Sampson adds Mercedes-Benz Arocs
By Laura Hatton26 October 2015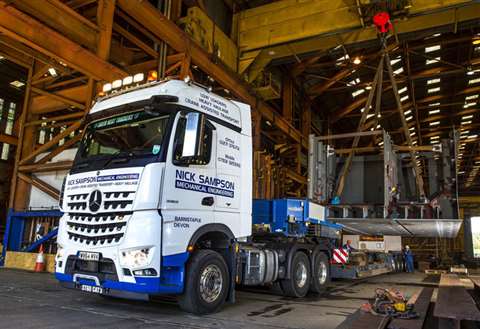 Barnstaple, UK-based Nick Sampson Mechanical Engineering has added its first Mercedes-Benz heavy haulage tractor unit to its fleet.
The 155 tonne Arocs 3363S was supplied by dealer City West Commercials. It has the 15.6-litre OM 473 in-line six-cylinder engine and a 16-speed Mercedes PowerShift 3 automated transmission with Turbo Retarder Clutch. Samson's model is rated at 460 kW and is capable of delivering 3,000 Nm of torque, the manufacturer said.
Nick Sampson said, "The Arocs is certainly living up to our hopes and expectations, and is proving to be a highly flexible, cost-effective addition to our fleet.
"The truck is not on heavy duties every day and given the diverse nature of our work the versatile turbo clutch suits us very well," continued Sampson. "It certainly contributes to economy by offering the fuel efficiency of a conventional clutch for normal operations, but also delivers the performance of a torque converter for when we need to pull a piece of construction equipment at 70 or 80 tonnes up a steep bank."
Nick Sampson Mechanical Engineering was established in 1987 and, in addition to haulage, provides a range of crane fit and hire, truck and plant repair, welding, fabrication and precision engineering services to the construction, road transport and civil engineering industries.