Sandvik's new screens
By Chris Sleight19 January 2015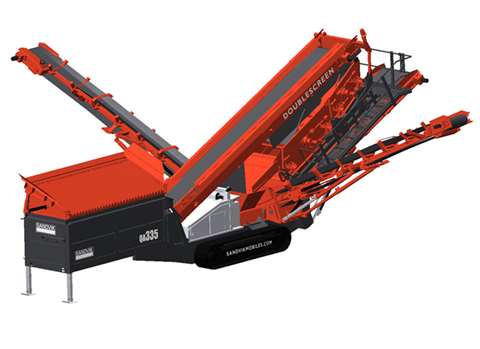 Last March saw the news that Sandvik would cease production of mobile crushing and screening equipment in Swadlincote, UK and move everything to its factory in Ballygawley in the UK province of Northern Ireland.
Functions such as product support, marketing and research & development are still carried out in Swadlincote, but production is now in Ballygawley, and it was here that Sandvik chose to launch two new screening products at the start of this year.
As Anders Kjellberg, Sandvik's vice president for crushing & screening said, "Ultimately it's about creating a centre of excellence, but we will also have satellites around the world. It has also improved our cost base and made it leaner."
He added that when Sandvik acquired the Extec and Fintec businesses in May 2007, which brought the Swadlincote and Ballygawley sites into the company, it had five factories around the world making mobile crushers and screens.
And although machines are no longer made in Swadlincote, many of the ideas that were distinct features of the Extec range are being carried over into new generations of equipment. A good example is the QA335 Doublescreen – the 'Doublescreen' was a patented feature of the Extec range, with two independent screens in the same box, effectively performing two processes on one plant. Sandvik says this system still outperforms a similarly sized single screen by about 30%.
Vice President for sales and marketing of mobile crushers and screens at Sandvik, Eugene Lyons said, "The Double screen is a massive advantage over our flat and single-box competitors."
Described as a mid-sized unit, the QA335 features a 75 kW engine and has a simple to use sequential start-up system on-board, which allows it to be set up and put into operation at the push of five numbered and colour-coded buttons.
The standard machine weighs in at just over 27 tonnes and the transport dimensions are 15.3 m long x 3.4 m wide x 3.0 m wide. Power comes from a 75 kW Cat engine.
Also new is the QE441 scalping screen. "This is a machine that has been designed and built to take heavy-duty work," said Mr Lyons.
This flagship machine replaces the QE440 at the top of the range and changes include updates to the screen box, screen drive and screen media, as well as improvements to the apron plate feeder, wear resistant hopper and radio remote controls, all of which are fitted as standard.
The fact that machines like the QE441 can either be used to feed crushers or operate as sizing screens is increasing their popularity according to Mr Lyons. "Scalping screens have become very big in the market so we are expanding the range. Customers are looking for machine that will do more than one application. A scalping screen will do the job of a scalper or a sizing screen," he said.
The QE441 has a maximum capacity of 900 tonnes per hour and the maximum feed size is 800 mm. Power comes from a 96 kW Cat engine and the weight of the standard model is just over 37 tonnes.
According to Sandvik, the market in general for this type of machine remains flat. However, it said that being a major player that is able to offer financing, buy-backs and other soft products was appreciated by customers.
Sandvik Construction's vice president for global markets, Greg Albert said,"Financing and buy-back are a big competitive advantage for us. In emerging markets financing never used to be needed, but now it is being asked for and it is a big opportunity for us."