Sanghvi adds Demags worth more than $30 million
By Alex Dahm21 February 2017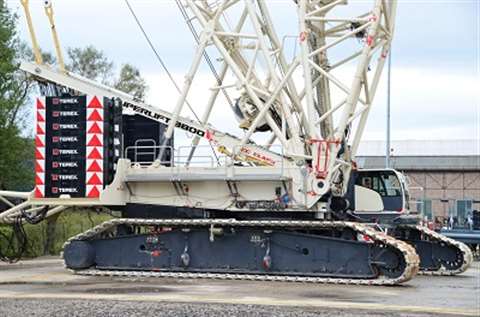 Leading Indian crane rental company Sanghvi Movers has signed an order to buy seven units of the 650 tonne capacity Demag CC 3800-1 lattice boom crawler crane from Terex Cranes. Chris Sanghvi, Sanghvi Movers chairman and managing director, told ICST that this latest order was worth more than €30 million (US$ 31.5 million).
By the time these cranes have been added to the fleet (between June and September 2017) Sanghvi said he will have the largest fleet in the world of the CC 3800-1 and CC 2800-1 600 tonne capacity class crawler cranes. He has 21 units of the latter model and it will be 12 of the former (five already in the fleet plus the seven new units on order).
Commenting on his choice, Sanghvi said, "For the last 10 years I have been immensely impressed by the CC 2800-1. It is one of the best cranes, both in terms of design and manufacture, in the world." Sanghvi also has extensive experience with the smaller CC 2400 over the last 20 years in which he said he has only spent an average of $5,000 per crane in spare parts. India is a tough environment for cranes to work in. A contributory factor in deciding to place the order was this minimal requirement for parts and their relatively low cost. Sanghvi also said that the terms of the latest deal included an extended warranty.
The deal was signed by CP Sanghvi on 21 February with Steve Filipov, Terex Cranes president, and Norbert Dudek, who is responsible for Terex Cranes in Asia.
Filipov said, "I have known Chris for many years. I know that he has a choice [when it comes to buying cranes] and I am really happy that he picked our Demag product for this latest order. We have three priorities in turning around the fortunes of Terex Cranes. One of them is to get closer to our customers. This order is testimony to that."
Dudek said, "A deal of this size, and when there are trade-ins, is never smooth but we understood the value proposition Chris gave us and at the same time the value proposition of our offer and of our equipment which matched up."
All the units in the latest order will come with superlift attachment, 147 metres of boom and 12 m jibs. A typical application will be erection of 120 m tall, 2 MW, wind turbines with nacelles weighing 110 tonnes. A small amount of extra boom will be added to allow work on the next generation of larger (160 m hub height 3 MW) turbines as they begin to come through in India in the next 12 to 18 months or so.
Sanghvi Movers has a fleet of 440 cranes from 40 tonnes capacity up to an 800 tonne capacity Liebherr LR 1800 crawler. The average age of equipment in the fleet is 10 to 12 years, Sanghvi said. Its composition by manufacturer is roughly as follows: 30 % Liebherr, 30 % Terex, 15 % Kobelco, 15 % Sany, 10 % Manitowoc.
Talking of Manitowoc, Sanghvi has just ordered 18 units of the 300 tonne capacity Grove GMK6300L all terrain crane on six axles. Deliveries are due to start in May.