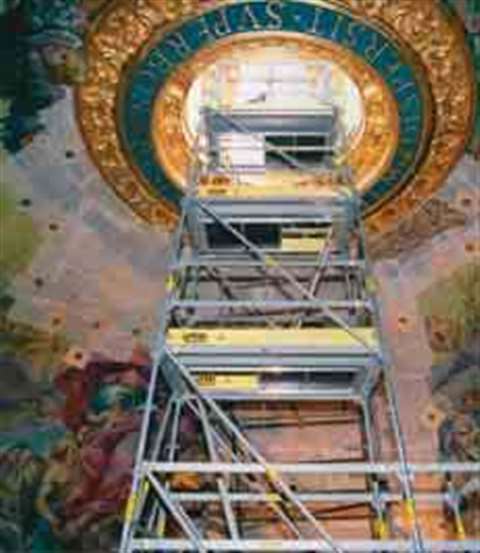 Renovation work on the St Pius dome in the Basilica of St Peter in the Vatican City required a scaffolding solution that would provide efficient access to the mosaics on the dome while allowing free and unhindered access for visitors and worshippers for the year that the work is expected to last.
Peri UP Rosett scaffolding was used in conjunction with Peri LGS girders to create a 124 m2 floating platform with a maximum load-bearing capacity of 200 kg/m2 28 m (92 ft) up in the air. Access to the platform is through the open windows on the dome at the vault transom level.
A support scaffold was first assembled that served as an intermediate storage facility and to provide access until the floating platform, assembled from Peri LGS girders and UP Rosett scaffolding finished off with VT timber I-beams with a plywood and linoleum covering, was mounted into its final position. The support scaffold was then dismantled, leaving the platform suspended from anchor points at the four large windows in the dome.
Rosett units equipped with access decks with fitted ladders and an integrated ladder system permit safe access right up to the dome lantern.
Planning of the project was particularly extensive and complex as a result of the artistic value of the surrounding, as well as the need to minimise assembly and dismantling times while avoiding any unnecessary disturbance to ongoing church activities.