Serious Labs signs up distributor in Australia
By Euan Youdale24 March 2022
JBHXR, a provider of extended reality (XR) learning solutions for Australian businesses, has taken on exclusive rights to distribute Serious Labs' MEWP virtual reality Operator Training Simulator in Australia and provide training with them.
The portable Serious Labs aerial platform VR Simulator includes real MEWP controls as well as actuators to create realistic motion, giving operators a convenient way to safely build skills and track their progress.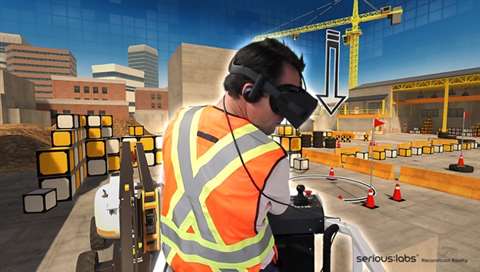 In October last year, Serious Labs  had the simulator approved by the International Powered Access Federation (IPAF) for renewals of its Powered Access License (PAL) Card. This was the first time that heavy equipment operators have been able to renew their license using a simulator, without using a physical machine.
"We're thrilled to be working with an industry leader like Serious Labs to provide this kind of leading-edge training and equipment," said Ian Tennant, COO of JBHXR. "The MEWP VR Simulator is a whole new way of doing MEWP assessment, learning, and verification of competency, with capabilities that have never been available before. It is safe, cost-effective, and provides objective scoring and assessment for everyone."
According to Serious Labs a report showed that its MEWP VR simulator is 97% predictive of user behaviors and skill levels with actual MEWPs. Based on this, Airlines are also using the simulator, which includes custom modules for aircraft maintenance training, to reduce the risk of costly MEWP collisions with aircraft.
"Using MEWPs for work at height is increasing in more and more industries, and we're pleased to be able to offer this groundbreaking training, assessment, and training tool to support them," said Tennant. "We look forward to providing training and simulators to JBHXR customers across Australia."
Jim Colvin, CEO of Serious Labs, said, "The team at JBHXR brings strong training skills, technical knowledge, and strategic vision, and that is the perfect combination to introduce these valuable products to the Australian market."