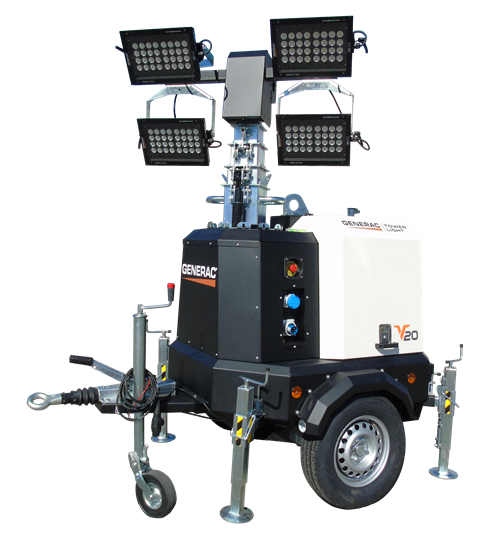 Generac's V20 lighting tower boasts 180 hours of run time.
This time of the year is always important to manufacturers of light towers, as innovation over the past year will see their recently launched products sold at their peak high rate over the next few months, before the darker nights fall upon the majority of the world.
This year, as ever, has presented such companies with the chance to showcase their models, following major exhibitions across the world, and manufacturers are looking for ways to shine above the rest.
One company which aims to do just that is Morris Site Machinery – a UK-based manufacturer of lighting towers which sells to many regions of the world. It has launched its latest TL90 Ultimate and LED Standard models.
Presented at the back-end of last year, this coming autumn will be the first time its new models will be rolled out to construction sites.
Branded as SMC TL90 Ultimate, it claims to have up-to-the-minute engine technology with both Perkins and Kubota options offering longer run times. An update to its predecessor TL90 models, it has been engineered to deliver a 50% increase in fuel capacity and run time, with up to 90 hours of operation and greater cost savings.
The TL90 LED is powered by a Kubota Z482 engine and has new features including a Deep Sea 3110 controller and four 300W lampheads.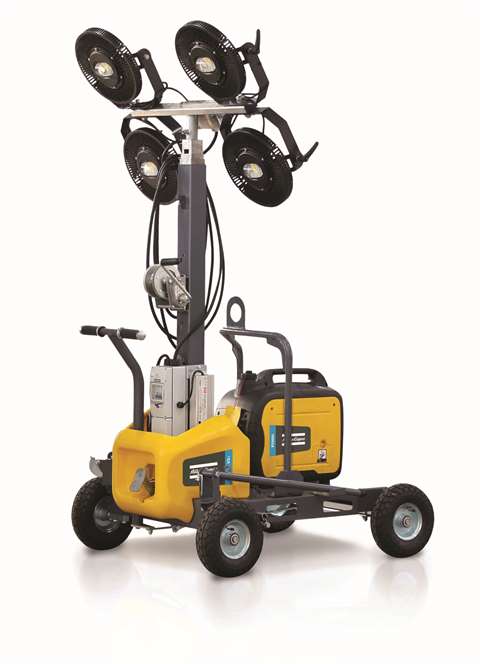 The HiLight V2+ and V3+ are housed on a four-wheel trailer for ease of transportation.
The company has also launched a new app which allows its buyers to customise their models, from a basic spec, to any feature they want.
Phil Winnington, international business director at Morris Site Machinery, said, "It is this attention to detail and understanding of how our products are used onsite around the world, which sets our innovation apart and ensure they are built to perform.
"We are making significant introductions to extend our range of products and price points throughout 2017/18 while maintaining the great quality and service we are renowned for to meet the industry needs in the UK and overseas."
Three new models
Swedish manufacturer Atlas Copco has expanded its HiLight tower range with the launch of three new advanced LED plug-and-light models.
The models are the P2+, V2+ and V3+, and can all be powered directly from an auxiliary power source, the grid or a portable generator. All three energy-efficient additions are said to offer minimum maintenance, easy portability and safe transportation, according to the company.
Atlas Copco says its V2+ and V3+ are specifically designed for use on road works and construction sites, and are housed on a four-wheel trailer for ease of transportation. The V2+ light tower features a 320W LED light source, covering 2000m², while the HiLight V3+ is equipped with four 120W LED lamps combined with specially designed directional glass optics capable of illuminating an area of up to 3000m², says Atlas Copco.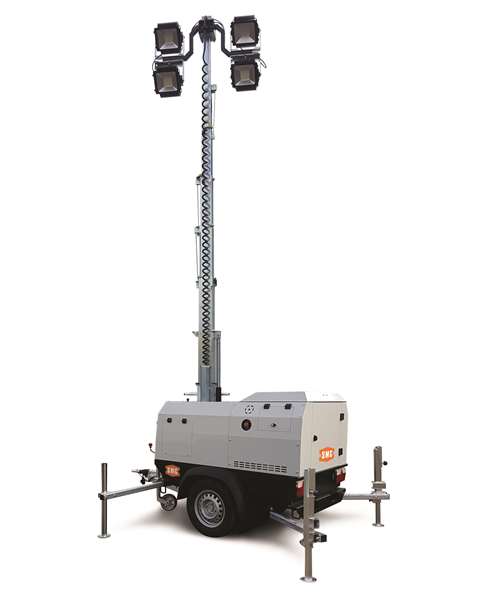 Both the V2+ and V3+ have manually operated vertical masts that extend up to 5.5m and allow for 9° of rotation.
Felix Gomez, product marketing manager for light solutions at Atlas Copco Portable Energy, said, "Our new HiLight towers are designed to help workers experience a brighter, safer environment that will enhance their productivity.
"What's more, the LED lamps experience no burn-out problems and have a life expectancy of 30000 hours, which contributes to lower maintenance costs and longer service intervals."
US-headquartered company Generac has launched its latest lighting tower – the V20 model – which is equipped with four 300W high efficient LED lamp floodlights. The company claims it has one of the lowest sound pressure levels in the industry at only 58dB at 7m.
It is powered by a Kubota Z482 engine and boasts more than 180 hours of run time.
Trime SPA, the Italian manufacturer of lighting towers, offers a range of models, with its flagship model being the X-ECO LED 6.
The company have been in operation for around a year, but boast a wealth of experience in its ranks. The company's CEO, Ray Caulfield, for one, was awarded the Lifetime Achievement Award at the European Rental Awards in May, after a career spanning 52 years to date.
The X-ECO LED 6 has been manufactured specifically for the European rental markets and
has a series of safety and environmental features that will bring significant benefits to both the operator, the rental company and the wider geographical area.
Operators will capitalise on energy savings, longer run times between refuelling, instant bright light and the built-in auto start/stop light sensor, says the company. Safety is heightened by the X-ECO AMOSS safety system, which automatically lowers the mast if the lighting set is moved whilst the mast is still erected.
Trime has calculated that the X-ECO uses approximately €400 less in fuel each month, which gives rise to a reduction in C02 output by around 888kg per month. Thirteen X-ECO's can be loaded on one single truck, meaning potentially less traffic on already busy European highways.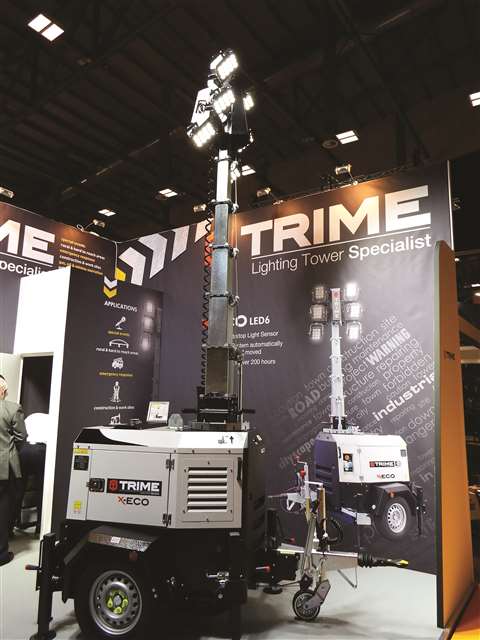 Trime's flagship X-ECO LED 6 model pictured at the UK's Executive Hire Show.
Most popular
Finnish manufacturer TSR-Lighting says it has had success with its TSR-Luxtower 150 model, which it launched in the third quarter of 2016. Indeed, the company claims it is the most popular lighting tower of its category in Scandinavia.
The product was created as a result of a collaboration between TSR and Italy's Luxtower, and was designed specifically for Scandinavian market. TSR says that demand for proper site lighting is growing in Northern Europe.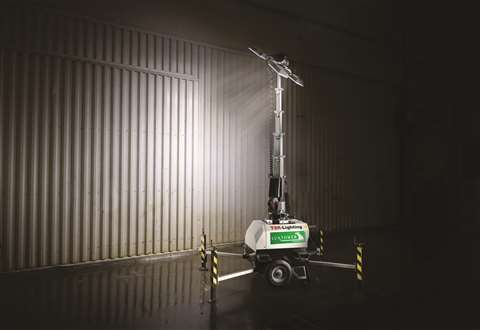 Key features of the model include a 7m galvanised mast, which has a lifetime warranty. The mast can rotate up to 350°.
There are four 150W LED floodlights that can illuminate an area up to 2400m², as well as two forklift pockets and a central lifting eye.
Since the lighting tower as presented to the Scandinavian market, it has sold over 500 units to companies such as Ramirent, Skanska and Renta Group. The company said the attention its new lighting tower had received had surprised them.
One company which claims to be 'going green' is BGG UK. The manufacturer says that its LiON LIght lighting tower is powered by a water cooled diesel engine and lithium ion battery pack.
This green solution reduces the noise pollution level to zero and has the ability to run on battery power alone for up to ten hours. A major benefit of that, of course, is the ability for renters to use BGG UK's lighting tower in urban sites and have no noise-related issues.
The company says its model provides a comparable light output to a standard metal halide unit and offers substantial fuel savings over both metal halide and standard LED lighting towers.