Shipyard transporter for Stocznia Szczecińska
By Christian Shelton08 August 2019
Polish shipyard Stocznia Szczecińska has purchased a SYT 6/4 shipyard transporter, made by Italian heavy transport vehicle manufacturer Cometto, for transporting heavy ship blocks. The SYT 6/4 transporter has a payload capacity of around 414.5 tonnes and is 16 metres in length.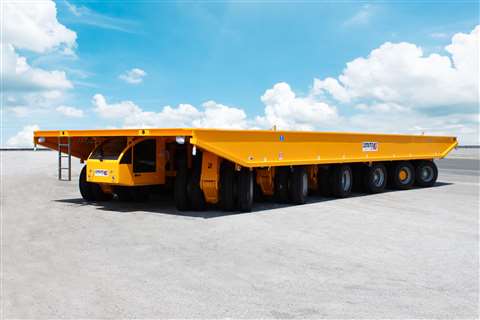 The shipyard transporter is 16 metres long
The 12-axle transporter has electronic steering and hydraulic suspension with a capacity of 40 tonnes and a large suspension stroke that provides constant load distribution to all axles. Four of the axles are driven and eight are braked.
The dimensions of the loading platform are 16,000 x 6,000 mm and the transporter has two operator cabins with a centre of gravity display and air conditioning. The SYT 6/4 also has a radio remote control, an oil and diesel pre-heater, and a grouped greasing system.