The North American construction market will continue to grow, but at reduced rates. Canadian and Mexican construction markets will see modest acceleration in 2018, but the large U.S. market will lead regional gains. US GDP growth recovered from its first quarter doldrums and is expected to reach 2.3% real growth this year, accelerating to 2.7% in 2018, before slowing to 2.3% once more in 2019.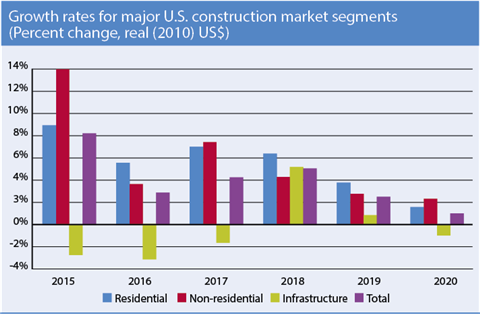 Business fixed investment has posted two quarters of solid growth after five quarters of no growth, and the outlook calls for continued growth into 2019. Yet, construction has been in a rut with real core construction – the sum of single and multi-family construction, state and local government and private nonresidential spending – declining 5.5% in the second quarter and likely contracting further in the third quarter. Yet, we expect all four segments to bounce back in the fourth quarter and into 2018.
There are risks to this outlook. The improvement in business investment over the past two quarters is partially due to expectations of regulatory relief, business friendly tax reform and an influx of public infrastructure spending. The forecast assumptions call for a US$250 billion infusion of infrastructure investment over 10 years, starting in 2018. They also expect a reduction in the statutory tax rate from 35% to 25%, partially offset by fewer tax breaks, beginning in January 2018.
Legislative progress has been lacking in Washington, and to the extent that these initiatives are not enacted, the investment climate will be considerably more cloudy in 2018 and beyond.
Canadian real GDP growth is picking up, led by hot housing markets and a recovery in capital spending. Fiscal stimulus, including an 11-year infrastructure programme, will also support economic growth. We do expect that rising household debt will restrain consumer spending and that overheated regional housing markets in Ontario and British Columbia will cool. Even so, Canadian GDP growth is expected at 2.5% this year, 2.4% in 2018 and 2.3% in 2019.
Mexico is linked to the US economy through trade, capital inflows and remittances. About 80% of exports go to the US. Renegotiation of the North American Free Trade Agreement is due to start, and near-term uncertainty of the outcome is restraining capital spending. Yet, global auto and chemical companies continue to invest in Mexico.
With five new factories coming online, light vehicle production will increase 40% from 2016 to 2020. Mexican real GDP growth is expected at 2.0% in 2017 and 2018, with modest acceleration to 2.4% in 2019. Fixed investment may actually contract about one percent this year, with growth rates at 1.3% and 3.3% in 2018 and 2019 respectively.
Interest rate rises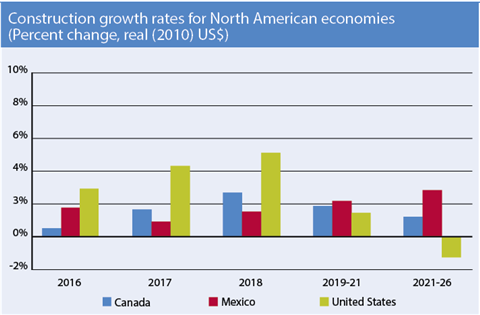 All three economies will see rising interest rates. The US is already raising rates, a pattern that we expect to continue through 2019, with the Federal Funds rate hitting 3.0%. The Bank of Mexico has aggressively raised interest rates to stabilise the peso and restrain consumer price inflation. Once inflation subsides in 2018, the central bank will ease its policy. The Bank of Canada will start raising interest rates in March 2018.
All three economies have also seen a boon in higher oil prices. However, while prices are higher year-on-year, they have stabilised, and the view is for stable prices for the medium term. As such, higher oil prices have contributed to 2017 construction growth, but will have more limited impact in 2018. The exception is pipeline construction, which is performing strongly within the US, and the long construction cycle of such projects will continue to fuel 2018.
The US residential sector continues its gradual recovery from the Great Recession, but the level of activity remains some way from typical levels. Housing demand is supported by sustained growth in employment and real incomes. Mortgage rates are low, but will rise through 2019. Supply is constrained by shortages of labour and developable lots. As demand outpaces supply, home prices are rising. Rising home prices are a boon for home improvement spending, and combined with builder optimism, will lead to increasing home construction.
Housing starts approached 1.2 million units in 2016, and are expected to exceed that in 2017, but not attain the healthy 1.5 million unit range until 2021. Given pent-up demand, we could then see several years of 1.5 million starts. Multi-family housing starts increased from 17% of the market in 2005 to 35% in 2015, falling back a little to 33% in 2016. Moving forward, we do expect that single family housing will accelerate, but multi-family housing will be around a third of the market for the near and medium term. This is actually more typical of the US market and a healthy, sustainable mix.
Non-residential construction is losing steam. On the plus side, the US economy experienced strong job gains in 2017 and needs new construction to accommodate expected further growth. We expect continued expansion in the commercial sector, however, after several years of double digit growth, we expect growth in the 7% range for 2017, falling to 4% by 2019.
Within commercial, lodging is likely approaching the peak of its current cycle and retail will face challenges as electronic commerce continues to gain share of consumer spending. Warehousing and distribution centers will continue to see gains as e-commerce invests in logistics and improved avenues to the consumer.
Construction of manufacturing facilities is one of the brighter spots in the private sector. Improving global economies (particularly emerging markets), along with a peaking US dollar, will improve the potential for exports, limit imports and return construction to growth. We do expect another year of contraction in 2017, but followed by growth in the 6% to 8% range in 2018 and 2019.
The US institutional sector construction also offers middling potential. Improving state and local revenues, combined with the housing recovery, will allow construction of educational buildings to grow in the mid-single digit range. Health care construction is also set for similar growth. The improved home construction in the forecast will create demand for medical office buildings and outpatient care, and there is increased certainty about health care revenues given the failure to repeal the Affordable Care Act.
Infrastructure spending is assumed to benefit from an infrastructure bill that will take effect in 2019. While the bill should apply to all forms of infrastructure, it is likely to be oriented toward highways and streets. Thus, while total infrastructure could grow 5% in 2018, road construction growth could exceed 10%.
The improved energy sector has breathed life into pipeline expansion although rail construction will continue to contact. The power sector accounts for roughly a third of US infrastructure, and abundant capacity combined with diminishing incentives for alternative fuels (solar and wind, in particular) suggest that power will hold back growth in infrastructure overall in the next couple of years.
The heated housing markets in Toronto and Vancouver will boost residential construction growth to 5.8% in 2017. However, local and provincial governments are already taking action to discourage speculation, largely from Asian investors, and residential growth will subside nationally to 2.2% in 2019 and 1.7% in 2019. Infrastructure spending will benefit from federal stimulus, growing at 4.9% in 2017 and 4.8% in 2018, but subsiding thereafter as incremental spending diminishes.
Non-residential structures will only hold their ground in the near term as business fixed investment remains weak. We expect a modest contraction in 2017 which is essentially only offset with limited growth in 2018 As oil sands investment becomes profitable once again later in the forecast, Canada will improve more significantly, but the medium term view for Canada is one of quite modest growth.
The economic and political uncertainty affecting Mexico will hinder construction spending. Investment into the auto and chemical sectors is not sufficient to offset weakness in overall business investment. We expect nonresidential structures to grow 2.8% in 2018, but fall back a bit over the next few years. Higher oil prices help Mexico less than they used to as the US has increased production from its shale fields, and domestic oil production has been declining in Mexico independent of global prices.
Constitutional changes to open Mexico's oil and gas industries to foreign investment could translate into longer term growth. The lack of confidence extends to the consumer, and we expect only 1.4% compound annual growth in residential construction over the next five years. Weak government revenue growth also dims the outlook with 2.9% real compound annual growth expected over the next five years.