Sinoboom Europe opens in the Netherlands
By Euan Youdale05 December 2014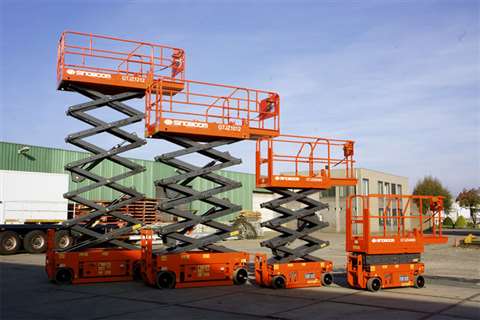 China-based manufacturer Sinoboom has opened a 3500 m² branch in Bergeijk, the Netherlands.
Sinoboom Europe will be responsible for distribution in the continent and will actively set up a dealer network. Its launch took place at the Evolution conference centre in Eindhoven on 11 November, with more than 50 customers from around the world in attendance.
The day was used to provide attendees with information about Sinoboom's machines and allow them to try out the manufacturer's scissors and articulated booms.
Sinoboom was founded in 2007 and first exhibited in Europe at the APEX exhibition in June this year. The company recently opened a 200,000 m² production facility in China, capable of producing 50 scissors per day and 50 articulated booms each month. This, Sinoboom said, would help its planned expansion in Europe.
Sinoboom Europe managers Harold Amendt and Ludo Maenen assured customers that full service provision was available.
The Sinoboom European Training Centre is in the process of being set up to provide technical, commercial and safety training to operators. New dealers will receive technical and commercial support at the training centre too. "Our goal is for our training courses to eventually become IPAF certified," said Mr Amendt, "Although this is not yet the case."
The Bergeijk-based site also boasts a showroom that dealers can use for demonstrations and machine testing and is home to the Sinoboom European Service Centre, which offers 24 hour-a-day support.
"A great deal of hard work has been going on behind the scenes in China over the past three years to ensure the machines comply with European legislation, mostly where safety is concerned," said a company spokesman.
"The platforms are now CE, ISO, IAI, ADR and GOST certified and have been inspected by the SGS. All imported aerial platforms are given a pre-delivery inspection and a final check in Bergeijk."
TÜV Nord recently completed the first commissioning inspection on four articulated boom lifts intended for the Netherlands' market, said the manufacturer.