Sinoboom opens boom line
By Euan Youdale06 August 2018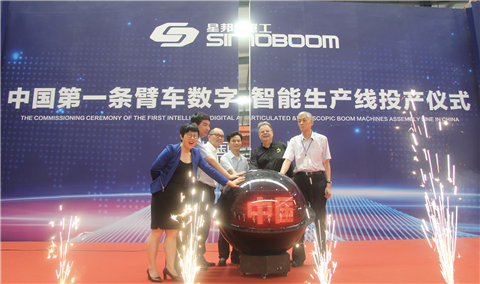 Sinoboom has officially started production on its new state-of-the-art boom lift production line in Ningxiang, China. Representatives from IPAF, the China Construction Machinery Industry Association, local Ningxiang Government leaders, and leading Chinese rental companies attended the launch on 28 July.
During the ceremony, Sinoboom chairman Liu Guoliang outlined how the company will continue to improveme its boom Lift product range. The telescopic series will range from 12m-56m platform height, and the articulating series from 12m-46m, while an environmental upgrade will accompany the launch of new Lithium battery-powered products.
At present, the monthly capacity of the new production line is 300 units. The manufacturer said the new line had greatly improved all areas of production, thanks to a K3 production management system, MES intelligent control system and LCD status display.The launch event included a workshop tour product demonstrations.
IPAF CEO Tim Whiteman emphasised the need for MEWP rental companies and manufacturers to focus on operator safety. Sinoboom is the first IPAF training centre in China, with the facilities to train large numbers of operators.
Other distinguished guests present at the event included Yan Jun, president of China Construction Machinery Industry Association; Feng Zhijun, deputy mayor of Ningxiang City; and Zheng Qi, deputy secretary of the Party Working Committee of Ningxiang High-tech Zone and director of the Management Committee.