Six construction technology trends
By Andy Brown and Fabio Ponzio15 December 2021
As the global economy continues to drive growth, construction firms are beginning to master new digital trends that are shaking up the industry. With increasingly scarce resources there is a necessity to create more with less, whilst government and stakeholder pressure means the construction industry will need to operate more efficiently and focus on sustainability.
Fabio Ponzio, vice president of building solutions at Hexagon's Geosystems division, explains the six technology trends driving the building industry in 2022.
Automation and collaboration
We expect to witness more automation and digital collaboration. Due to increased automation in technologies like reality capture, architects, designers and construction teams will be able to digitalise and capture data to share more easily and frequently, enabling a constant feedback loop between the real and the physical world.
With the BLK ARC, an autonomous laser scanning module for robots, Hexagon enables autonomous mobile laser scanning with minimal or no human intervention. Users can simply plan a scan path and set BLK ARC off on its own to scan autonomously. 
 Sustainable construction
With increasing concern about its environmental impact, the construction industry is looking to adopt technologies that will increase productivity while mitigating its contribution to the climate crisis.
To reach these goals in 2022, architects, engineers and building owners will look for new ways to extend a building's life cycle and provide better solutions for energy-efficient operations. We'll see the proliferation of new digital sensors and software solutions such as laser scanners, Building Information Modelling (BIM) and workflow tools as professionals make better-informed decisions and teams collaborate more accurately and efficiently in real-time, saving time and materials and leading to higher profitability and less waste.
Advancements in artificial intelligence
AI, machine learning and analytics continue to advance and affect the construction industry. Companies can now employ AI to monitor the real-time interactions of workers, machinery, and objects on a construction site, alerting supervisors of potential safety issues, construction errors and productivity issues.
Technology such as smart construction webcams and other reality capture solutions will increasingly be adopted on sites to provide easy access to construction data and imagery to document and streamline project management.
Smart digital reality: the future is 3D
With the ability to access high-quality 3D data, visualise projects and create Smart Digital Realities, we understand our current environments better and can simulate and envision the future of our towns, cities and communities. In 2022 we'll no longer think in terms of the physical and digital as two separate realities.
This smart digital reality empowers the entire building ecosystem. The use of data will deliver built environments with better performance, lower impact on the environment and at a lower cost. This can only happen when data is captured, connected and leveraged throughout every stage of the building lifecycle.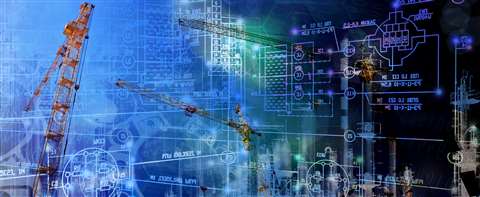 The disruption of construction and the rise of digital solutions
With face-to-face interactions less frequent, construction companies have realised the benefits and changed behaviour patterns by adopting more digital solutions and digitising their workflows. This, alongside a huge people shortage, is ultimately driving the behavioural change towards a larger acceptance of technology and the benefits it can deliver to the industry.
The construction industry continues to see challenges today with many projects always at risk of going over time and over budget. In 2022, smarter, tech-enabled collaboration technologies will continue to disrupt the industry, with paper drawings and plans being replaced so that information is continually updated, and construction sites are working to the latest specification and set of instructions. 
Digital twin: data visualisation
We'll see greater professionalism in building construction in 2022, especially with large scale projects. Creating a 3D digital twin, in combination with a cloud-based storage and collaboration platform, will mean project teams can visualise, share and collaborate with clients and colleagues in the cloud. As a result, we'll see increased use of Smart Build solutions, AI and cloud-based software along with automation and collaboration platforms that connect partners, project stakeholders and customers.
This practice is increasing transparency in productivity and costs and will begin to drive standardisation in construction. Customers will demand accurate digital records of building projects in one system with access to the data remotely from anywhere to ensure increased efficiency, reduced waste and lower costs.