Skyjack adds personnel
By Lindsey Anderson15 November 2017
Skyjack has added six new hires to its staff, including two territory sales managers and four field service reps.
"As we continue to broaden our portfolio of access and material handling equipment, we are also expanding our field presence with our sales and product support teams across North America," said Eric Liner, executive vice president, Americas.
The new hires include: Nathan Defibaugh, two territory sales manager, western New York and western Pennsylvania. Defibaugh has two decades of experience in the construction equipment rental industry.
Octavio Perez, two territory sales manager, southern California, southern Nevada and Hawaii. Perez joins Skyjack with more than 16 years of experience in the material handling industry.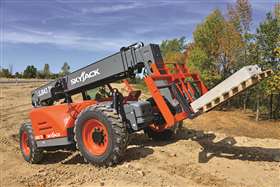 Trevor Collins, field service rep, Arkansas, Oklahoma, Kansas and Missouri. Collins has several years of experience working as a field service technician at Halliburton Energy Services and John Deere. He brings with him a wealth of hands-on experience and an extensive technical training background. He also served in the United States Navy for five years, having worked on several nuclear-powered submarines.
Derek Marshall, field service rep, Texas. Throughout his career, Marshall has worked specifically on aerials as a field service technician and technical trainer. Prior to joining the industry, he served four years in the United States Navy.
Randy Sweet, field service rep, Nevada, New Mexico, Colorado and Arizona. Sweet has worked in the customer parts and service area of industrial, automotive and rental industries for nearly 30 years. He started his career as a shop technician and later went on to manage parts and service departments.
Travis White, field service rep, Florida and Georgia. White is a 20 year veteran of providing technical service in the lift truck industry. Prior to joining Skyjack, he was a senior field technician and trainer where he directed technical and operator training courses for new company team members and end user customers alike.
"Combined, our new team members bring over a century of experience in the equipment industry, along with 20 years of service in the United States Navy," Liner said. "We are pleased to have them on board, and are looking forward to sharing their passion, knowledge and dedication with our valued customers."