Skyjack launches Boom Days
By Euan Youdale27 August 2015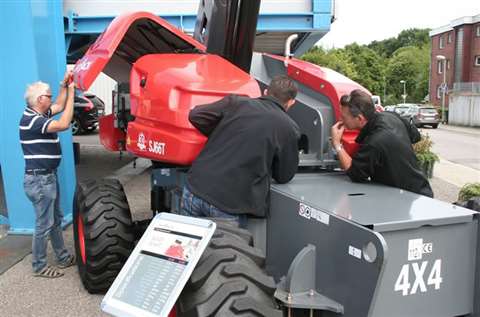 Skyjack has hosted two Boom Days in Germany to help promote the company's range of telescopic booms as well as other products.
Germany kicked off proceedings, holding the first of several events for customers based in the east of Germany on 14, 15 and 16 April in Crimmitschau. The event aimed at customers in the west of the country took place on 8 and 9 July in Witten.
Representatives from over 30 companies turned out at the events in Crimmitschau and Witten with the first day reserved for service training, while the show itself was held the second and third days. Visitors to the events were able to test a range of machines.
"I greatly appreciated the service training on offer," said Frank Winkler, general manager of Arbeitsbühnenvermietung Winkler. "The practical elements were very helpful and the focused training for troubleshooting and maintenance added value to the day."
There was also refreshments served throughout the two days, as well as a raffle — two lucky winners received a pair of tickets to the MotoGP German Grand Prix, held at Sachsenring near Chemnitz, Germany, July 10, 11 and 12.
Nils Pradel, general manager of Pradel Arbeitsbühnen, added, "Having the opportunity to meet Skyjack representatives from my region, as well as spending time learning about and testing the different units, is so beneficial."