Skylift introduces new truck-mounted AWP
By Lindsey Anderson30 August 2010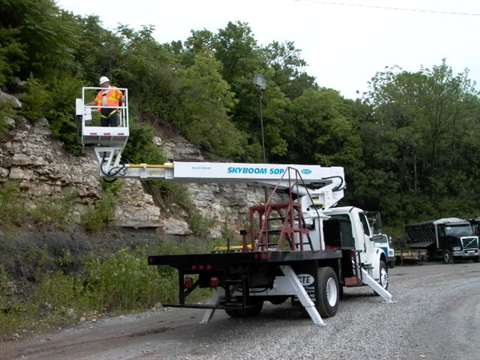 Skylift, Inc. has developed a truck-mounted aerial work platform with a reach height of up to 55 feet. The unit is equipped with welding leads, air lines, a water hose and power hook-ups for the two-man platform that is designed to service large mining equipment, the company said.
George Wojnowski, founder of Skylift, and Mike Knoelke, director of energy markets at Custom Truck & Equipment, attended the 2008 MinExpo and discovered there were safety risks involved in transporting welding and air-powered tools to eleveated surfaces in order to service large mining equipment. The two then developed the Skyboom SL50 as a solution.
Mounted on a class 8, commercial truck chassis, the Skyboom SL50 is equipped with a 12-volt DC powerpack, air compressor, hydrualic controls and outriggers and a gas welder. It meets ANSI A92.2-1990 and OSHA requirements. It has a platform capacitiy of 750 pounds, a working height of 55 feet and a horizontal outreach of 40 feet. All welding, air and electric lines are routed through the boom, which the company says elimates the risk of holding welding leads and hoses over the edge of the work platform to compressors and such on the ground.
"The Skyboom SL50 was developed to provide a safer, easier and alternative means of hauling air hoses and welding leads up to the working location, in order to service heavy-haul mining trucks, hydraulic excavators, mining shovels and highwall mining equipment," the company said.