Smiths adds Snorkel push-arounds
By Euan Youdale30 November 2021
UK-based Smiths Hire has investment in 20 Snorkel S3010P push-around scissor lifts.
The units, which were manufactured at Snorkel's facility in Washington, Tyne and Wear, were delivered to Smiths Hire on 12th November and immediately deployed in their hire fleet. Scott McCall of Snorkel UK handed over the units to Smith Hire Joint Managing Director, Thomas Smith.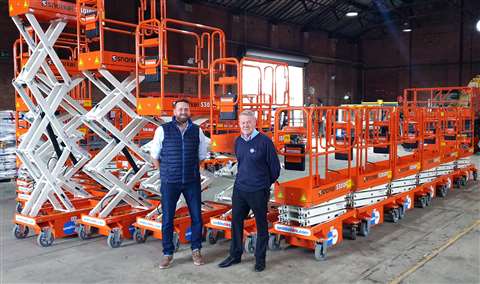 Designed as an alternative to step ladders, podiums and scaffold towers, the S3010P reaches a maximum working height of 5m, and can be easily pushed into position or manouevered around a building when stowed. Ideal for the hire sector, these mini scissor lifts are popular for all types of low-level work at height including electrical and HVAC installation, construction fit-out applications, painting, signage and décor, and buildings maintenance.
An award-winning family business, Smiths Hire is based in Blackpool and operates 16 depots covering the North West of England. The company offers a vast range of access, plant and tools for hire, as well as new equipment for sale. With more than 50 years' experience, the company specializes in powered access, with more than 560 units available to hire.
Speaking of the recent investment in Snorkel push-around scissor lifts, joint managing director, Thomas Smith, said, "Low level access products are popular with our customers and are hired for many different types of projects. We chose the Snorkel S3010P as they are robust products that stand up well to the demands of the hire industry, and we like that fact that they are manufactured here in the UK, just a few hours up the road from our depots."