Snorkel UK announces sales and product manager
By Euan Youdale15 September 2021
Snorkel UK has welcomed Alec Boyle back to its team in a newly-created role of technical sales and product manager for Scotland and the North East of England.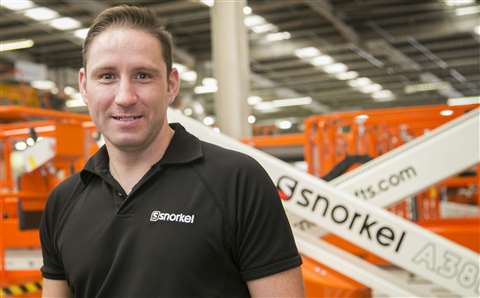 Boyle, who originally joined Snorkel UK as a mobile service engineer, transferred to Ahern Ireland as lead engineer when the branch opened in 2019. He recently relocated back to Scotland and has taken up this new dual role supporting Snorkel UK customers in the region with both product sales and technical support.
Drawing on more than 17 years of experience working with a wide range of plant equipment, Boyle has spent the past 10 years supporting the rental sector providing technical service for MEWPs and related equipment. In this new role, he will utilise his industry experience to support customers in their new equipment purchasing decisions, as well as providing after sales support and product training as required.
Andrew Fishburn, managing director for Snorkel UK and vice president for strategic accounts – EMEA, for Snorkel, said, "Alec was instrumental in the start-up of our Ahern Ireland business and has become a well-respected member of the extended team. We are delighted to retain Alec and support his relocation back to Scotland through the creation of this new hybrid role, which also demonstrates our continued commitment to the territory, which is served by our manufacturing facility in the North East of England."
"I would also like to take this opportunity to thank Alistair Jordan for his contribution to developing this region for Snorkel UK over the past five years. He will be leaving Snorkel UK in October to further pursue his other interests and we wish him all the best for the future."