Socage sells fourth 54 m
By Euan Youdale27 August 2013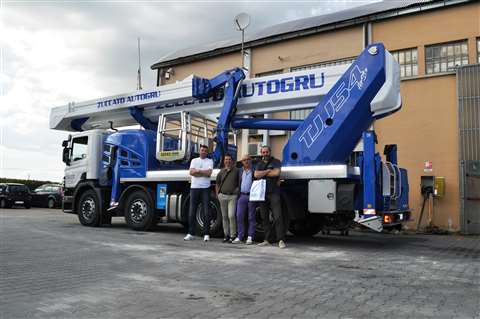 Zuccato Autogru s.r.l. has taken delivery of its second Socage platform, a 54 m TJJ54 Forste truck mount, which was launched at the SAIE exhibition in Italy last year.
The Italy-based company expanded its rental fleet with the TJJ54, after ordering a DA320 in 2010. The 54 m working height TJJ54 has a safe working load of 600 kg, for 6 operators plus tools. According to the Italy-based manufacturer it is the only platform on the market offering a maximum outreach of 40 m.
In addition to its self-stabilization system, the model is equipped with a secondary jib which allows the operator to work under-bridges. A seven inch LCD display screen has also been fitted providing real time information, including 2D working, the range limiter status, the load and position on the outriggers and.
Socage has sold four units of the TJJ54 Forste in the last eight months, two which are still to be delivered in the next few weeks.