Spanish tunnel boring complete
By Sandy Guthrie11 January 2017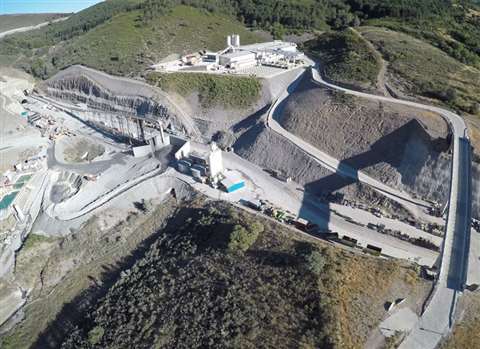 The boring of the Bolaños tunnels between the towns of Verín and Ourense in Spain, part of the Madrid-Galicia High-Speed Line, has been completed.
Contractor FCC Construction said the works entailed the delivery of two parallel single-track tunnels, each 6.7km long.
It reported that with an average excavation performance of 19.40 linear m/d in the first tunnel, the work took 11.5 months to complete. The boring of the second tunnel saw an average excavation performance of 24.32 linear m/d, meaning that it took 9.5 months to finish.
FCC said it used an innovative solution in the construction of the tunnels. This involved the application of a stabilisation system for land of high geological instability.
With an excavation diameter of 9,900mm and useful cross-section 60.27m², the tunnel was lined using precast segments 370mm thick and 1,600mm long.
The tunnel boring machine (TBM) used for the excavation was a single shield and manufactured by Herrenknecht in Germany.
Carlos Jarque, CEO of FCC Group, said, "FCC Construction has built up extensive experience and technical knowledge in transport infrastructure. This has increased the company's competitiveness and internationalisation in the rail sector."
FCC Construction has built over 99km of AVE (high-speed rail) in Galicia, undertaking projects such as the Vigo-Das Maceiras Tunnel with a length of 8.5km as well as the Bolaños Tunnel.