SPMT: Modular development
By Christian Shelton08 January 2019
The modular nature of the SPMT lends itself to hybridisation  and equipment manufacturers are now exploring exciting variants. Christian Shelton reports on the evolution of the SPMT
Necessity is the mother of invention, the saying goes. There has always been a need to lift and move heavy items. Throughout history this has been demonstrated. The ancient Greeks first developed construction cranes to help build their empire. As mankind has advanced it's now complex bits of industrial equipment and infrastructure that need lifting and moving. And the way in which we move heavy items has also evolved. Dutch heavy lift and transportation specialist Mammoet is widely recognised as finessing the SPMT concept as we know it today. But what will the SPMT of tomorrow look like?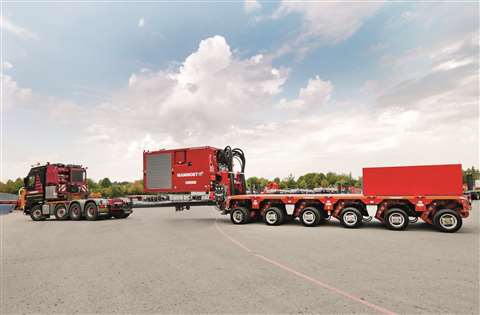 Changing times
Mammoet says that modularisation and a factory-to-foundation approach are changing the face of large-scale construction around the world. Often it is safer and more efficient to fabricate the components for a new facility in a controlled environment than it is to stick-build them on location, the company claims. However, this method calls for methods of transport with the capacity to move oversize loads across large distances quickly and safely, it states.
Traditionally, there have been two ways of hauling heavy modules over land with contemporary equipment. Self-propelled modular transporters (SPMTs) provide excellent traction and control but only reach speeds of three or four kilometres per hour, or as little as one kilometre per hour going uphill, says Mammoet.
Alternatively, multiple prime movers and trailers can be combined to push-pull a load at greater speed. However, Mammoet points out that the need for precise coordination of numerous drivers for long periods of time increases project complexity and risk. And using several prime movers means a more significant carbon footprint, it says.  
Mammoet's latest solution for moving heavy objects long distances is its hydraulic-powered trailer system: Trailer Power Assist. The system was developed in conjunction with SPMT and trailer manufacturer Scheuerle and, according to Mammoet, is designed to make heavy transport projects quicker, safer and more sustainable. It says the system reduces the number of trucks required to pull and steer an oversized load, while delivering greater speed, fuel efficiency, versatility and safety.
Each TPA trailer consists of six axle lines, the middle four of which are driven by a Power Pack Unit (PPU). The PPU comprises a 1000 hp MTU V12 diesel engine that drives a hydraulic motor system. According to Mammoet, one TPA generates 40 tonnes of traction.  
Less weight
With 32 wheels across the four driven axle lines, one TPA unit requires half the weight to deliver the same traction as the four axles and 16 wheels of two typical prime movers, says Mammoet. The company claims this significantly reduces the combined weight of a transport job and provides an advantage on slippery or icy roads. The TPA's hydraulic motors can also be used to aid braking or on downhill sections of a route. Mammoet says this reduces wear on the brakes and provides extra control.
According to Mammoet, the TPA can be used in a variety of configurations. A configuration of six TPAs and two prime movers can transport loads of up to 2,000 tonnes at up to 28 km/h. Mammoet says is up to 20 times the speed of an SPMT but with one third the fuel consumption.
Above 28 km/h, the TPA's power unit will switch off and the prime movers can then pull the load at highway speeds.
The middle four of the TPA's axles are powered by a hydraulic drive system. Each axle has its own hydraulic pump. Gearbox synchronisation ensures gear changes occur in sequence across the axles rather than all at once, so there is no sudden loss of traction across the axles when speeding up or slowing down, says Mammoet. The system is designed to work in environments between -40°C and +50°C.
When the TPA assist unit is not in use it can be pulled in freewheel mode by a prime mover at regular highway speeds. The trailer's Power Pack Unit is switched off, so that less fuel is used transporting the system from one location to another.
Tracking changes
Italian heavy transportation specialist Mouvers has also developed what could be described as a hybridisation of the SPMT. It calls its modular transport system Voyager and it is designed to move heavy loads inside industrial sites. According to Mouvers, Voyager is comparable to an SPMT as it has electronic multi-mode steering and hydraulic suspension; however, instead of being on wheels, Voyager moves on tracks and has a loading height of just 420 mm and so is well-suited for use in confined spaces. The payload of each module is 35 tonnes and Mouvers says the tracks offer reduced ground pressure and help preserve the floor from scratches.
Each track is assembled on hydraulic suspension with cylinders, with a stroke of 160 mm, on a swinging support; according to Mouvers, this means Voyager can move up inclines or adapt its position to compensate for any unevenness in the ground. Each Voyager module has additional hydraulic pistons positioned at the four corners. These pistons have a 200 mm stroke and, used in conjunction with the module's suspension, allow Voyager to be lowered and raised.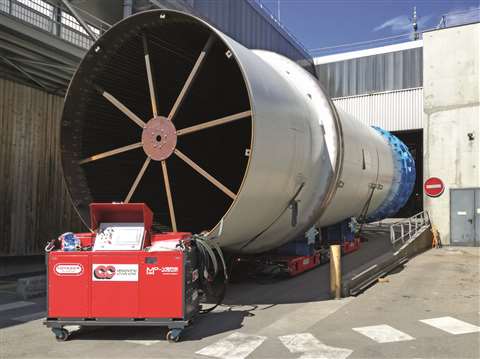 Mouvers' Voyager system is designed to move heavy loads inside industrial sites
Voyager has five steering modes: 1) Fixed rear, front steering; 2) Fixed front, rear steering; 3) Front and rear counter steering; 4) Diagonal, up to 90 degrees; 5) It can also carousel around its centre. All steering modes can be performed while driving up to 60 % of the maximum load. Above this, or to carousel, the modules must be raised on their frame pistons, the steering set, and the modules then lowered to the driving position. The position of each module is them logged by the system's program, which calculates the required angles and synchronises the modules' steering accordingly.
There are four hydraulic motors in each track unit, with proportional speed and track control. Each module is 2,200 mm long and 1,080 mm wide and they can be connected to each other end-to-end or side-to-side. A basic configuration, for example, is made up of four modules connected together.
The modules are powered by a separate power unit, which can either be attached to the modules or separated up to a distance of around 10 metres, if required. One power unit can control up to eight Voyager modules.
Further variation
German specialized transport equipment manufacturer Goldhofer has also been exploring a variation of the traditional SPMT with its Addrive system. According to the company, Addrive combines the benefits of a towed module with those of a self propelled modular transporter in terms of tractive force, speed, flexibility and economics.
Addrive is designed as a heavy-duty module with a switchable drive. So, when maximum speed is reached, the drive unit disconnects, separating the motor from the wheel thus preventing the drive from overheating. To handle gradients, the Addrive is activated again to obtain full tractive power from the system. This avoids the need for an additional towing tractor or pusher, Goldhofer says.  
Goldhofer's Addrive system has been used in combination with its Faktor 5 high girder bridge to transport 13 gas turbines, weighing between 186 to 289 tonnes, a distance of over 1100 km for the construction of three power plants by Mexican heavy haulage company Transportes Muciño. According to Goldhofer, Transportes Muciño was the first company in Mexico to use these two bits of equipment together.
Although the majority of the route was on good roads, a number of challenges were encountered including bridges and steep ascents and descents in the mountains. Goldhofer says that the additional power available from the Addrive meant that Muciño were able to transport the loads on gradients over 10 %.
Bluetooth synchronisation was also used to coordinate the Addrive with the tractor at speeds of up to 15 kph. The switchable auxiliary drive provided the necessary additional traction on critical passages, Goldhofer says. It also made it possible to cross bridges without using tractors in order to reduce the overall weight of the configuration, Goldhofer added.
The rig was 95 m long, 6.84 m wide and around 5.3 m high; Goldhofer says it reached the various power plants without any notable problems. At the power stations, the Addrive was used instead of the tractor for precise positioning. Raul Cuevas, commercial director at Transportes Musiño explains: "In view of the confined space on the site of the power plant, we replaced the tractor with the Addrive there. That gave us the manoeuvrability we needed for the extra-long rig and enabled us to achieve precise positioning."
Configuration combinations
Italian trailer and SPMT manufacturer Cometto emphasises the flexible nature of its MSPE modular transporter. Cometto offers four interchangeable MSPE trailers, with the newest – the MSPE Evo3 – having a capacity of up to 70 tonnes per axle line. Each series is available in two different widths (2,430 or 3,000 mm) and the modules can be composed of 3, 4, 5 or 6 axle line bogies. Many types of power pack units (PPU) are available in various strengths, each depending on the number of axles being driven, Cometto says.
Casablanca, Morocco-based international logistics firm Marine Maroc used four modular combinations of Cometto MSPE 40 tonne self-propelled trailers in side-by-side configuration for a heavy transport job in Mali. The job involved transporting six diesel engines, each weighing 215 tonnes, and six generators, each weighing 72 t, for Kayes power plant. Marine Maroc carried out the project for Bolloré Logistics on behalf of BWSC Denmark.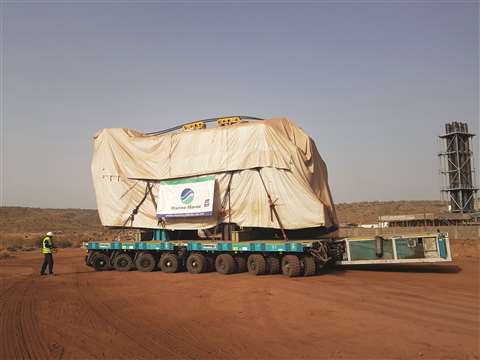 "The MSPE convoy formed by eight axle lines was coupled side-by-side with other eight axle vehicles," explains Daniel Delorme, CEO of Marine Maroc. "We reached a platform width of five metres and a payload of about 600 t. The platform was used for the final movement of the project to position the engines inside the power house on the job site, alongside the foundations."
In addition, Spanish specialised transportation company Transportes Teixu Menéndez S.L (Teixu) has bought two 48 tonne capacity Cometto MSPE trailers, along with two power packs with an output of 175 kW each. According to Cometto, Teixu will use the system to transport wind energy towers from manufacturing sites to different ports.
So, returning to the question posed at the beginning: what will the SPMT of tomorrow look like? Well, perhaps here we can already see the first stages of the evolution of the SPMT as we currently know it. The lines between different types of equipment, such as modular transporters and trailers, are certainly becoming blurred in this post-modern age of modular construction. However, one thing is clear: we are seeing innovation across the board. Whatever the future holds, the need to move large items from A to B will remain and where there's a need, there's innovation…
Record Goldhofer order from Sarens
International heavy transport and lifting specialist Sarens has ordered 92 axle lines of self propelled modular transporter from Goldhofer. The trailers are destined for a huge oil field project in Kazakhstan claimed as the world's largest construction site.
Sarens' contract, worth €450 million, is for the entire logistics of the vast refinery project. It is the largest single contract Sarens has ever won. The entire project is estimated to have a total cost of US$ 36.8 billion. It is an upgrade of the existing refinery facility to increase well pressure and production capacity.
Work for Sarens Group there began in 2017 and will continue until 2020. The first step was to deploy a multidisciplinary team drawn from Sarens' operations around the world. Sarens also established two trans-shipment bases for offloading and forwarding all cargo to the construction site in Kazakhstan.
Carl Sarens, director global operations, commented, "We have dispatched around 250 specialists to handle the overland transportation and on-site installation of the pre-assembled units and racks and associated oversize equipment. For the overland transportation operations, Sarens already had more than 900 axle lines available in Kazakhstan. At the beginning of 2018, however, we saw an upcoming peak in the required logistical capacities as of the beginning of 2018. We therefore had to urgently increase our capacities to avoid problems in meeting the project schedule. Goldhofer delivered a convincing response with top quality at very short notice and absolutely punctual shipments."
The equipment order was comprised 68 axle lines of THP/SL and 24 of the PST/SL type plus four 280 PS PowerPacks. With the new additions Sarens has 300 axle lines from Goldhofer.
Commenting on the deal, Horst Häfele, Goldhofer head of product management, said, "We are proud of the fact that our axle lines are being used by a prominent customer like Sarens for such a prestigious project. The Goldhofer production team did a great job in terms of co-ordination and completed the entire order in less than three months. Everyone was highly motivated to complete the largest single order ever received from Sarens to such a tight schedule. Many of us worked special shifts to meet the deadline."
Jan Sarens, equipment trade officer, said, "Goldhofer was the only heavy-duty module manufacturer who could guarantee punctual delivery of high-grade axle lines in such a quantity within such a short time. As a result we were able to meet our contractual obligations towards our client, and Goldhofer was able to consolidate its position as a long-serving transport technology partner of the Sarens Group."
Jan and Carl Sarens with Horst Häfele, head of product management at Goldhofer