Sponsored Content: Sarens erects the roof of the new Hungarian national stadium in Budapest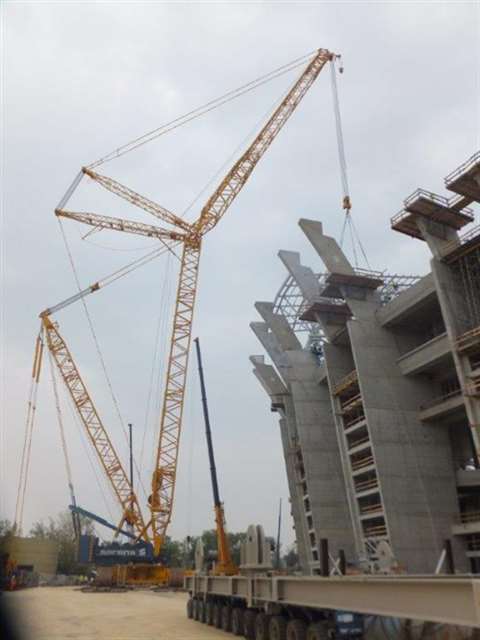 July 2018: The Ferenc Puskás Stadium, located in the 14th district (Zugló) of Budapest, Hungary, will be a host to the UEFA Euro 2020. The construction of the stadium began in 2017 and is expected to be ready by 2019. It is planned to be an all-seater with a capacity of 67,889 and expects to be awarded the 5-star rating when construction is finished. The stadium is built in the place of the former Ferenc Puskás Stadium.
Sarens signed the contract with KSEZ to undertake the transport and lift of the outer and middle steel trusses of the roof of the new Puskas Ferenc stadium. In total the Sarens team will carry-out 76 transports and lifts at a ratio of 4 per week.
To perform the lifts Sarens deployed:
CC6800 SWSL
32 axle lines SPMT
2PPU
Spacer units
Originally, it was planned to deploy a 650T crawler crane but for the project it was required to perform more lifts from same crane position. After all the cost considerations and discussion with the client, it was decided to use a stronger and bigger crane. The strategic advantage the CC6800 offered was that the preparation time for each lift was reduced due to less crane positions, less Superlift handling, and ease to comply with the deadline of 4 lifts/week. It was also a challenge to find the best suited SPMT configuration which could support all different types of trusses in the right place without requiring configuration changes in between.
CC6800 was shipped from Peru and took 25 days to reach Antwerp from where the crane left by road for Budapest. Crane erection and SPMT preparation took two weeks, including installation of mats and Superlift. Special attention was given to the influence of the wind and most optimal solution was found to have a minimum of wind delays for the client. There was a last minute change of crane erection position, which was changed to a very narrow corridor. Our teams safely carried out the erection of the crane without interfering with the other tower cranes in the vicinity.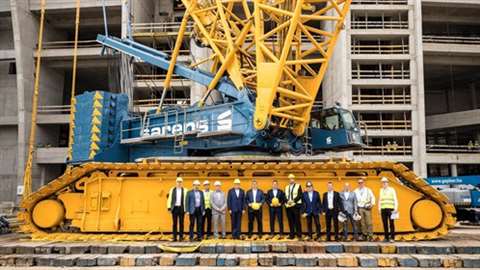 Once erected, the crane had to lift outer and middle steel trusses of the roof sections. The trusses were fabricated in workshops in Hungary and brought to the site as stick build material. Trusses were built together at a distance of 150m from the stadium in a pre-erection area. The finalised trusses were picked-up from the pre-erection area by Sarens SPMTS and brought closer to the CC6800. The outer trusses weighed 125T and were lifted at a radius around 35m and the middle trusses weighed 85T and were lifted at a radius around 65m.
Sarens would be performing transport and lifts of 75 trusses over a period of eight months and complete the project by October 2018. According to Sarens Manager Projects Group, Dirk Besters, "Sarens worked with excellence to have a crane, coming from another continent after custom clearance/ shipping/ road transport, on a very limited space, in a dedicated sequence, arrive in time on site, and safely perform the lifts of trusses. The client was very pleased with the solution offered and we had the Hungarian Prime Minister visiting the site and appreciating our efforts."