Star expands and recruits
By Euan Youdale25 June 2018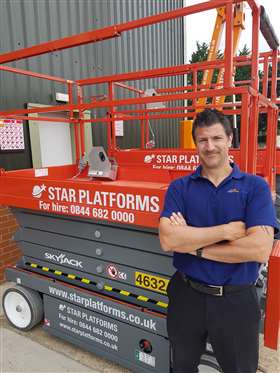 UK-based Star Platforms has opened its fifth depot in Thetford, East Anglia. Equipment orders for the site have been placed predominantly with Skyjack and Niftylift; with the equipment arriving throughout June.
Joint managing director, Richard Miller, said, "We have a large demand from existing customers to supply equipment in the Anglia region and with no Access Alliance member covering the area, we were compromising the service we offer with no managed supply chain.
General manager for the new depot Stephen Carman has also been recenyly appointed. He previously worked in senior positions for Hewden and Nationwide Platforms and brings more than 20 years' experience in the rental sector.
Carman said, "I worked with the senior management team of Star Platforms during my time with Nationwide Platforms and watched with interest as this quality business was being built. When Richard approached me about working with Star Platforms at the brand-new Thetford depot it was an opportunity I couldn't turn down. We are now open for business and I look forward to supplying our customers with quality equipment and a first-rate service across the Anglian region."