Starting grid for F1 JCB deal
By Euan Youdale13 March 2019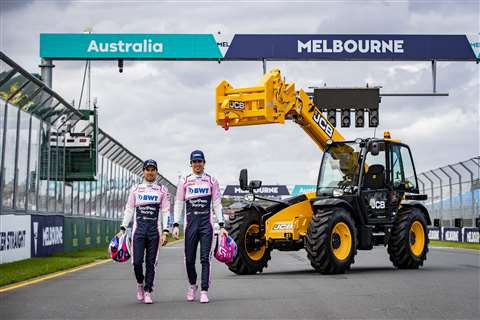 JCB Loadall telehandlers are under starter's orders for an appearance at the Australian Grand Prix this weekend as the company kicks off its partnership with a new British motor racing team.
JCB announced the partnership with SportPesa Racing Point Formula One team last month and it will see prominent JCB branding on the two cars driven by Lance Stroll and Sergio Perez.
The first Formula One race of the season takes place in Melbourne this weekend – when JCB Loadall telescopic handlers equipped with special jib attachments will also be trackside. The 15 machines, Loadall 531-70 models made at the company's World HQ in Staffordshire, UK, will be on hand to quickly recover crashed cars during the various race events, including F1 practice, qualifying and the main F1 race event on Sunday.
The special jib attachment on the Loadalls was developed to move the lifting point of the car away from the actual machine, making it easier and safer to recover a vehicle from the track.
Worldwide marketing director Michael Plummer said, "We are excited to kick off our new partnership with SportPesa Racing Point in Melbourne and delighted that JCB telehandlers will also be making an appearance at the Australian races. JCB Loadalls are the biggest selling telescopic handlers in the world and already a familiar sight on Formula One race circuits. To have them trackside at this season's inaugural race is a great opportunity to show off the machines' capabilities to a global audience."