Super battery for UK windfarm
By Joe Sargent19 June 2019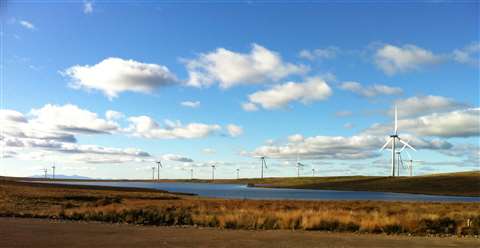 The Scottish Government has approved ScottishPower's (an electricity provider) plans for a 50MW battery on the site of the UK's largest windfarm, Whitelee, in Scotland.
The battery storage site will be the size of half a football pitch and comprise 50MW of lithium-ion battery technology.
Charged with clean renewable power from the site's 215 turbines, the planned battery storage centre will support the UK's National Grid (the UK's power network) even at times when the wind may not be blowing – which ScottishPower says is a first for a windfarm in the UK at this scale.
Its planned storage capacity makes it the largest windfarm battery in the UK, capable of achieving full charge in less than one hour.
With the addition of the battery, the windfarm will be on standby to provide services like reactive power and frequency response to the National Grid, which will enhance control and flexibility.
When complete the battery's power could be fully consumed or used in bursts, as and when required, keeping the electricity network stable by balancing supply and demand.
In instances when the windfarm is producing excess energy, likely at night when demand is lower, the battery will be utilised to store the surplus power.
Keith Anderson, ScottishPower Chief Executive, said, "This is a significant step forward in the road to baseload for renewable energy. We know that renewable energy generation needs to quadruple and we know that onshore wind is the cheapest form of green energy.
"If we are to meet the bold target of net zero by 2050 and deliver the decarbonisation of our economy, transport and heating systems, large battery storage facilities such as this along with more windfarms like Whitelee are crucial."
At its peak, the windfarm can generate 539MW of electricity, enough to power close to 300,000 homes.
In 2018 a similar battery facility was completed in Germany, which claimed to be the largest in Europe. The site was constructed to store the energy produced by another windfarm and had the same capacity of 50MWh.
The new battery facility in Scotland will rival the German project and is expected to be fully operational by the end of 2020.