Surveying: Surveying change
By Thomas Allen15 November 2017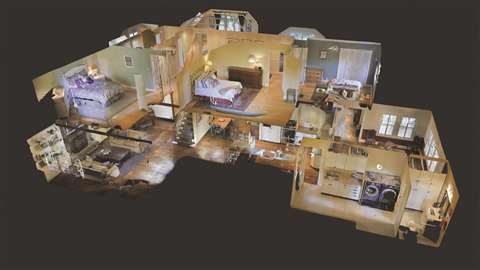 Theodolites and levelling rods could soon be relegated to museums, as construction relics of a bygone age.
At least, they might become redundant on large jobsites, since technology is shifting the job of surveying out of the hands of humans and onto machines.
For instance, a lot of tier-one contractors in the UK were said to have started deploying Matterport's 3D scanning system, according to Charles Hill and Karl Pallas, co-directors of Immerse UK, a local reseller of the system.
Hill said, "It is a camera device that records light and depth data to quickly generate an accurate photo-realistic 3D model of a space."
The device is moved to a number of positions around the site, with each scan rotation taking about 30 seconds to complete.
"The raw scan data is uploaded to the cloud to quickly generate a complete, dimensionally accurate 3D model, which can either be downloaded as a point cloud file (the same output as a laser scanner), as a coloured texture map mesh file, or viewed in a web browser," Hill added.
Currently in use on a number of large UK projects, including the King's Cross redevelopment, the Thames Tideway and the Farringdon Crossrail station, the Matterport system can be used to keep a record of work before trades exchange.
This ability to keep record and add tags to the 3D model that link back to the document control system removes the need to take lots of photos and minimises the potential for dispute.
Looking to the future, Pallas said, "In construction, it may be possible to compare 3D CAD (Computer-Aided Design) or BIM (Building Information Modelling) models with Matterport models to automatically identify where changes from the original design have occurred, rather than spend money on a professional engineer to do as-built drawings."
CAD models
On the subject of CAD models, Leica recently introduced its new DX Office Vision, which is utility post-processing software for mapping ground penetrating radar data from the field into a CAD drawing.
Due to its intuitive interface, DX Office Vision was said to allow even inexperienced users to obtain professional 3D CAD drawings, with minimal training.
Developed by utility surveyors, the software was created to reduce the post-processing time and eliminate unnecessary steps to convert data or choose parameters. As a result, no add-on or third-part software is required.
Tughan Telatar, product manager of construction tools for Leica, said, "DX Office Vision is so simple to learn that anyone from the crew can take over data processing into professional CAD drawings in five steps and it is 50% faster than traditional methods."
Also looking underground, Moba has revealed its Pave-TM, a system for automatically measuring layer thickness for road construction.
Said to be the world's first non-contact system of its kind, the company suggested that Pave-TM makes for better quality asphalting by reducing the risk of human error and increasing safety. Altogether, it was said to lower costs.
The high-end controller, MPC-120, calculates layer thickness in real-time, working in conjunction with Sonic-Ski Plus, which comprises four high-precision ultra-sound sensors.
After one initial adjustment, the system continuously displays the current thickness of the paving, be it surface course, base course or binder course. This was said to make for better-quality asphalting since layer thickness is a key determinant of paving quality.
Due to Moba's close co-operation with Dynapac, the machine manufacturer's SD series pavers are Pave-TM-ready as standard. The system can also be fitted retrospectively, meaning that pavers of any age and type can be upgraded.
Crane camera
Going in the opposite direction, high above the ground, Switzerland-based Pix4D's crane camera has been used in Denmark to monitor progress on a large hospital project that covers more than 15ha.
Developed in collaboration with Liebherr, the weather-proof and vibration-proof camera has been automatically collecting as-built data on a day-to-day basis, in order to help the project managers keep track of what is a complex jobsite with 13 tower cranes and multiple sub-contractors operating on it.
The purpose of the camera is to generate 2D perspective-free, scaled orthophotos of the site, so having it point straight down is important for ensuring better orthomosaics, where by the photographs are stitched together.
On the Danish site, the project team decided to set up the camera at the end of the jib on a 65m rail-mounted tower crane before installing it on site. This apparently took the team less than 30 minutes to do.
Since the camera is powered by the crane and is equipped with a mini computer, as well as GPS and movement sensors, the system can run independently.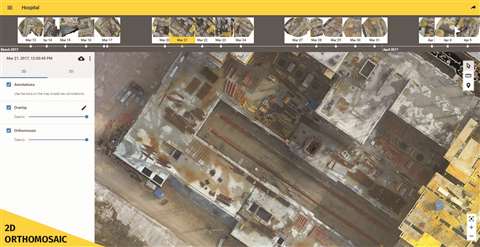 Data collection can be controlled remotely or run automatically. On the hospital site, it was set up to automatically collect images every day at the same hour and for the same period of time.
The images are then uploaded to the cloud, where it takes a couple of hours to be processed into 2D and 3D models.
Pix4D software uses advanced image analysis and photogrammetric algorithms to process the images. Due to the fact that the images are orthographic, they can be compared with CAD and BIM drawings used on the site.
Mapping with drones
Also up in the air, Pix4D has been working on mapping software for drones.
Norway-based construction company Isachsen has been using Pix4D's drone mapping software, Pix4Dbim, in combination with desktop and cloud processing, to keep track of and manage its projects.
Isachsen is currently working on the construction of a tunnel in Drammen, Norway, and the team uses a DJI Phantom 4 Pro drone kit to get as-built updates once a week.
Trygve Almquist, a surveyor at Isachsen in charge of the drone fleet, said, "With this type of site, we need to fly a lot – more often than mining for instance – because everything changes so quickly on the ground."
With Pix4Dbim software, Almquist said he was able to process the captured images either on the cloud or on desktop and then upload results from one application to the other. However, due to the fact that 2D orthophotos and 3D point cloud outputs are required, to share with the project stakeholders, many of the flights are only processed on the cloud.
In terms of the time it takes, Almquist said, "I need five to seven minutes to arrange and upload the dataset. To get the finished results, it's usually about an hour and twenty minutes."
One of the biggest advantages of the system was said to be the fact that it facilitates work between all the project teams working on the site because the surveys can be made available to everyone.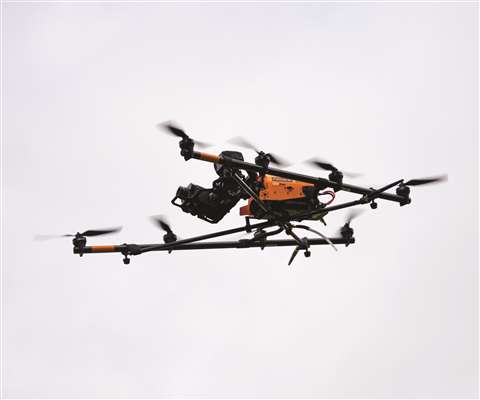 Survey-grade LiDAR
Texo Drone Survery and Inspection (DSI) has also been working on drone-related technology. The UK-based company recently introduced what it said was the world's first Unmanned Aerial Vehicle (UAV) integrated survey-grade LiDAR (Light Detection and Ranging) system.
The copmany's UAVs currently in operation were said to be able to deal with wind speeds of up to 15m per second, with the flexibility to carry a variety of custom payloads – Texo DSI has permits for payloads of up to 20kg. A prime example is its LiDAR survey work.
According to the company, a traditional ground-based survey typically takes ten times longer to carry out than a LiDAR survey, and comes without the benefit of high-definition images of the site or structure. It was also said that LiDAR offers a cheaper and safer alternative.
In terms of scale and accuracy, UAV surveys can cover hundreds of hectares in a single say and acquire thousands of high-definition geo-referencing aerial photographs.
LiDAR measures distances using light in a pulsed laser form, and the images are then processed to provide detailed aerial mapping and topographic surveys.
Texo DSI said the accuracy of data in a standard LiDAR survey is generally around 40mm. However, Texo DSI's new system was said to be capable of achieving an accuracy of one to three millimetres.
The system is delivered via a custom-built UAV platform that measures more than 1 million points per second, providing a reliable baselines for future surveys.
Other possible applications include thermographic surveys, optical gas imaging, and hazmat detection and hyperspectral imaging.