Tadano AT erects tanks for east coast bottling facility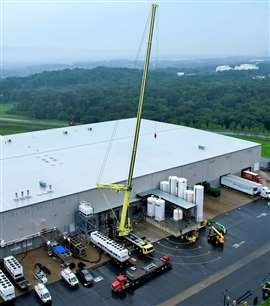 Lane's Crane Service of Moosic, PA received an interesting lifting challenge from beverage bottling company Joriki USA recently; erect four 37-foot tall, 19,000-pound tanks on the company's plant floor under a 41-foot ceiling joist. Lane's AC 7.450-1 all-terrain crane, purchased from Tadano distributor Empire Crane, with extended 263-foot main boom, coupled with the Sideways Superlift System (SSL), eliminated the need for a luffing jib. 
"We chose this crane due to its long reach and ability to do the job with main boom only, as well as its efficiency when being assembled on site," said Matthew Lane, of Lane's Crane Service. 
The lifts themselves presented the Lane's Crane Service team with an interesting challenge: the four 37-foot tanks had to be set upright in the hall, which was only 41-feet high. Therefore, the only access for the lifts was through the roof of the hall. Small rectangular openings in the roof (exactly above the respective installation positions of the tanks), were created and were made just large enough for the hook block to fit through.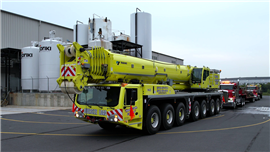 The Lane's Crane Service team used a 35,000-pound forklift as a "tail crane" to stabilize the tanks during the lift at the other end. In this way, the team managed to safely install all four tanks in the shortest possible time. 
"Tadano put a lot of thought into the design of this machine, which is effectively a 7-axle crane that competes like an 8-axle but has the space envelope closer to a 6-axle. It's a lot of strength and reach in a relatively compact package," said Hutton Strader, all-terrain product manager, Tadano America.