Tech boost for wind turbine installation
By Mike Hayes22 September 2020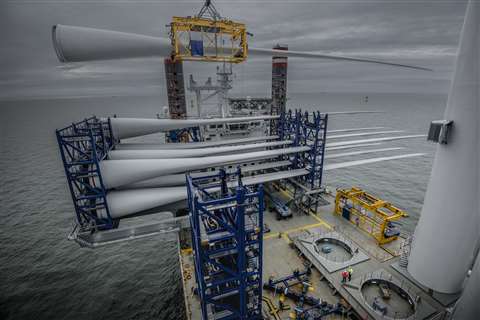 Danish wind turbine manufacturer MHI Vestas and Australian lifting technology firm Verton have partnered to produce a specialised remote-control solution for use during wind turbine installation.
MHI Vestas developed SMART dampers, which reduce fatigue loads on wind turbine towers; the new tooling will be used to precisely handle the dampers as the turbine generators are installed.
Verton's managing director Trevor Bourne said the benefits of integrating Verton technology to create this specialised tooling for MHI Vestas are significant.
"Working on offshore sites is difficult enough and is further complicated using taglines to control loads during lifting operations. Our Columbus 7.5 SpinPod will be capable of precisely controlling the orientation of the custom lifting yoke and its load, including setting and holding a desired orientation, even under the most challenging conditions," Bourne said.
He added, "Our remote-control solution completely removes the need for taglines and for workers to be near the landing area of loads, greatly improving safety and reducing the number of workers required. The precise orientation control will also enable lifting operations to be completed faster, which is very important in an environment where every minute saved is highly valuable."
MHI Vestas' chief technology officer Torben Hvid Larsen said of Verton's technology, "With this partnership with Verton, we are introducing the next generation of load orientation equipment to MHI Vestas' toolbox. This technology will enable us to increase our offshore handling capabilities and make our product and associated handling procedures smarter, safer and more flexible."