Telehandlers: moving closer?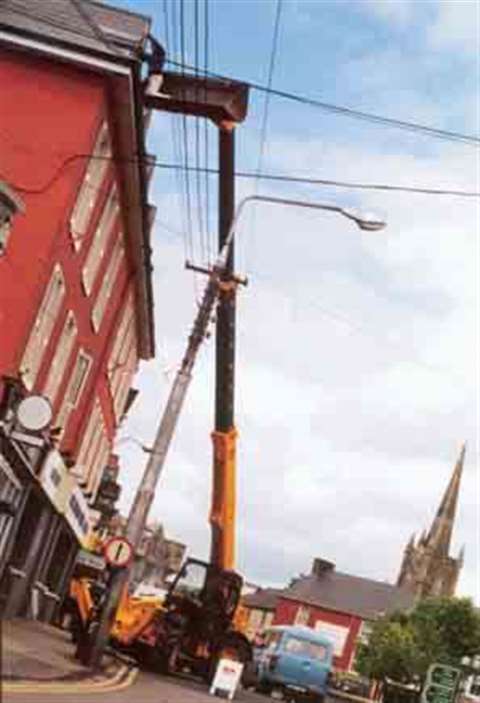 Of course telehandlers are used inappropriately and dangerously to provide makeshift access solutions, but then so too, on occasion, are access platforms. Balancing pallets on forks and working out of buckets are statistically so high risk that nobody is seriously arguing their safety.
Such dangerously irresponsible use of telehandlers to provide access for work at height is no longer the central issue.
The practice is, however, not entirely irrelevant. It serves to highlight a persistent desire to make use of a convenient and often available-even under-utilised-item of equipment to solve an equally common problem.
The continued resort to such ad-hoc approaches to the use of telehandlers for work at height has led to the development of an aftermarket in the design and supply of 'man-baskets'. Their designs display varying levels of understanding of the safety issues of the cage itself, its attachment to the telehandler and of the stability questions posed by the combination of the basket and original machine.
Known generally as basic or non-integrated platforms-often referred to as 'dumb' platforms in North America-they also have a common, fundamental design feature that is at the centre of arguments over their safety. This is the fact that all movements of the platform and indeed of the machine to which it is attached are controlled from the cab. Those on the platform have no direct control whatsoever.
In the UK, the impending revision of the HSE's (Health ' Safety Executive) Plant and Machinery Guidance Note PM28, expected to be entitled 'Working platforms (non-integrated) on Forklift Trucks' will not, judging by the draft, absolutely rule out the 'occasional', 'exceptional' use of methods not considered safe for regular, planned work.
Even so, there is no mistaking the message. The draft refers to the use of such unsafe methods of access to height for short duration and occasional tasks as 'foreseeable but unacceptable'.
Major world manufacturers of both telehandlers and access platforms are responding to the market pull as well as to the legislative push. Telehandlers are increasingly sporting highly capable, sophisticated, integrated platform attachments-smart platforms as they are known in North America. Equally, many aerial platform makers are acquiring telehandler brands (JLG and Genie spring to mind) and vice-versa.
The obvious overlap of design and manufacturing technology is only part of the logic for this closer relationship. Telehandler-based platforms offer some special advantages, including payload capacity and superior rough terrain capabilities, and so can complement a fleet of dedicated access machines. The multi-role machine that can lift materials as well as people to work at height is something that telehandler ranges cannot afford to ignore.
CE marking
By transferring complete control to the operator in the platform itself with interlocks that isolate the controls in the cab, integrated platforms can comply fully with design standards for dedicated platforms. In Europe, for example, they can meet the requirements of the EU Machinery Directive through conformity with EN280. Crucially, this allows them to be CE marked for supply and use throughout the EU.
In contrast, basic, or 'dumb' platforms do not meet the requirements of the Directive so there is no free trade in Europe for them. Consequently they must not carry a CE mark.
Telehandler manufacturers supplying the European market are emphasising conformity with EN280 for their integrated platforms. This vitally important aspect of their marketing strategy adds weight to the argument that telehandlers, with their platform attachments, and dedicated self-propelled aerial platforms continue to grow closer together.
Typical is JCB's response to the question of safety and standards conformity. Again emphasising the overlap with dedicated platforms, they refer to their machines as Telehander MEWPs. These, stresses JCB, are covered by Annex IV of the Machinery
Directive and so are certified by a Notified Body. Securing this requirement demonstrates that safety requirements, including those in EN280, have been fully met.
"Achieving that certification," says JCB, "Called for a number of safety systems and interlocks, including motion control in platform mode to protect against forward overload and an emergency get-down system. A single key is used to transfer full control from the cab to the platform controller and is used to activate the controller."
JCB, conducted the necessary stability tests required in EN280 in addition to those set out in the telehandler standard EN1459.
Merlo meanwhile promotes its SPACE system as the 'next evolution of the platform concept'.
This provides an additional boom complete with its own telescopic and slewing functions to offer a unique working envelope. With a 300-degree slew system on the boom, the combination of SPACE and a telehander allows two men and their equipment (up to a 200kg working load) to access places that conventional platforms cannot reach. It can provide access around corners, behind other structures and up to 7.4m below machine level.
The system can be fitted in minutes to suitably equipped Merlo machines. The modifications for platform use include an overload control system, with an acoustic warning signal, to prevent any further overloading motion once the limit of the platform's rated capacity is exceeded.
While telehandler platform manufacturers supplying the European market are using EN280 as a means of demonstrating that the requirements of Annex IV of the Machinery Directive have been met, there is still work to do on the standards issue.
IPAF has become involved in this through its recently formed Telehandlers Committee. Born out of the previous campaign against the inappropriate use of goods lifting equipment to lift people, the thrust of the new Committee is to promote best practice.
Its chairman, Peter Grant of Merlo UK, underlines its role and aims: "We have been able to bring together telehandler manufacturers to contribute their experience in the refinement and harmonisation of existing standards and the development of new ones to give users clear, unequivocal safety guidance."
Harmonised standards
On the issue of worldwide standardisation, Peter Grant expresses concerns: "The US situation is very different from Europe. They want to continue to use dumb platforms. The US standards contain user sections, put together by joint manufacturer, user and government representatives, which throw a lot more of the responsibility onto the operator. In Europe, the Machinery Directive does not allow this. This difference is one of a number of stumbling blocks in harmonising international standards."
Concerns have even been raised in the US over possible conflicts between the ISO TC214 (aerial platforms) and TC110 (forklift) Committees.
Dennis Eckstine, Chairman of the ISO TC214 standards committee, has his focus on aerial platforms: "We've still got a lot on our plate getting out the platform standards but we are making good progress." However, he is also optimistic about liaison between the two ISO committees. "We still need to do more to develop this," he accepts, "But we do already have good informal links with common members of the two separate bodies."
He articulates concerns that dumb platform design is currently inadequately governed by standards. Clearly less than convinced about their use and safety, he still offers practical, pragmatic advice. "If," he says-and the pause stresses he is not lending support to this, "If you are going to design these types of platform then there are many applicable points in the aerial platform standard that need to be incorporated." Of course, he is referring to those points of commonality-guard rail height and the like. He stresses that there are many other key issues such as attachment of the platform, for example, that are not covered.
He reinforces his general concern: "The whole question of the use of this sort of equipment is still under debate and a whole range of questions, including stability, still need to be resolved."
Safety consultant Jack Kucksdorf of Kucksdorf Consulting Services, a member of the ASME B56.6 committee responsible for rough terrain forklifts, promotes a different view, seeing as he does no problem with the use of platform attachments without integrated controls.
He also takes issue with the 'dumb' terminology because of its negative connotations. "If users take account of the guidance in the B56.6 standard then they are safe in use," he claims. "Statistically there is no evidence that they are unsafe."
Apart from the cost of integrated platforms, which he cites as a reason for their limited success in North America, he also raises reliability issues related to the additional complexity involved in the modification of telehandlers to take such platforms.
While supporting methods of lifting people that are compliant with ASME 56.6 criteria, he stresses the difference between non-compliant, unsafe methods using buckets or pallets, or standing on the forks. "Failure to recognise the differences is to disregard the operator's responsibility in the safe operation of telehandlers," he reminds. "As we are aware, operator responsibility is a critical aspect during all aspects of telehandler use."
The legislative writing is on the wall for basic platforms in Europe, even if not quite on the statue book of every EU member state. In North America it seems the debate is set to run and run.