Telematics: Connectivity is key
Combining telecommunications with informatics, telematics is about digitally connecting equipment, assets and even operators within the construction ecosystem to enhance efficiency and cut costs.
It is by no means a new technology, though. Many companies have failed to adopt telematics, but in recent years it has significantly improved in terms of scope, price and availability.
By collecting data on a range of parameters, telematics systems make it possible for fleet managers to provide individuals in the value chain with services that are tailored to their specific needs.
Until recently, all data types in the construction industry were brand-specific, meaning that contractors had to use proprietary software systems provided by each of the original equipment manufacturers (OEMs) to access the data required for operational decision-making.
However, a mixed-fleet telematics protocol has now been adopted by the Association of Equipment Management Professionals (AEMP) and has been approved as an international ISO standard. This means telematics data across all brands is standardised, allowing the industry full access to telematics across mixed fleets. As a result, contractors can get a holistic view of their machinery in motion.
These developments are relevant to OEMs, rental companies and private fleet owners alike.
Monitoring on the Go
With the intention of bridging the gap between man and machine, Danish telematics specialist Trackunit recently introduced Trackunit Go. This is a mobile application for monitoring and optimising the use of construction equipment in real time.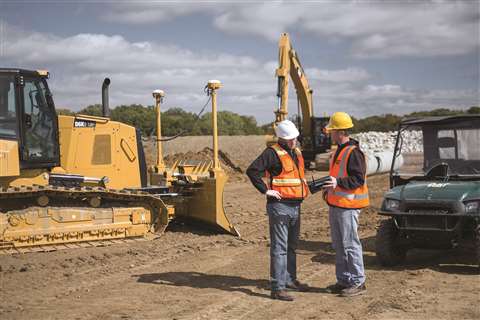 Traditionally, telematics has been used to provide backward-looking reports. However, by feeding curated data directly to operators' smartphones and encouraging preventative maintenance based on machine health monitoring, Trackunit said technicians are now empowered to become a proactive service department rather than a reactive repair team. In this way, the costs and productivity losses incurred by unplanned downtime can be mitigated.
US-based construction technology firm Trimble recently announced that its VisionLink telematics software now supports the new AEMP 2.0/ISO-15143-3 telematics standard.
By adopting the new standard, VisionLink's asset utilisation, operation, safety, health and maintenance capabilities will be able to more fully support fleets of machines from different equipment manufacturers. As mentioned before, this helps to give contractors full visibility of their mixed fleets.
VisionLink is Trimble's web-based fleet, asset and productivity management software for civil engineering, which can be used on mobile devices such as smartphones and tablets. The company said the system is among the first in the industry to support the additional telematics data.
The new AEMP 2.0/ISO-15143-3 standard allows more health and maintenance data from the machine to be sent to the VisionLink application, as well as providing improved security. These enhancements and additions are designed to give contractors a more complete picture of the health and maintenance of their entire mixed fleet. Visionlink supports the ability to add additional AEMP data feeds as more equipment manufacturers and telematics solution providers adopt the AEMP 2.0/ISO-15143-3 standard.
Cat's eyes
The new Cat Connect hardware and software launched recently by US-based Caterpillar makes use of the VisionLink system, through which it feeds all of its data.
The new Cat Product Link technologies enable equipment managers to connect all of their assets, powered or non-powered, from the largest earthmovers to the smallest generators, regardless of brand.
They offer multiple communication channels, including cellular, satellite and Bluetooth, and are designed for easy installation using plug-and-play technology and apps for mobile devices.
The Product Link device for monitoring production machines has scalable features that enable the data collected to be increased as needed. In contrast, a new tracking device for non-powered assets, such as attachments and trailers, reports location only, using Bluetooth technology to connect with VisionLink.
Bite-size information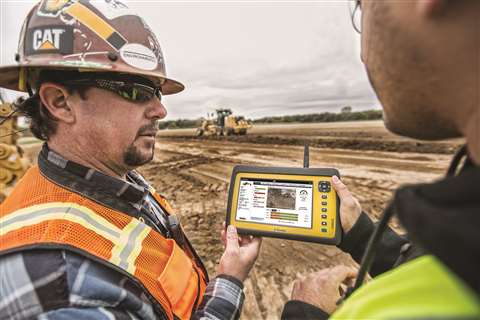 The new Cat Product Link technologies enable equipment managers to connect all of their assets, regardless of brand
Meanwhile, the new truck monitoring hardware has been designed for retrofitting on all brands of light- and heavy-duty trucks. Using cellular technology, the system can provide information that enhances driver safety and assists both production and maintenance managers.
Caterpillar has also added productivity services to its portfolio of technology enabled CatConnect services.
The new productivity services include utilisation reporting, which enables managers to see how assets are performing. Data from an asset is organised, prioritised and presented in formats that allow a customer to see its performance by shift, workday or in aggregated fleet views, which show trends and patterns.
The services also include geospatial mapping, whereby jobsites are mapped using high resolution images taken by drones. The images are used by specialised analytics software to measure productivity and evaluate site setup and design.
Benchmark assessments are another service that is offered, giving customers access to shared industry knowledge. Dealer experts perform assessments on a customer's asset or site operation and the results are used to establish a measurement baseline that will be used to gauge future project successes.
Volvo CE has also introduced a new service called ActiveCare Direct, specifically for the North American market.
The 24-7 remote machine monitoring and reporting service is intended to remove the effort and time commitment associated with telematics. A team of data analysts at the company's new Uptime Centre in Pennsylvania, US, gives the customer insights and actionable recommendations based on the telematics data collected from their equipment through Volvo's CareTrack system.
Each month, Volvo generates a consolidated fleet report for the customer, highlighting areas of opportunity to increase productivity and reduce operating costs.
These reports include information on utilisation of the fleet as a whole, as well as data about individual machines, helping the fleet manager to make informed decisions about fleet configuration, operator training and maintenance.
Remote monitoring
In recognition of the trend towards fleet monitoring, machine-to-machine communication, machine intelligence and remote equipment monitoring, Doosan has developed a fleet and asset management system for the company's excavator, wheeled loader and articulated dump truck ranges.
The web-based DoosanConnect system allows owners and dealers to remotely monitor and communicate with their Doosan machines through the company's telematics website, which provides access to reports on machine data, such as maintenance history and fuel usage, and alerts the user to problems.
It comprises a number of elements, including a GPS unit to monitor the machine's location and allow a geo-fence to be established for machine security, and a satellite antenna and service that provide a communication link when the machine is working in remote locations where cellular service is not available.
It is planned that future software updates for the system will be sent over the air to the terminal on the machine, eliminating the need for owners to take their machines to their local dealer to receive the updates.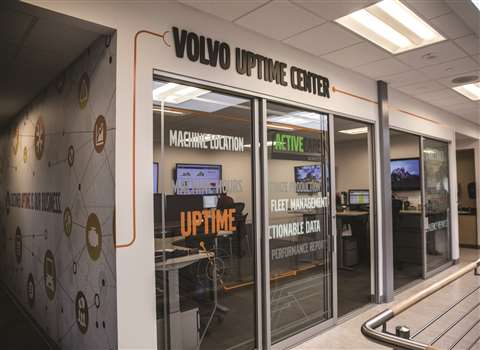 The system is currently being used to coordinate 52 new Doosan excavators working on a section of the Trans Adriatic Pipeline, running from the border between Greece and Turkey to the heel of Italy.
Internet of more Things
Wacker Neuson also offers a telematics web portal that can be accessed on a desktop computer or on a smartphone or tablet by downloading the app.
Through it, the usual telematics data can be viewed, including machine location, maintenance reminders and operation times. Maintenance reminders can also be sent to the owner by text message or email.
Using GPS and GSM, Wacker Neuson Telemtaics includes the capability for geo-fencing.
Looking forward, it seems that narrowband Internet of Things (NB-IoT) could be set to broaden the possibilities of IoT connectivity and bring new telematics solutions to the market by connecting assets that have not previously been considered as part of the construction IoT.
Based primarily on 2G, 3G and 4G platforms, it offers connections over large ranges at low power. And at a price point that is more affordable than the traditional IoT connectivity, it looks set to be deployed by operators across the world.