Terex Utilities announces swing arm option
By Euan Youdale26 August 2014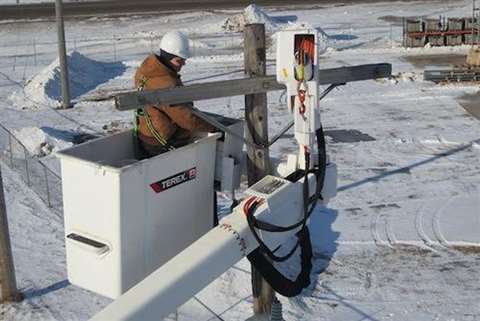 The Terex Hi-Ranger Swing Arm option increases platform range of motion on its TL truck series.
In the set up, the TL's standard articulating, telescopic boom has an additional platform arm that can rotate 215 degrees, in addition to the 180 degree platform rotator. This feature makes it possible for operators to reach both sides of the utility pole without having to reposition the truck, thus expanding the truck's work area and increasing access from a one truck set-up.
A platform lifter feature on the Swing Arm option enables operators to raise and lower the platform an additional 20 inches of working height. Rotating the jib plus the platform means the swing arm can wrap around the utility pole, making jobs like changing out transformers easier, said the company.
Achieving a working height of 56.8 ft, Terex TL aerial trucks have -40 to 76 degrees of upper boom travel, 42.3 ft of horizontal (side) reach and 0 to 87 degrees of lower boom travel. These units also have a 51.2 ft bottom of platform height and can achieve a maximum jib capacity of 1080 pounds.