The evolution of SC&RA's Specialized Transportation Symposium
While SC&RA members are no doubt gearing up for this year's Specialized Transportation Symposium (STS) – set to take place later this month (February 28–March 2, Orlando, FL) – the Association has also been steadily rolling out its 75th Anniversary celebration campaign.
As they likely have already, members will be experiencing more of the campaign across various platforms as the months go by – including within events like STS, which will yet again deliver unmatched value to SC&RA members in 2023 by bringing together the industry's foremost specialized transportation professionals and government permitting officials to discuss permitting harmonization, safety, regulations, compliance and some of the most pressing topics in specialized transportation today.
True to form, this year's STS audience will have access to eight education sessions, more than 20 speakers, a dozen networking events and an exhibit center boasting 55 booths. Also, among those attendees, and unique to this event, will be state and regional officials from MAASTO (Mid America Association of State Transportation Officials), NASTO (Northeast Association of State Transportation Officials), SASHTO (Southern Association of State Highway and Transportation Officials) and WASHTO (Western Association of State Highway and Transportation Officials), as well as SC&RA's Pilot Car Task Force and Permit Policy Committee.
Given that lineup, it's easy to look at the current Symposium and acknowledge both its relevance and impact on members and the industry alike, but the event wasn't always the comprehensive offering that it is today. And as part of SC&RA's 75th Anniversary coverage, looking back on one of the Association's four key annual meetings provides a glimpse into the foresight and perseverance required by past SC&RA members and leaders – in order to build what has become a must-attend opportunity for transportation professionals on every level throughout the industry.
How did the Symposium get started?
"The Symposium started because we were trying to put together a group of four regional permit systems, where you could order a permit that would take you from Florida to Georgia, up into Tennessee and into Kentucky, and have a working relationship with those other states – one piece of paper that was approved by everyone," explained Bill Keen, former CEO of Keen Transport Company and a past president of SC&RA. "So, for that reason, we had to have the permit officials together in the same room – to explain and get their buy in."
Keen, who also served as chair of SC&RA's Permit Policy Task Force in 1989 – the year STS was founded – added that, prior to the Symposium, trucking companies had little access to the state DOTs. "The only time they'd really interact with the higher-ups was when they got arrested or fined and were under the possibility of not being issued a permit. So, meetings were usually pretty adversarial. But the Symposium flipped that around, and everyone realized that people are decent human beings and we can work together."
Getting to that point, however, didn't happen overnight, according to Jim Vitez, owner at KMX International, and an SC&RA member since the early 1960s. "There was a lot of talk and very little action," he indicated. "But they kept at it. Now, there was a lot of change on the government side with budgets and the like, and we even helped them on some budgeting items so they could get some representatives to the meetings – which I think really began to pave the way."
Vitez also remembered that uniformity wasn't a new idea at that point. "It actually goes all the way back to the days of the old Red Book Interchange – which I think was part of the beginnings of SC&RA as well – the idea of gaining allowance to go across the country without needing a piece of operating authority from the interstate commerce commission to do so," he said. "People were interested back then in taking a load from, say, Massachusetts all the way to California. So the Symposium was building off of an idea that was a long time in the making – and the biggest issue, as I remember at the time, was standardization and getting the states to meet us in person."
Identifying problem areas and setting goals 
Doug Miller, president at DEM & Associates, echoed Vitez, and added that, with Bill Keen and others driving the endeavor in the early years, the primary goal was to standardize as much as possible with regards to rules and regulations between favorable states. "Sure, we had to get past some adversarial relationships between industry and the states, and that took time – on both sides," he admitted. "But then we began identifying where the problem areas were, and tried to come up with a set of vehicles that we hoped to promote to the states to facilitate standardization."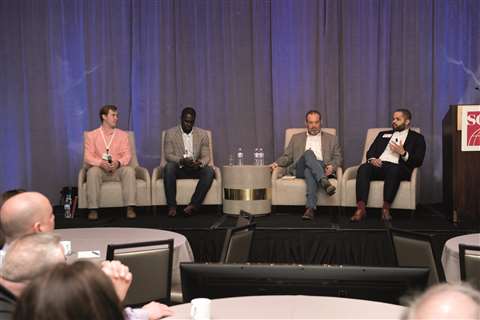 Miller said the group looked at what existed in the field as well as what was coming, and developed a set of vehicles. "It became evident that we had to go in small bites – the benefit ended up coming with smaller vehicles. So we started at around 120,000 pounds, five-axle, six and seven, and then we moved up. It was a matter of getting states, especially barrier states, to buy in. We set up meetings with officials and members in states affected – to standardize weights and lengths, and then other things like permit requirements, lights, etc."
And, according to Keen, the group's efforts eventually paid off. "Ultimately, the state officials started talking about the Symposium throughout the year – they'd look forward to it," he said. "It became known as an excellent networking opportunity for all, and everyone got something out of it – so they felt it was important to keep it going. And it grew from there."
Miller became chairman after Keen and ended up working closely with Doug Ball and current SC&RA CEO Joel Dandrea as he arrived in 2000. "I chaired for around twelve or thirteen years," Miller noted. "Membership grew, the size of the event grew and people got involved. The OEMs got on board as well, which helped us communicate to engineers at the state level.
"As we came into more recent years, we found that we'd achieved the preliminary goals for the smaller vehicles in most states, so we moved on to the larger ones. At the same time, the Symposium had grown into a premier event for the industry, especially across the last decade."
Vitez agreed, "Bringing in Steven Todd [2012] was a big boost; he really carried the torch when he came in, but he also modernized it – the structure, the speakers, the topics – and it has progressed in time. Now, Chris Smith [2020] is beginning to put his stamp on it and really bringing that government expertise, which will likely be another boost."
As for comparing today's Symposium with the early years, Vitez laughed, "About a couple hundred percent different – as for attendance and enthusiasm, but also the willingness to work together and innovate. And that's representative of the amount of people on the SC&RA side working to get things done.
"I also think it's just another example of how productively each respective side of the Association supports and enhances the greater organization. There's more and more talent involved at every level – going through chairs, officers, speakers, etc. More talent in the pipeline. And as it has with the Symposium, that's going to enhance SC&RA for many years to come."
To register for the upcoming SC&RA Specialized Transportation Symposium, visit www.scranet.org/symposium2023.