The hybrid/electric access market
By Euan Youdale29 May 2018
Hybrid and electric-powered access equipment has been around for years in one form or another. Nevertheless, green energy solutions are taking on a whole new level of importance. AI reports.
The rapid increase in new hybrid and electric access equipment in recent years is a reflection of the improvements in technology and the reality that legislation in urban areas, particularly in Europe, is banning diesel emissions. One school of thought suggests hybrid is simply a stepping stone to electric-only machines. And, as Lithium-ion and other emerging technologies lower in cost they will become more suitable for bigger booms and scissors for use inside and out.
As James Dorling, from consultancy company Knibb, Gormezano and Partners says in his briefing paper NRMM Electrification, Hybridisation and Alternative Fuels, the driver for hybridisation and ultimately electrification is legislation.
"The US, Japan, China, Europe and India all have or are developing CO2 legislation, with expectation of other markets following suit. Adding to this, there are increasing pressures on governments to improve local air quality and reduce noise pollution. This will lead to substantially more low emission zones, noise limits and workplace regulations.
Dorling adds, "All these environmental factors will lead to an increase in investment in technology and drive down price compared with current premiums, making electrification and hybridisation more suitable for high volume applications that currently can't support the added cost of electrified machinery. In particular, Stage V regulation, which tightens limits below 37kW will make electrification of this power segment, and actually below 56kW, more economically viable."
This feature was first published in the April-May issue of Access International. See the forthcoming Intermat review in the June-July issue for more information on new and future hybrid and electric equipment, including the launch of Haulotte's all-electric Pulseo Generation rough terrain boom series.
An example of how regulation is shaping working practices comes from London, UK-based Advanced Access Platforms , which has opened a new depot located just across the Thames from the Millennium Dome in Central London, UK.
The company is also expanding its fleet with Niftylift hybrid and electric booms. Advanced Access chose the Nifty booms their environmentally conscious power systems and low overall weight. New environmental initiatives such as the Low Emission Zone (LEZ) in central London and the new Ultra-Low Emission Zone (ULEZ) for 2019, mean that environmental performance has never been more important.
Advanced Access is the first company to take Niftylift's new HR12L (Low-Weight), an all-electric, low-weight 12m boom. The HR12L is 1.79m wide and weighs just 2,540kgs, allowing it to be transported on a trailer, for low-cost transportation. It is powered by AGM (maintenance-free) batteries that offer more than double the capacity of its predecessor.
NIfty has also announced the new HR21, representing the first major update to the HR21 since its launch 10 years ago, including a 41% reduction in fuel consumption and 250kg, up from 225kg, in the basket.
The practical side of developing electric and hybrid technologies is that customers will be able to use one machine for many or even all of their tasks. Starting with hybrid products JLG has just launched the world's largest boom in this category. The rough terrain articulated H800AJ has a 26.38m (80ft) working height and horizontal outreach of 15.8m. Up and over height is 9.78m, and it has a 1.83m articulating jib. The model adds to JLG's range of hybrid articulating booms in lower working heights.
Jan-Willem van Wier, JLG's product manager for EMEA/Russia, says, "Its being launched now, we are currently shipping a couple of machines, then a couple more in the summer, then we are ramping up volumes."
As van Weir points out, the trend is towards being Zone complaint, which has taken a further leap forward since the United Nations' Paris Agreement concerning climate change in 2016. "We have picked up on that trend like a couple of other [companies] have but we added one more thing, the rough terrain. We didn't want to compromise anything in regards to terrainability.
"The H800 and the larger diesel booms tend to work in rougher terrains compared to the slab machines, that's why we decided to do that," says van Wier.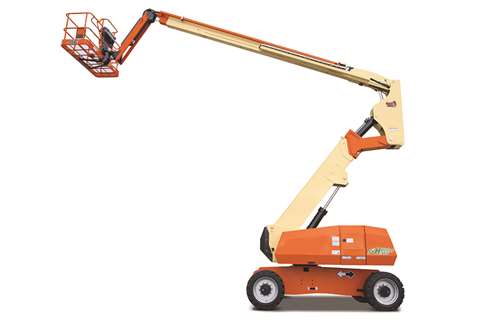 The machine has an 84 volt system. It can operate in electric mode only and has a 20.9 kW (24 hp) generator, combined with an electric motor. "It's a parallel hybrid which allows the motor to kick in during rough situations or when you need the batteries to charge," explains van Wier, "If you are on a job site where no power has been installed you still need to charge the batteries overnight, which can be done in roughly four hours."
Bedsides charging, the parallel system allows the generator to aid the electric motor in rough situations when extra power is needed, like raising the boom, driving through thick mud and heavier applications.
Will the hybrid unit replace the existing diesel-powered 800AJ? "That is a thing to be seen for the future," replies van Wier, who believes some cusomers will move away from the diesal machine, "Simply because they will see the applications and utilisation of this new machine. You can take it indoors in the morning and then outdoors later if needed. You would not be able to do that with a standard machine simply because of the emission compliance requirement.
"The more complaint zones within cities across Europe the greater the future for electric/hybrid machines, so we are definitely looking at the category throughout the range, large and small, and we have developments ongoing."
The world's biggest boom is JLG's 185ft 1850SJ telescopic model. Is there any chance electric/hybrid machines will reach those working heights? Van Wier explains, "I think any size is feasible. The thing that holds us back is the drive functionality. When you have electric motors on a machine, to drive is going to be very costly for the larger booms. I would tend to see hybridisation because of the performance need of those machines."
Nevertheless, he adds, "I think in the long run it will be electric-only. I think hybrid is an intermediate solution. When you look at the hybrid cars today, they took off some time ago. Tesla is a great example of how to be at the forefront of a new technology like electric-only. They have not committed themselves to hybrid."
Shifting market
Genie brought out its parallel hybrid the Z-60/37 FE boom in 2016 at bauma Munich and since then is seeing the market shifting to accommodate the technology. Zach Gilmor, Genie product manager, Terex AWP EMEAR, says, "Hybrid customers are realising that they are not limited to divisions between diesel and electric machines.
"They are finding that it is now possible to use a single machine instead of an electric and a diesel-powered unit. Consequently, this is leading them to a envisage a new way of managing their fleets, to differentiate diesel machines with a separate division dedicated to hybrid or 'green' environment friendly access solutions."
This fuel-electric 'hybrid' technology is best defined as being a step ahead of earlier bi-energy designs, says Gilmor. Part of the Genie mid-size Z-boom family, the Z-60/37 FE is adapted for customers' evolving needs for true 4x4 performance for indoor and outdoor, low emissions operation.
Offering 20.16m (66 ft) of working height, a horizontal outreach of 11.15m and an up-and-over clearance of 7.4m, the machine has new generation AC drive motors and an AC generator. Whether operated using its 18.5kW (24.8hp) Kubota engine or 48V DC battery pack, the Z-60/37 FE also combines 4X4 rough terrain capabilities of typical diesel-powered machines.
Gilmor says the future development of hybridisation and electrification will depend on restrictions and technology. "In Europe, we are already seeing tighter regulations in general regarding the access of diesel trucks and cars to cities. Although constraints are different depending on countries, there is clear indication that emissions and noise regulations are becoming more of an issue. With this in mind, as regulations get stricter, hybrid and electric powered access equipment will undoubtedly offer customers more opportunities on an increasing number of jobsites compared to typical diesel-powered machines.
In the short term that will amount to hybrid power on the bigger equipment. "In terms of size of machines, it seems for the moment that, due to current limitations in technology, electric power will continue to be an efficient solution for smaller machines. Thanks to a combination of technologies that enables to reduce the weight of machines, hybrid power systems are more feasible for larger models."
Big scissors have also been a good source of hybrid development in recent years, particularly as the number of applications in big warehouses has increased, among others. "Scissor lifts with hybrid drive technology are the answer to the ever-stricter environmental requirements and legislation," says Jacco Hartkoorn, Holland Lift International (HLI) sales manager.
"The fact is, in due course you will not be able to use diesel-driven machines in indoor areas. Diesel drives continue to be interesting for now with regard to outdoor activities as long as environmental requirements do not become even stricter."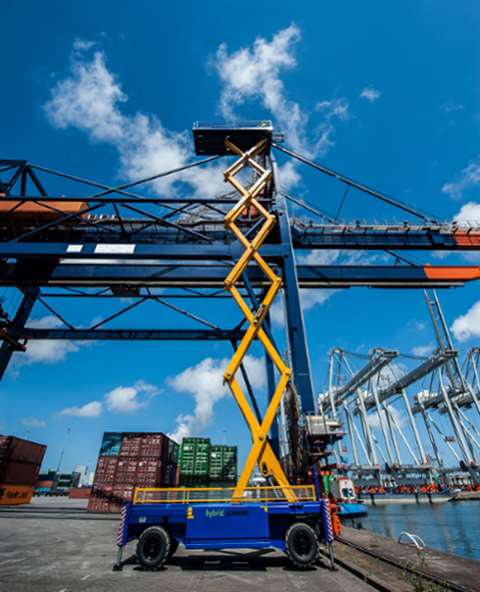 HLI is catering for this with the parallel hybrid scissor lifts with a working height of 16m, 19m, 22m or 27.5m and a combined diesel and electric drive. Its a 2-in-1 machine that can be uses indoors and outdoors. "This means the return on investment of the hybrid is much faster than with a conventional diesel or electrically driven scissor lift. Instead of investing in two, you only invest in one."
Hartkoorn adds, "Transport costs will be reduced because the machine stays on site during the full project and there is no switching between diesel and electric machines.
The electric range from HLI starts from 16m working height and goes up to 34m. There are several platform widths, but HLI is also known for its narrow platforms, as can be seen on the HL220E12, which is 1.2m wide or the HL330, at 1.4m wide. HLI's electric scissors are the highest in the industry and have a lifting capacity up to 1000kg.
Moving down the working height spectrum, innovations can also be found in the long-established electric-only segment of the access industry, that being slab scissors.
Lithium potential
JCB introduced a range of electric scissor lifts, powered by Lithium-ion batteries earlier this year. Many think the Lithium battery is the future for all access equipment, thanks to its power, capacity and the fact its charge can be topped up at any time. Lithium power has been introduced in the tracked platform market for some time, mainly because they are specialist machines that are proportionally more expensive than mainstream self propelled units, and can therefore carry the extra cost. When it comes to slab scissors, Lithium has not been a consideration, that is, until now. The technology has been coming down in price, making it a more practical choice and could see it ultimately introduced to bigger booms.
As far as JCB's Lithium-powered scissors are concerned, the manufacturer introduced a range of five models in March, to complement its nine standard electric scissors launched just over a year ago. The S1530E, S1930E, S2032E, S2646E and S2646E models have working heights of 6.6m through to 10.1m.
Nevertheless, JCB doesn't see these units taking over from standard slabs any time soon, rather, they have a very specific aim. The Netherlands-based rental company Hoogwerkt is the first customer, having ordered 420 of the machines to form the company's new 'green' rental business.
Indeed, the Lithium ion design was created in response to customer demand, including from Hoogwerkt. The company's new green rental business has a web-based ordering system and hourly rental periods. Having a simple, safe recharging system was a critical component of the company's plan.
JCB Access believes its Lithium-ion solution will allow platforms to operate for up to 40% longer between recharging periods. Recharging times are reduced by up to 50%. "Unlike lead acid batteries, Lithium-ion batteries can be left in a low state of charge without damaging the cells and can be set to cut-out when minimum charge level is reached. No maintenance is required with lithium-ion and there are no hydrogen emissions during charging," said the company.
High efficiency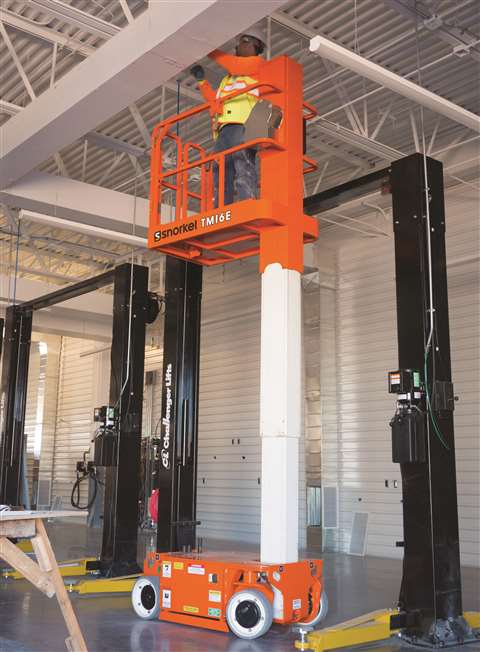 Snorkel CEO Matt Elvin explains the reducing cost and increasing efficiency of high power electric motors are making electrification more possible. "The efficiency of electric drive enables a machine to operate with a smaller engine, while maintaining the gradeability and speed of a full combustion engine power hydraulic-driven machine without all of the hydraulic efficiency losses that are common to hydrostatic closed-loop drive systems."
Beyond its standard machines, Snorkel has recently added a line of electric drive telescopic mast lifts to its range. It represents a trend towards electric-drive equipment. Designed for contractors and facilities maintenance use, the new self-propelled Snorkel TM16E is the third model in the line of Snorkel self-propelled telescopic mast lifts. The original Snorkel TM12 is now offered as the TM12E and TM16E with the electric drive system for increased efficiency.
The company plans to introduce electric drive slab scissor lifts in the future. "Longer term, we see electric drive becoming increasingly popular, and will develop our product line to meet the demand. Elvin adds, "Due to the expense and complexity of diesel engines and the desire of many jobsites to have cleaner and quieter machines, more four-wheel drive, rough terrain machines will be either hybrid or bi-energy in the future, enabling the use of smaller machines that have less complicated emissions after treatments."
Moving up the electric height scale, the 20m (66ft) Genie Z-60/37 DC and 12 m (39 ft 4 in) Genie Z-33/18 articulating booms lifts were launched in 2016 and are the latest additions to its electric-powered product offering. Both these models feature the new generation of AC drive motors. Compared to earlier electric powered designs, these models combine the advantages of increased efficiency and low weight with the ability to operate productively indoors and outdoors without interruption for an entire workday shift on a single battery charge, the Genie Z-33/18 lift is significantly lighter than traditional machines in the 12m (39 ft 4 in) category. Weighing just 3,640 kg (8,025 lb), this extremely versatile model notably boasts a total occupied floor pressure of only 991 kg/sq m and a low tyre contact pressure of 483 kPa.
Gilmor adds, "Developing a successful machine is a question of meeting the right demand/efficiency/cost ratio. However, until battery technology is mature enough, there will be a limit on the size of electric powered machines."
On track
As previously mentioned, tracked platforms have used hybrid systems for some time. And it is the development of Lithium that is making a real difference to this product sector. "Just a few years ago, only lead acid battery was available for our applications," says Laura Gasparini, export manager at Palazzani. "At that time Lithium technology was developed for electronic products like mobile phones and computers."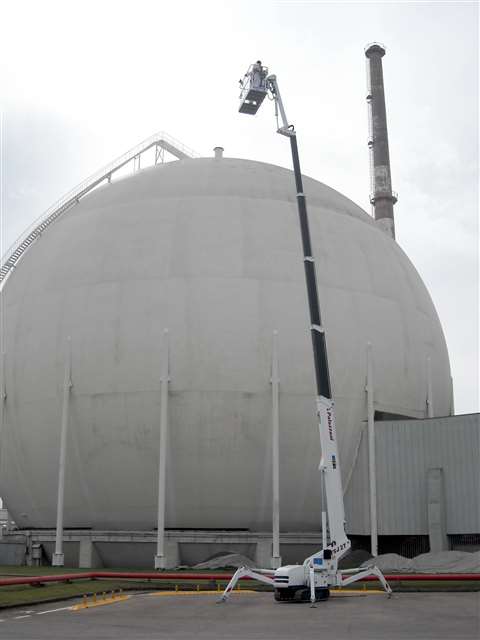 Then, Lithium evolved for bigger batteries adapted for access equipment. "The advantages are lightness, higher autonomy, power, easy maintenance and durability."
Despite what we hear about Lithium costs decreasing, Gasparini says there is still some way to go. "Due to the relatively rare and pricey metal, the cost of Lithium battery power is still preventing a major expansion, even if a gradual and slight reduction in costs has been noticed lately."
Perhaps then the future does not lie in Lihtium after all. And, Gasparini explains that rather than focusing on other metals like magnesium for future battery development, a team of scientists from RMIT University in Melbourne, Australia, have figured out a way to build rechargeable 'proton' batteries from abundant carbon and water. If commercialised, it could allow for cheaper versions of, for example, Tesla's Powerwall rechargeable Lithium-ion battery energy storage products. "The technology type could open new horizons for manufacturers and consumers."
Palazzani's latest hybrid machine is the Ragno TSJ 23.1, available in Hybrid (diesel + DC), as well as Bi-energy (diesel + AC) and ECO (AC + DC). For many years the manufacturer has offered working heights from 17m to the larger 52m in bi-energy or electric or hybrid. Machines are also available as all-electric. The 33m TZ 330 is the latest model, launched in 2017 and is now available only in bi-energy diesel+AC power. Hybrid and electric will follow shortly.
However, Gasparini has positive words for diesels. "Despite the latest trend going more and more to hybrid solutions, it is always adviseable to carefully evaluate if the battery power pack is really needed or if a simple and versatile diesel+AC is sufficient, with a consequent saving in costs and weight."
Oil&Steel, another manufacturer of tracked platforms is certain of an electric future, whatever the technology. Giovanni Tacconi, sales director, says, "We have already designed and manufactured electric self propelled tracked platforms, the Octopus 14 and Octopus 23."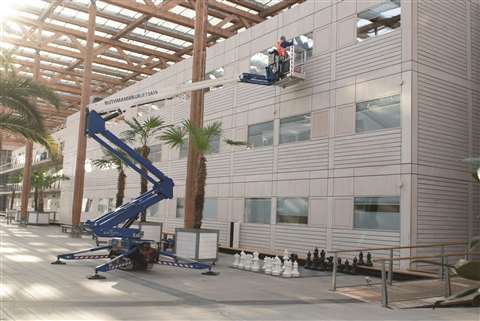 As a manufacturer of truck mounts Oil&Steel sees this technology spreading beyond the products so far mentioned in this feature. "Pollution reduction is driving this new technology even for truck mounted platforms. The trend makes one think that soon diesel engines won't be available and, therefore, truck mounted platforms powered by batteries is the only imaginable future. Tacconi adds, "Electrification is more possible thanks to even more innovative batteries that have more stored nominal energy and more available energy. Only with this technology will be possible to work in urban centres without CO2 emissions and without noise."
Truck mounts
The hybrid and electric revolution is not leaving out the truck mount either. Rolf Kulawik, managing director Ruthmann tells AI the company will launch a hybrid version of its lower cost Ecoline series later this year. Part of the Ruthmann Italia division, the 16m and 18m working height Ecoline 160 Hybrid and Ecoline 180 Hybrid will be first shown at Platformers Days, taking place in Germany this September. The company is also working on a full-electric version of one of its premium range Steiger models. More information on that will follow soon.
CTE launched its B-LIFT 17 E truck mount in 2016. The battery-powered platform is ideal for working in indoor spaces, or where pollution from engines or noise is not allowed. The 16.6m working height machine has 11.3m outreach, 250kg capacity and its more than 500Ah battery guarantees 1.5 hours of continuous work and once exhausted, it recharges with PTO or with electric power in a maximum eight hours. The platform is made of 2mm thick SSAB Strenx steel.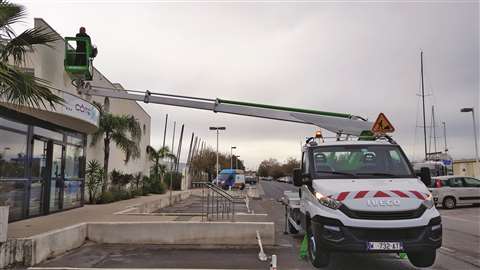 Multitel Pagliero has also dipped its toes into the world of hybrid. Its 16m working height hybrid is offered as two alternative versions, the 160Alu and the MT162EX. The machine combines the standard truck and PTO solution with a full electric boom. The boom is powered by four batteries for turret rotation and telescopic boom movement.
Operating speed is just 20% slower than using the conventional system. The battery pack can be recharged while driving or using the onboard charger. The machine remains within 3.5 tonnes in both versions. The hybrid pack can be mounted on the 160Alu version with a 9.7/7.3 outreach, 80/200kg basket load. This version has steel counterframe and fixed in shape outrigger system.
MT162EX version with 11.50/10.00m outreach, 230/300kg basket load, is the higher spec version for heavier applications. This version has alluminum counterframe and extendable front and rear outriggers.
The problem with going over 16m to 18m is the weight of the power pack. "At the moment the maximum height is 16m and maybe 18m in the future. But I should think there will be new materials," says the company's co-owner Renzo Pagliero.
Certainly, the long term future of these new technologies is bright. "The future for me is the full electric but we need to wait for the full development. At the moment you have the first developments in cars, for commercial vehicles probably we will need to wait some years. And we are working on that, as are probably other manufacturers."