The legacy of industry icons Jim and Ginger White
By D.Ann Shiffler07 December 2021
A standing ovation is hard to come by these days, but Jim and Ginger White were honored with everyone in the room standing up for them at the Closing Night Dinner at the SC&RA Annual Conference in San Antonio. Everyone in the room was on their feet and applauding the iconic couple before they made it to the podium to accept the prestigious Longevity Award. White Brothers Trucking, and moreover Jim and Ginger, were recognized for 65 years of continuous SC&RA membership.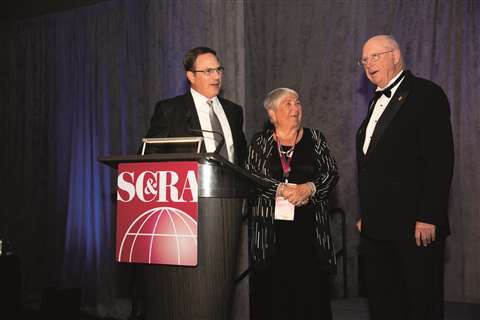 It was a proud and deeply moving moment for Jim and Ginger, who have been active in the SC&RA on many fronts for many years. Jim and Ginger may be the most recognizable couple at SC&RA meetings and events, not just because they have been around so long, but because they are fun, personable and genuinely interested in everyone they meet. Their circle of industry friends is huge.
Proud history
Founded in 1939, White Brothers Trucking was formed by brothers Chuck and Joe White while they were still in high school. Two Illinois farm boys, they hauled produce to the markets in Chicago in an old truck they bought for $25. Joe went off to serve in World War II while Chuck and his wife Genevieve grew the hauling business. When Joe got home from the war, the two brothers built their first terminal in Wasco, IL. They started hauling pre-cast and pre-stressed concrete products and then oversized machinery. They joined the Heavy Specialized Carriers Conference (a predecessor to the SC&RA) in 1956 so they could join the Red Book Inter-Change Service, which would allow them to make interstate hauls.
By the late 1950s, the company was hauling heavy machinery for hundreds of customers. In 1957, Joe White died. But Chuck continued to grow the company, adding terminals, trucks and trailers. By 1964, Chuck's son Jim was working in the business. He took over as president in 1982, all the while attending SC&RA meetings and events, and serving on committees and task forces. He and Ginger were very involved in the SC&R Foundation, helping sponsor events and raising money for industry scholarships. Jim served as president and chairman of the SC&RA in 2005 and 2006. He was president of the SC&RA the year that American Cranes & Transport was first published.
In the April 2006 issue of ACT, White talked about growing up in the business.
"I grew up with the company," he said. "It always fit me like a glove."
During the early years of his marriage to Ginger, he often worked 80 hours a week. He remembered that on one of his family's first vacations, they transformed the family car and a one-way rental car into escort vehicles for a load going to New Orleans, where they stayed several days after the unloaded truck returned to Illinois. Ginger also drove an escort vehicle plenty of other times, he told ACT.
"She has more miles in an escort vehicle than I do in a truck," he said in the April 2006 issue of ACT. "She was really good about knowing who the drivers were and how things needed to work. She has been a big part of this company's success."
Dancers extraordinaire
In 2003, White Brothers won an SC&RA Hauling Job of the Year award for moving two chemical mixing tanks from Indiana to Wisconsin. Jim has served as a Job of the Year judge many times.
Back in 2006, White offered a simple secret to the company's success: "We have the right equipment and good people who know how to use it."
Jim and Ginger are an example of a fun and loving marriage. And they are great dancers. It's a given that the party starts when Jim and Ginger start cutting a rug. They are most often the first and last couple on the dance floor.
Of his longevity in the SC&RA, Jim said it well in that 2006 article. "I know of a lot of organizations where you just pay your dues to say you're a member. SC&RA is not one of them."