The Rental ShowGuide: Rental focus
Comedic opener
This year's keynote speaker will be late-night talk show host Jay Leno. Although now retired, Leno was long recognized as one of the "hardest-working men in show business." Leno is known for hosting The Tonight Show as well as performing stand-up comedy and being a car enthusiast. The session also will include the induction ceremony for the ARA Rental Hall of Fame. ARA will recognize the passing of the gavel from President Roger Vajgrt to the incoming president, Mark Gilbertson. In addition, ARA leadership will provide the association's industry outlook. Attendees can see Leno in action on Monday, Feb. 27 from 8 a.m. to 10 a.m. in room SA1 of the Orange County Convention Center.
The 2017 Rental Show, Feb. 26 – March 1 at the Orange County Convention Center in Orlando, is poised to provide all-things-rental for its attendees. From aerials to telehandlers, general tools and more, 675 exhibitors will be on hand to show off their wares.
While many manufacturers will show new products, another new factor on the floor for 2017 will be the American Rental Association's new Chief Executive Officer, Tony Conant, who succeeds Christine Wehrman following her retirement in November 2016.
"I welcome the opportunity to join such a dynamic organization and staff team," said Conant in late 2016. "Hallmarks of the organization are innovative and strategic thinking that represent the equipment rental industry very effectively. I look forward to building upon that ARA legacy with the volunteer leaders and staff members."
The ARA recently projected equipment rental revenues to reach $55.5 billion in the U.S. by 2020, showcasing industry revenue to increase 3.4 percent in 2017 to $49 billion. This is a reduction from previous forecasts, but ARA's outlook remains optimistic.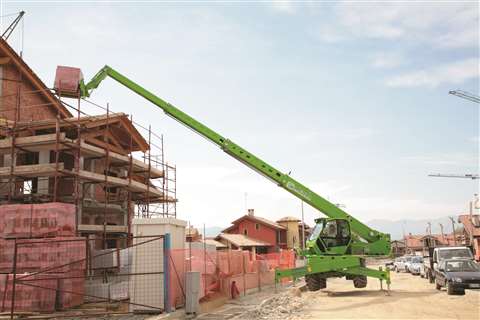 "While we are forecasting a gradual slowing in the growth of rental revenues in this quarterly update compared to our last quarter, we are still showing rental revenue growth in excess of the growth in the U.S. gross domestic product (GDP)," said John McClelland, ARA's vice president for government affairs and chief economist. "Our outlook for the equipment rental industry continues to be positive and our scenario analysis suggests that if a mild recession were to hit the U.S. in 2017, of which there is a 20 percent chance, there would not be a significant impact on the equipment rental industry because the likely cause of such a recession would be a weakening in economic activity in Europe."
With that, a number of manufacturers will debut new or refreshed products at the Orlando event. Here's what we rounded-up.
Applied Machinery Sales #4754
Applied Machinery Sales will showcase a Merlo Roto 45.21 on its stand. The Roto 45.21 features a maximum load capacity of 10,000 pounds, a maximum lift height of 68 feet, 2 inches, a maximum forward reach of 59 feet and a load capacity of 5,500 pounds at maximum height. Standard features include: continuous turret rotation; a cab steel frame that complies with ISO 3449 level II FOPS; pneumatic suspension seat; steering wheel tilt that is adjustable by up to 16 degrees; stabilizers with independent extension and jacking; hydropneumatic suspension that ensures maximum driving comfort and stability by leveling the machine; plus many technological advancements including Merlo's Merlin system and MCSS system.
Gehl #5925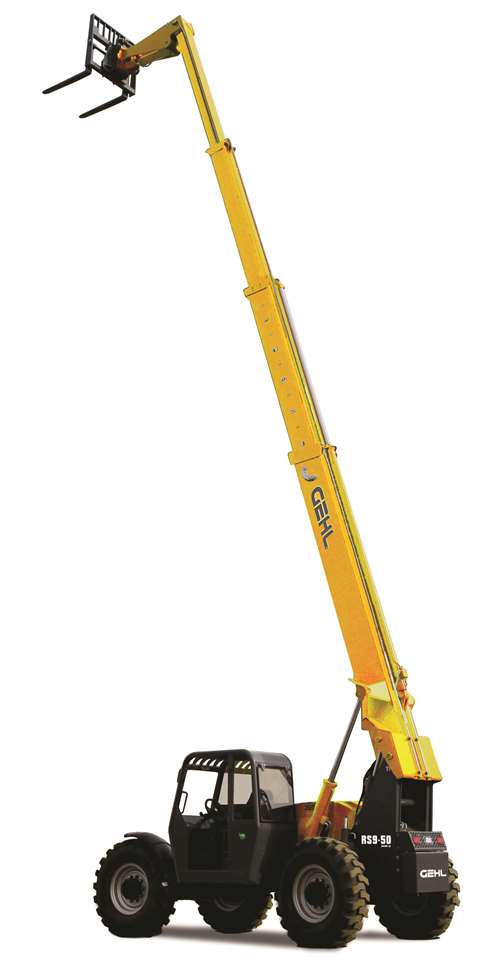 Gehl will debut its all-new RS9-50 telehandler as well as showcase its updated Gehl RS5-19 Gen:3 unit.
The Gehl RS9-50 telescopic handler provides the working range and productivity of a transfer-type telehandler in a fixed boom design, according to the company. The unit will take 5,000 pounds to 50 feet, completely landing materials at 47 feet with a 5,000 pounds capacity. Developed from the proven RS (rental special) series, this unit has a Tier-IV 120 hp Cummins diesel engine, 4-speed powershift transmission and standard foam-filled tires.
"It's the first of its kind to provide extended reach and material placement using an additional boom section in place of the hydraulic driven transfer-type system," the company told ALH.
Also on display will be the newly upgraded Gehl RS5-19 GEN:3 telescopic handler features a new single joystick control, combining boom operations and machine movements in one. Gehl says this allows operators to drive the machine with one hand on the steering wheel and one hand to operate the joystick. This new joystick also has a forward – neutral – reverse switch and the selected driving mode will be shown within the machines display screen. The main joystick operates the boom hoist and extension movement, with a front roller switch for fork tilt and a rear roller switch.
Genie #4913
Genie will show a number of products at its booth, however the company was mum about what new units visitors can expect. We do know the aerial work platform manufacturer will have its popular GTH-844 telehander on display, as well as the Genie Z-60/37FE boom.
The Genie GTH-844 rough terrain telehandler now comes with a 74-hp (55 kW), Tier 4 Final engine option. With 287 foot-pounds (389 Nm), this new GTH-844 telehandler is equipped with a high-torque version of the Deutz turbocharged 3.6 L engine that has been optimized for 74-hp performance. These features combine to offer similar torque as higher horsepower engine packages with reduced maintenance needs, as there is no regeneration or diesel exhaust fluid (DEF).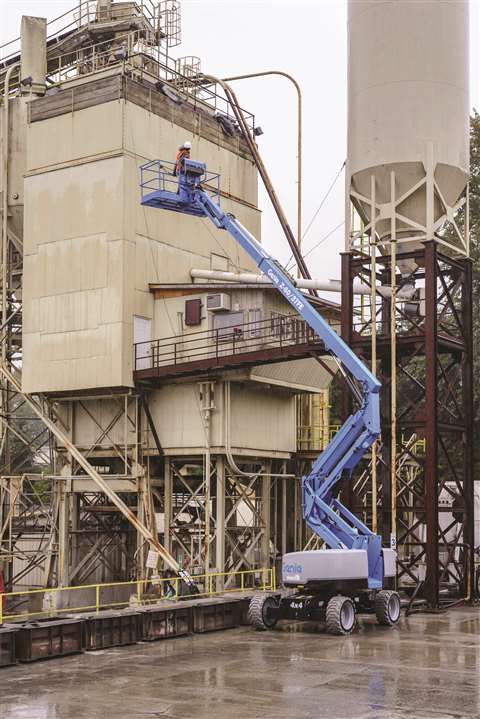 The Genie Z-60/37FE boom is a fuel-electric articulating unit.
"An engine has a big impact on a machine's overall rROIC (rental return on invested capital) so we kept things simple and cost-effective with the updates to our popular GTH-844 telehandler," says Genie Telehandler Product Manager Anders Mantere. "By optimizing the drivetrain, and utilizing the new high-torque, 74-hp engine, the GTH-844 is a less complex machine at a lower price point – offering full-sized performance at the right-sized price."
In addition to the new 74-hp version, Genie continues to offer a 99-hp (74 kW) Tier 4 Final Deutz 3.6 L diesel engine, as well as a 99-hp Tier 4 Final Perkins turbocharged diesel engine. "Giving our customers a choice of engines enables them to pick the machine that best matches their fleet needs, at a price point that drives the best rROIC for their bottom line," says Mantere.
The GTH-844 features an 8,000-pound maximum lift capacity, a 43 foot, 10 inch maximum lift height and a 28 foot, 2 inch maximum forward reach. Its proportional frame-leveling chassis with dual cylinders allows operators to pick or place loads up to 10 degrees on side slopes and its multi-functional, proportional joystick gives operators fast, precise load positioning capabilities.
Genie will also have its low-emission articulating Z-60/37FE boom at The Rental Show. Driven by high-efficiency AC motors, the new fuel-efficient model combines the benefits of advanced diesel power, four-wheel drive performance and the cleaner, quieter efficiency of compact, low weight electric-powered booms, Genie says.
The Genie Z-60/37FE boom provides the choice of two modes of operation: full-electric, which means full-day, emissions-free performance on a single charge, or hybrid mode, which provides more than a week of run time with a single tank of diesel.
In hybrid mode, the machine uses its 24-hp Tier 4/Stage IIIB Final engine-powered generator to maintain the battery state of charge or to supplement the battery power to get a boost in machine performance. To keep productivity high and maintenance costs low, its engine-powered generator constantly monitors the battery state, keeping them topped off for maximum run time, then automatically shutting off to minimize fuel consumption. For extreme usage conditions or after heavy full-electric operation, the hybrid power system can provide a bulk charge within approximately four hours. The hybrid system can also provide power directly to the four-wheel AC drive motors, allowing the system to combine the power of the diesel driven generator and the 48V DC battery pack, maximizing performance when climbing hills and taking on the most rugged terrain.
Haulotte Group #5352
Haulotte Group will once again offer a large range of its equipment for attendees to peruse.
The company's newest models will include the STAR 20, featuring the latest design for the vertical mast. The unit will be equipped with the Haulotte ACTIV'Screen on-board diagnostic display panel, providing user-friendly information, system alerts and battery charge indicator, along with the popular AC Drive Motor System.
Also on display will be the new trailer-mounted 6543A towable unit which features 65 feet of platform height, 43 feet of horizontal outreach, and hydraulic outriggers, auto-platform leveling and an industry-leading outreach and working envelope. It features an up-and-over height of 15 feet, 11 inches. Hydraulic outriggers and automatic leveling allow operation in less than 30 seconds and can be towed by a standard half-ton truck.
Also on display will be the the HA46 RTJ articulating boom, which offers rough terrain capabilities at 46 feet of platform height. With a maximum outreach of 27 feet, 3 inches and up-and-over clearance of 25 feet, 1 inch, "no place is too difficult to reach," Haulotte says. The fully modular, standard, 8-foot basket can carry up to two people and comes equipped with a new upper control box and cover that allows the operator to have one hand on the joystick and the other one holding onto the handrail while driving for comfortable and safe driving. Additionally, the newly designed hood has been reinforced by a metal sub-frame creating a more rigid hood.
Haulotte will also have its STAR 13 vertical mast; 4527A; 55XA self-propelled lightweight boom; HT67 RTJ boom; Compact 3947E electric scissor lift and Optimum 1931AC unit at its booth.
Hy-Brid Lifts by Custom Equipment #4749
Custom Equipment will show a number of its Hy-Brid lifts at the show, which could include the HB-1030, HB-1230, HB-1430, HB-P527 and more.
JCB #5562
JCB will feature a mix of both new and previously introduced machines at its booth.
Under the category of existing machines, the 3CX rental-ready backhoe, will be on hand as well as the workhorse 510-56 telescopic handler. The 510-56 offers a full 10,000-pound lift capacity, but its engine does not require a DPF, DEF or DOC, making machine maintenance both easier and less expensive. This model is particularly well-suited for masonry and framing applications as well as rental fleets.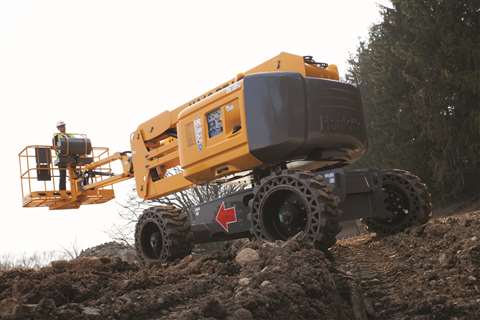 The compact, 74-hp 525-60 Hi-Viz telescopic handler will also be at this year's show. This machine is only 5-foot, 10-inches wide and 6-foot, 3-inches tall, but, JCB says, it offers a maximum lift height of 20 feet and a load capacity of 5,500 pounds. Its compact dimensions make this telehandler well-suited for smaller, more confined jobsites.
JCB will also display two new compact excavator models, as well as several machines from two currently undisclosed new product categories at the show.
JLG Industries, Inc. #4163
JLG Industries, Inc. will showcase several products and aftermarket services.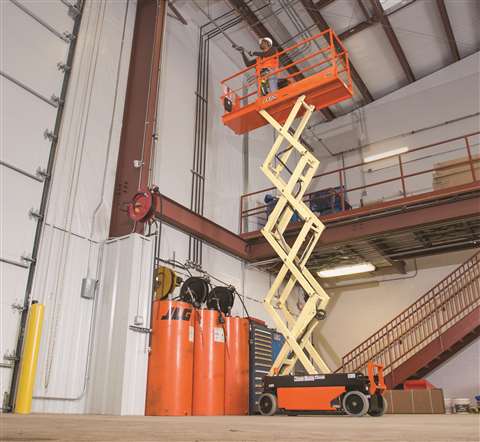 The JLG 1932R electric scissor lift is designed with low total cost of ownership in mind.
The JLG G5-18A super compact telehandler is suited for work in confined or congested spaces and any application with overhead height restrictions. It features a 127-inch turning radius, enabling movement through jobsites and a stowed height of less than 76 inches. The G5-18A features a maximum lift height up to 18 feet, an extended outreach of 11 feet, and a 5,500-pound maximum lifting capacity. The machine also offers a variety of attachments for versatility in handling jobsite challenges.
The G5-18A is designed to provide enhanced reliability and serviceability. It features a, Tier 4 Final Deutz engine, which provides higher levels of fuel efficiency and reduces the impact on the environment. In addition, it offers an optional reversing fan, which is a benefit in dusty environments, as it allows the operator to reverse the fan to "clean out" the radiator.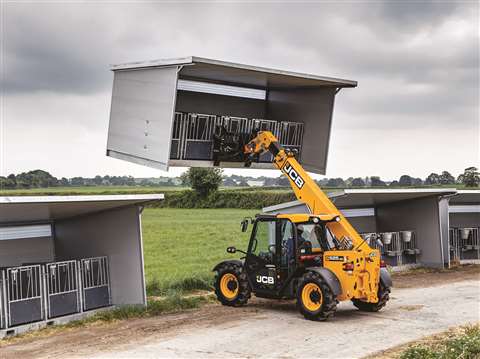 The compact, 74-hp 525-60 Hi-Viz telescopic handler will be at this year's show.
The JLG 1932R electric scissor lift is designed with low total cost of ownership in mind. The 1932R offers serviceability, reliability and durability. The 1932R features all-steel, swing-out component trays featuring a layout that optimizes serviceability.
Additionally, the 1932R improves serviceability via more electrical components that feature diagnostic capabilities – for example, a battery charger with a fault code display panel also includes a USB port, allowing an owner to download battery charge history.
JLG's 1932R features a low-maintenance active pothole protection system with fewer moving parts. The pothole protection system boosts reliability, as it is mounted to the frame instead of the doors, allowing the system to still work if the doors are out of alignment. A new platform extension also contributes to the lift's reliability, as it is designed to shed debris, keeping deployment smooth and effective throughout the life of the machine. The machine's all-steel platform, steel component doors, and thicker rubber tires help provide durability.
The 1932R features a platform height of 19 feet and platform capacity of 550 pounds.
MEC Aerial Work Platforms #4758
MEC will feature its latest portfolio of aerial work platforms ranging from slab scissors to rough terrain booms. Included will be the 60-J diesel boom, Crossover electric RT, and the entire slab scissor family.
The company's 60-foot jib (60-J) straight boom series offers electric, diesel and hybrid options to meet every need without compromising RT performance, according to MEC.
The Crossover "redefines the electric R/T midsize scissor market and offers the only patented material loading tray," the company told ALH. "Our expanded DC drive slab scissor line provides a full offering from 13-foot micro slab 1330SE to 45-foot tall compact slab scissor 4555SE. "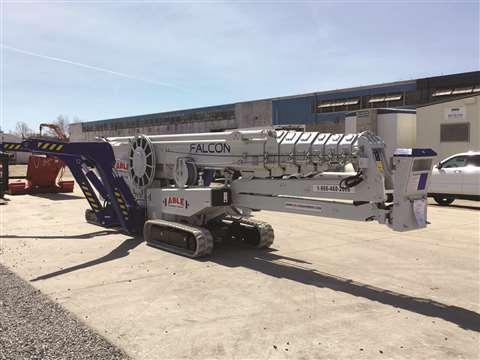 With patented and award-winning features like our integrated material sheet trays and proactive platform safety system, MEC invites attendees to "come see how a MEC machine is a better solution – full featured value for high performance, productivity and safety."
Point of Rental #3350
Point of Rental Software will showcase a number of its products plus offer visitors show specials.
Point of Rental Elite will be on display. Designed for the most forward-thinking rental businesses and built to handle even the largest companies worldwide, Rental Elite is an enterprise resource planning (ERP) rental management software customized to the specific infrastructure in which it is used. Already used by several of the top rental companies in North America, Rental Elite joins Rental Essentials, a cloud-based product introduced by Point of Rental in 2014.
The company will also showcase its Customer Loyalty Program which was unveiled as part of its Expert and Elite update in 2016, enabling thousands of rental stores to encourage lifelong customers and build brand loyalty. Debuting at The Rental Show this year, the Customer Rewards feature is the first loyalty program of its kind available to the rental industry, according to the company. As part of the rental management software, this feature allows a store owner to define the percentage of
income to reward the customer with and an expiration date to encourage customers to come back soon.
Reachmaster, Inc. #4982
Reachmaster, Inc. will have its popular Falcon FS95 at its booth, as well as other products.
"This lift is highly utilized with rental companies for its ability to drive through a single door, double jib for up and over access and operational ease of handling," the company says. The ReachMaster Falcon includes work heights from 95 – 170 feet.
Along with the Falcon, Reachmaster will have the award-winning BIBI 26BL scissor lift that is tracked based with bi-leveling and automatic leveling. The BIBI 26BL has direction control and an easy drive system. The unit is one-of-a-kind in the U.S. market.
The company also will show its Winlet 1265; the glass manipulator that can move and replace glass easily.
SmartEquip #5913
Visitors to SmartEquip's stand will be privy to learning about the company's new user interface: SmartEquip 5.0. SmartEquip 5.0, set to launch early this year, is designed to allow any device full access to SmartEquip functionality. Any modern browser will be able to use the application, free of additional plug-ins or other technologies. In addition, SmartEquip 5.0 will intelligently apply next-generation responsive design, which will resize the application based on the screen size of your device, and will allow mobile-friendly features such as pinch/zoom and swipe. Other features include: type-ahead pull downs; filterable tables; bookmarks; shortcut keys; simpler searching and navigation and much more.
Skyjack #4138
Skyjack will use The Rental Show to launch a brand new boom – the SJ85 AJ articulating boom lift. The company said following the successful launch of the SJ86 T (telescopic boom) in 2015, the SJ85 AJ will complete Skyjack's boom line-up in the core 40-foot, 60-foot and 80-foot boom classes.
The SJ85 AJ has 85 feet of platform height, horizontal outreach of 56 feet, up-and-over clearance of 34 feet and a dual capacity rating of 750/500 pounds and two to three people. The boom will also have indicator lights on upper and lower controls show the applicable working zone and platform capacities.
A sneak peek of SmartEquip 5.0, which will launch in early 2017.
Like the SJ63 AJ, the new boom will have stowed compact dimensions, minimal tail swing and can get from ground to working at height in 60 seconds. It will also have: SkyRiser, SpeedyReach, SkyCoded, AxleDrive and EasyDrive – all features unique to Skyjack.
The unit will be available in the second quarter.
Skyjack will also have the SJIII 4740 on display. The unit is the tallest DC electric scissor Skyjack has ever produced. It features 45.3 feet of work height and a maximum lift capacity of 500 pounds.
The company will also show its SJ30 ARJE, which is an articulating boom with 36 feet of working height.
Lastly, the company will show its newest addition to its telehandler lineup, the SJ1056 TH. The unit is a 10,000-pound-capacity machine that features a maximum lift height of 56 feet, 3 inches and a maximum forward reach of 42 feet, 6 inches. The telehandler has a 19-inch ground clearance and comes with a 74hp Deutz engine as stsandard, but can be equipped with a 107hp Deutz engine as an option.
Skyjack's entire lineup at The Rental Show includes: the SJ16 vertical mast lift; DC electric scissor lifts SJIII 3219, SJIII 3226, SJIII 4632 and SJIII 4760; the rough terrain scissor lift SJ 6832 RTE; articulating booms SJ30 ARJE and SJ63 AJ; as well as the telescopic boom SJ86 T.
In addition to these products, Skyjack will also display its range of accessories, including pipe racks, material handlers and board carriers.
Snorkel #5336
Snorkel will display their vast product line at The Rental Show 2017.