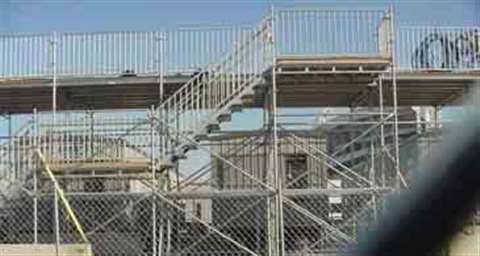 Etobicoke Ironworks supplied its Total Scaffold System to contractor Noel Lesley Event Services Inc for it to construct a range of temporary structures required for the American football championship final, the Superbowl XXXIX, held in early February this year. Noel Lesley was required to assemble cable bridges, media towers and a customised camera platform.
The camera platform was designed to be able to carry a load of 150 lb/ft2 and measured 300 ft (92 m) long, 12 ft (3.6 m) wide and 15 ft (4.6m) tall. It was used by television camera crews from around the world to shoot footage leading up to the big day.
Due to all the broadcasting equipment needed for this huge event, three different cable bridges were designed with various spans measuring 21 to 37 ft (6.4 to 11.2 m) and totalling more than 100 ft per bridge. These were necessary in order to carry the massive amount of cables safely overhead across walkways and driveways so that pedestrians and vehicles could travel beneath.
EIW has provided the new Total Deck System to a number of challenging projects in addition to SuperBowl XXXIX. Another recent special event to effectively use this new system was the Junkanoo (cultural parade) in the Bahamas. Etobicoke Ironworks Ltd. supplied the TSS grandstands for this annual event in 2003 and 2004 and is confident of equipping this event in the future. Previously, Junkanoo event organisers had been using older, local material for the seating but for 2003 decided to invest in something more professional and durable, and also make use of the project planning skills and flexible equipment that Etobicoke Ironworks can supply.