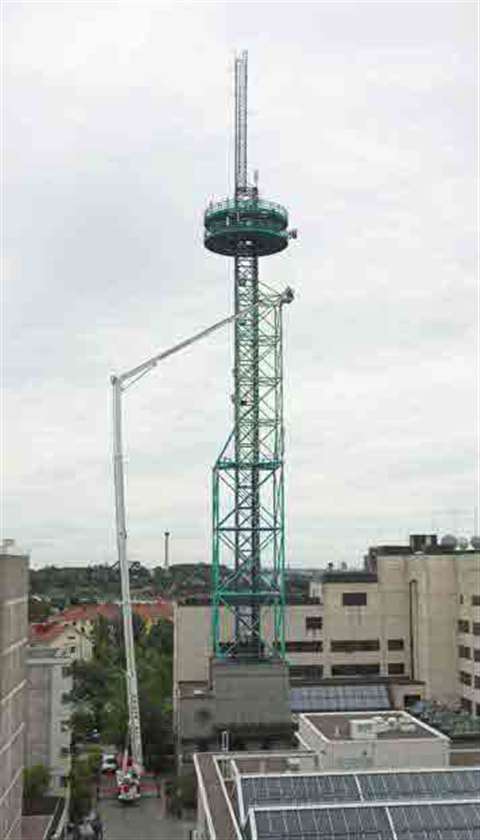 One of the fascinating things about aerial platform design is the choices that have to be made on key characteristics like height, weight, length and outreach. When platforms get really big 50 m and upwards these choices become very stark: a long outreach can have an enormous impact on overall weight and jacking width, while high working heights place limits on the total length of the unit and, hence, transportability.
So, what choices has Bronto Skylift made on the +100 m machine it is now building for Belgian rental company Maes (see News this issue)? According to Jan Denks, Bronto export sales manager, the machine designated the 10X HLA (The final working height has still to be determined.) will not be a one-off giant, but a compact, manoeuvrable platform that uses an established commercial chassis and with dimensions that C although necessarily big will not give transport managers too many headaches.
17 m long
This means a total weight of approximately 60 t, an overall length of around 17 m which contrasts to the 22.5 m of Ruthmann 100 m unit and transport width of 2.5 m. The carrier will be a modified commercial 6-axle unit, and it will have the same articulated boom configuration used on the other HLA models.
Of course, in designing a unit to fit on a truck like that, something has to give, and in the case of the 10X HLA it will be outreach, which is likely to be around the 30 m mark. That figure is still impressive enough, but less than the 40 m on Ruthmann 100 m machine, almost the same as significantly smaller 84 m reach models made by Wumag and Ruthmann, and also similar to Bronto own smaller 78 m, 87 m and 90 m platforms. (Mr Denks makes the point, however, that the new model relatively modest 8 m jacking width will not eat up the outreach.)
For Jan Denks, the important attribute is its normality' "I think we want to keep it as close to our existing range as possible. It's just another working model, even though it's the highest. It's not a prestige' machine, it's going to be something that makes money for our customers."
Bronto is unwilling to publicise the price of the new model, saying only that it would not be based "on our development costs, but on the value it gives in comparison to other big machines."
The Finnish manufacturer isn't just adding the 100 m+ model, it is also soon to deliver a 90 m machine to Maes (as previously reported in AI) and is also to expand its new XDT range of machines.
This already comprises 46 m, 52 m and 60 m versions the 46 is proving popular with over 20 sold since its Bauma launch last year and will be joined next year by a telescopic 70 m version (which will complement rather than replace Bronto's famous 72 HLA articulating platform).
Ruthmann, meanwhile, is choosing to focus its attentions on its mid-sized range, rather than on machines over 60 m. A spokesman for the company tells AI that it will update its machines in the 40 to 60 m working height zone before it ventures again into the high-reach platform arena.
The company already has old T models with working heights of 31 m and 50 m, but is planning to launch new models in the plus and m plus heights. These will be part of Ruthmannwider launch of the new T range, which so far comprises 22 m and 27 m versions and which will be further augmented with a 36 to 38 m model to be launched at APEX (and an 18 m model within 12 months).
The new T range is a quite different animal from its predecessor, with greater cage carrying capacities, speedier operation (genuinely simultaneous four movements) and shorter overall lengths.
The company also reports recent successes in selling its well-established, 69.7 m working height TU 700 platform, with buyers including rental companies in Algeria and The Netherlands (see box story).
Other German manufacturers have been making their own design choices, too. Bison Palfinger, for example, will use APEX to show off its new 32 t, 61 m working height TKA 61 KS, its largest truckmounted model ever. There is no doubt where the design focus on this machine has been getting as much outreach as possible on a compact chassis, meaning a massive 39 m of lateral outreach on a 11 m long unit with a wheelbase of 4.5 m. The outreach on the TKA 61 is almost the same as that on Ruthmann's 100 m giant and on a truck less than half as long.
Wumag, meanwhile, says it will focus on expanding its Jumbo range of large capacity machines in the +60 m heights. This range already includes the WT 450, WT 530 and WT 700 models.
Italy is always a ready source of large truckmounts, with companies like Socage, Italmec, Isoli, Bizzocchi, OP Pagliero, Oil & Steel and Barin among those making 40 m and over machines.
If the focus for several of these companies has recently been the 3.5 t GVW sector, some are also still making and selling much bigger machines. Socage, for example, says its Sioux range now encompasses 35 m, 50 m, 56 m, 65 m and 75 m versions, with the 65 m model bringing it the most "sales satisfaction".
OP Pagliero is planning two 85 m working height machines (see News this issue). Bizzocchi is meanwhile getting involved in some interesting projects. In addition to its new alliance with Terex Utilities in the US (see News this issue), it has also just developed the 43 m working height KJF 430SE, a new 4-axle version of its 3-axle KJF 430 platform.
This model is being built for a local Italian demolition contractor, with the specific application of removing asbestos panels from buildings.
Mounted on a 42 t GVW truck, the platform has a heavier cage capacity (400 kg instead of 300 kg) and outreach has been increased by 5 m to 30 m. The need for a unit that could operate in Italy's towns and cities has meant a very compact design total length is 10 m. The cage also incorporates a folding front rail, which allows the cage to take on the panels.
That kind of machine is the perfect illustration of the choices open to manufacturers (and buyers). We began by talking about a machine with a working height of over 100m, and end with one offering less than half that height, but the same outreach. You have to know what you want when you put your money down.