Tower cranes: Tower power
By Christian Shelton26 June 2018
The tower crane industry continues to grow – fuelled by a heady mix of prestige projects, industry, and demand for high-rise housing. This is evident from the plethora of new models and updates currently on the market. Here we take a look at the manufacturers' latest models…
Luffing jib cranes
Spanish tower crane manufacturer Jaso is preparing to launch a new luffing jib tower crane series. Details are scarce at present although Jaso's area manager, Theodor Huitema, told ICST, "we decided to launch the new series in response to market demand, as our customers were requesting higher capacity luffers with fast line pull speeds."
As such, Jaso's first version of the new tower crane, the J780PA.64, has a capacity of 64 tonnes – double the capacity over the company's previous highest capacity tower crane. It has a 132 kW hoisting winch and a line pull capacity of 16 tonnes.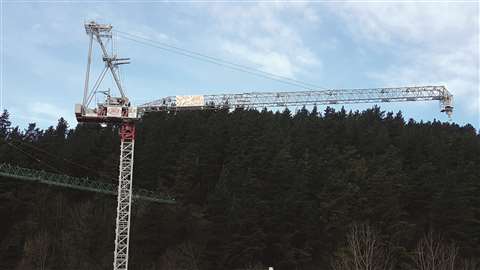 Jaso's new J780PA.64 has a capacity of 64 tonnes
Huitema also revealed that there is an even bigger 75 tonne capacity version in development, which will use a 220 kW hoisting winch with speeds of up to 310 metres a minute. The company also plans to release a third, lower capacity, version.
An 18 tonne luffing jib tower crane has been launched by Italian manufacturer Raimondi. The LR330 has a maximum jib of 60 m and, at maximum radius, the capacity is 3.3 tonnes. Configurations are possible with two or four falls of rope and there is an Ultra-lift mode to maximise capability. Six jib lengths can be set between 30 and 60 m. There is a choice of three hoisting winches: a standard one at 80 kW; the two falls of rope configuration with a 110 kW unit; and for four falls of rope there is an 80 kW version. Rope capacities are, respectively, 650 m, 1,000 m, and 980 m. Maximum hoisting speed with the 110 kW model RHW110-T2 winch on a single fall of rope is 250 m per minute. There is also a new safety control system which monitors all of the crane's movements and the load.    
Raimondi Cranes began shipping the LR330 in March 2018. The first two units are for UK Raimondi agent and rental company Bennetts Cranes. For more details see World News in the March 2018 issue of ICST.
German tower crane manufacturer Jost Cranes has launched a new luffing jib tower crane: the JTL 68.4s. It has an out of service radius of 4.0 m. The crane will be the smallest hydraulic luffer Jost Cranes offers. It will have a boom length up to 35 m and a maximum freestanding height of 30 m on Jost's standard TH 12.2 tower. The crane is particularly suitable for small job sites with very limited slewing space, where weather-vaning and the over-sailing limitations make it difficult for other cranes to operate while still lifting a 4 tonne load, said Jost.
Manitowoc's latest luffer is the Potain MCH 125. It has a capacity of 8 tonnes, a maximum jib length of 50 m, a counter jib length of 7 m, and a maximum tip load of 2 tonnes. It is available with 1.6 m or 2 m masts and Manitowoc says it is the first hydraulic luffing jib tower crane introduced for the Asian market.
Malaysian crane manufacturer Favelle Favco is introducing its first fully electric luffing tower crane into the US market. The MK440E has the same load charts as the current M440E diesel hydraulic version but, in response to customer feedback, it will have two winches. The main winch has a capacity of 50 tonnes, while the fly winch has a 10 tonne capacity. Favelle Favco believes that with increasing environmental awareness and exhaust emission regulations there will be significant demand for its new crane.   
Flat tops
Manufacturer Liebherr says it has increased the range of its 150 EC-B 8 Litronic PT and 172 EC-B 8 Litronic flat-top models by 2.5 m, taking the total radius of both cranes up to 62.5 m. The company says that the jib on both cranes can also now be adjusted in 2.5 m steps for fine-tuning.
Both cranes can now be supplied with Liebherr's 16 EC, 16 HC and 21 HC tower systems. The compact 16 EC tower system is the most recent and there are two models in the range: the 16 EC 160 and the 16 EC 240. The first figure indicates the external dimensions of the tower (1.60 x 1.60 m), while the second figure specifies its metre-tonne rating, says Liebherr. This means the updated 150 EC-B 8 Litronic PT can now hoist 1.4 tonnes at the jib head with a radius of 62.5 m, while the maximum free-standing hook height of the flat-top is 72.4 m.
The updated 172 EC-B 8 Litronic can now hoist 1.8 tonnes at the jib head with a radius of 62.5 m. The maximum load capacity of both cranes remains 8,000 kg.
The 172 EC-B 8 Litronic is supported on a new 20 EC cruciform base  and the crane has an internal LiUP crane driver elevator integrated in the tower.
The updated 150 EC-B 8 Litronic PT has been licensed for passenger transport. The total lifting capacity is reduced to two tonnes in passenger transport mode, allowing personnel to be hoisted with their tools and materials. Safety has been further enhanced with the inclusion of a secondary brake. The use of the crane for passenger transport has been EC type tested. Liebherr says this means it can carry passengers throughout Europe.
The company also told ICST that it is working on a new series of flat-tops but it will not release any further information until the end of 2018.
Spanish manufacturer Linden Comansa will launch a new large flat top tower crane model. The company says the 21LC1050 will have an 80 m maximum radius and will be available in three versions, with load capacities of 25 , 37.5 and 50 tonnes.
The new crane doesn't have a cat-head – which the company says makes it easy, safe and fast to erect.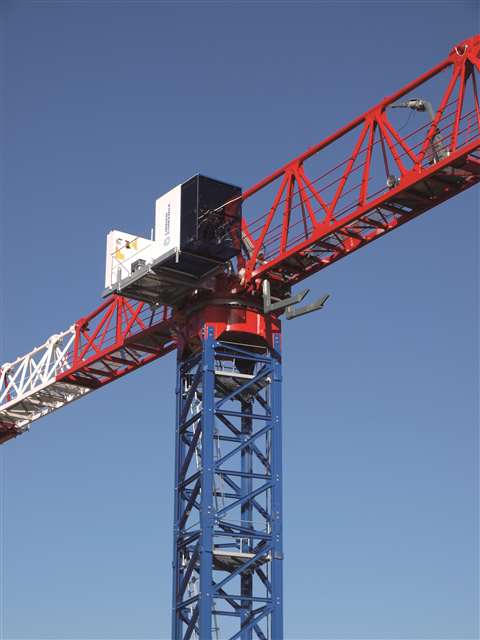 The 21LC1050 will be the largest of Linden Comansa's LC2100 Series and shares many elements with other cranes in the series. The counter jib is also modular, making it particularly suitable for prefabricated prefinished volumetric construction, says Linden Comansa. This is because it means there are a number of ways to achieve a shorter counterjib radius when the crane is assembled with a short jib.  
The new model will come as standard with: Linden Comansa's PowerLift system – for up to 10 % load chart improvement; the XL size of its new Cube cab; and Effi-Plus system – for high speed hoisting of light loads.
In October 2017 Raimondi launched the MRT234 flat-top. It has a maximum jib length of 70 m and a capacity of 12 tonnes on four falls of rope. In Ultralift mode, the MRT234 can lift 2.25 tonnes at the maximum radius. Eight jib lengths, from 70 to 28 m, are available. The crane can have a standard 45 kW hoisting winch, or a 55 kW model. Raimondi says the speed of the slewing and trolley movements have been improved by around 30 %, while the crane's smoothness of motion has also been enhanced. For more details see World News in the December 2017 issue of ICST.
Manitowoc's latest top-slewing tower crane is the Potain MDT 349 – which is available in 12 tonne and 16 tonne versions. The 12-tonne version has a maximum jib length of 75 m and a maximum tip load of 3.2 tonnes. The 16 tonne capacity Potain 349 L16 also has a maximum jib length of 75 m but a slightly lower maximum tip load of 3 tonnes. Both cranes have Manitowoc's Crane Control System (CCS) and new 75 High Performance Lifting (HPL) winch technology, which it says provides higher line speeds than the 75 LVF winch previously found on many Potain top slewing tower cranes.  
The latest tower crane model from Terex is the CTT 472-20 flat top, which was released in September 2017. Terex Cranes says this 20-tonne class crane expands the maximum jib length to 80 m and increases load charts over previous models. The capacity at the end of the longest jib is 4 tonnes.
Terex says it delivers high lift capacities throughout its load chart, has 11 different jib configurations (from 30 to 80 m), and its hoist, slewing and trolley speeds allow operators to quickly and precisely position heavy loads.  
The CTT 472-20 is the first tower crane model to include Terex's new cabin that will be installed in all future flat top, hammerhead and luffing jib models. It also has Terex's new control system and Terex Power Plus (TPP), which can increase the load chart by 10 %.
A Power Match function is designed to balance performance and power consumption whilst hoisting.  
Terex says it has plans to launch another flat top in 2018 and that it is also investing in its self-erecting tower product line – to which, the company hints, it may also add another new crane. For more details see World News in the October 2017 issue of ICST.
The latest flat top tower crane model from manufacturer Wolffkran, available since September 2017, is the Wolff 6020 Clear. It is in the 140 tonne-metre class and replaces the 6015 Clear, launched in 2008.
Two versions are available: the 6 tonne capacity 6020.6 Clear, and the 8 tonne 6020.8 Clear. Each has three tower crane connection options. For more details see World News in the September 2017 issue of ICST.
Double Dutch
In the Houthaven dockland area of Amsterdam, the Netherlands, two construction companies – Dura Vermeer and M.J. De Nijs & Zn – are using four Liebherr tower cranes to help build what will be one of the tallest residential buildings in the Dutch capital.
The cranes comprise: two 280 EC-H 12 Litronic models – with hook heights of 52 and 60.3 metres; and two 550 EC-H 20 Litronics – which are anchored onto the building and can attain hook heights of 104.1 and 114.2 metres. Liebherr provided support by helping calculate the number of required tie-ins to the building which, when complete, will include flats for rent and sale, and 1500 m² of shopping space.
Power for Poland
Polish crane rental company Corleonis was commissioned by infrastructure contractor Budimex to erect a 150 m-tall cooling tower at Bogatynia power plant, Poland.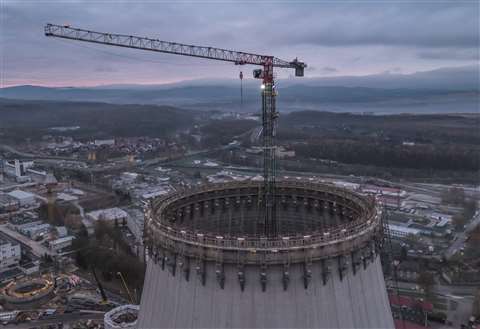 For the job Corleonis used a Terex CTT 332-16 flat top tower crane, which was set up inside the cooling tower. As the construction of the tower progressed, Terex and Corleonis developed a special anchoring technique that enabled the crane's hook height to also be maintained as the height of the cooling tower grew.