Tracks head to expanded Macao casino
By Euan Youdale02 June 2015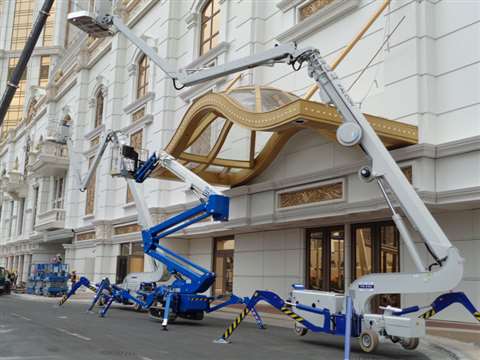 Two TCA Lift tracked platforms have been sold to Galaxy Hotel and Casino resort in Macao, China.
The Falcon Spider FS290 and FS370 were delivered via the manufacturer's Hong Kong representative, along with a Bluelift C22.
The primary work of the machines is cleaning and maintenance. With a design inspired by many historical Asian cultures, the resorts' white and reflective gold hotel towers, tropical gardens and ornamented fountains, is designed to blend into its surroundings.
Brian Falck Schmidt, sales manager at TCA Lift, said, "We participated from the very beginning as a consultant to the architects and confirmed by working with the drawings that the Falcon Spider was able to reach the job."
Two years ago the manufacturer delivered a FS520C to the same resort. At that time, Galaxy
Macau announced a second phase, in which JW Marriott and Ritz-Carlton hotels would be added to the Cotai-based resort.
According to Galaxy Entertainment, the total investment for the phase two work is estimated at HK$16 million with completion scheduled for mid-2015. It will consist of 450,000 square metres of new resort space, an additional 3600 hotel rooms and 500 more casino tables.