Tracto-Technik's trenchless solutions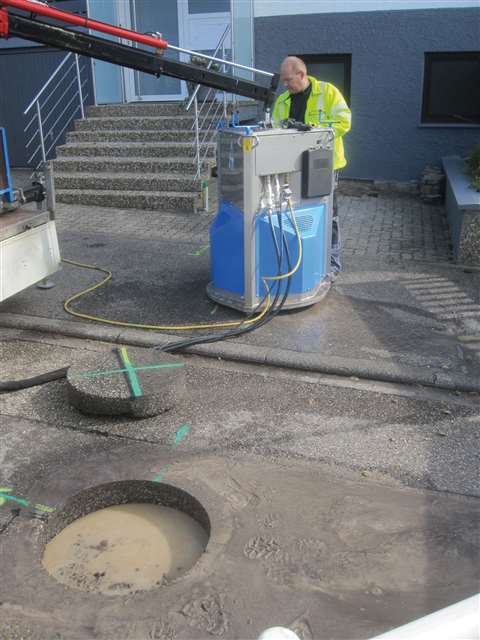 Tracto-Technik will be presenting its complete range of products and services for the trenchless installation and renewal of pipes at Intermat 2018, and visitors to the show can find out about the company's "NODIG" solutions for the smart city of tomorrow, in an outdoor area of more than 500m2.
While new installation and rehabilitation of mains and distribution pipes using trenchless technology has been accepted for a long time, the company said that further developments allowed for installing property service connections completely underground, into the customer's basement or service room.
It said that by using the Grundomat mole soil displacement hammer, the complete range of sectors – from sewage to fibre optics connections – could be installed and renewed without trenches.
Tracto-Technik also offers equipment for what it calls "keyhole" technology, which enables installation, repair and renewal of service connections via a stress-free circular construction pit.
The company added that the fast-paced development of the steerable drilling technique allowed trenchless installation projects which would have been unthinkable a few years ago.
The Tracto-Technik product line ranges from the compact and mobile Grundodrill 4X bore rig to the powerful Grundodrill 28Nplus HDD system. It said one of the highlights in the HDD machine family was the Grundodrill 18ACS which worked efficiently in alternating soils as well as in the hardest rock.
The Grundodrill 11XP has a slim construction aimed at applications in inner-city areas. The company said that parallel installations up to 500m long were possible, and crossings beneath rivers and water bodies were completed frequently.
Bursting
Pipe bursting with Grundoburst is a method for the trenchless replacement of pipes with damage such as cracks, incrustation, root infestation, misalignment, positional displacement, split sleeves, etc. The rigs are for pipe renewal but can also be used for pipe repair and renovation methods such as relining, TIP or pipe reduction.
Using the dynamic pipe cracking method with Grundocrack, old pressure or sewage pipes made of brittle materials or plastic are shattered and simultaneously replaced by new HDPE pipes (long and short pipes) or PVC-U pipes.
Air-driven, modified pipe rammers function as crackers which are supported by the pulling force of a conventional winch, guaranteeing safe guidance through the given pipe path.