Triple North America launch from JLG
By Euan Youdale23 February 2016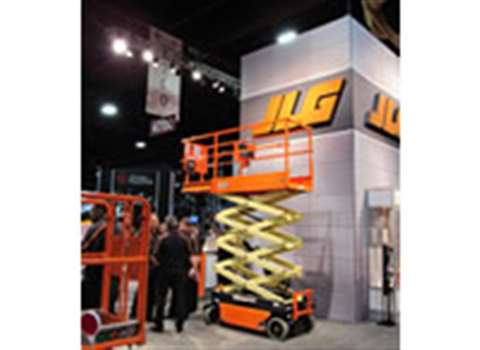 JLG is replacing its 1932RS scissor with an upgraded model, the 1932R, at the Rental Show in Atlanta, USA, taking place 22-24 February. It is also showing three rebranded Power Towers units and introducing a tracked platform to the USA.
As with the RS line, the new 1932RS model is designed with lower cost of ownership in mind and provides a range of features that its predecessor did not have. The platform offers a working height of 19 ft and platform capacity of 550 pounds.
"As designers developed this product, they did so with lower cost of ownership in mind, paying special attention to anything that impacts serviceability to minimise repair time and costs," said Paul Kreutzwiser, JLG Industries global category director, scissors/verticals.
As a result, the 1932R features service access via all-steel swing-out component trays with a layout that optimises serviceability by providing technicians with plenty of room to inspect and work on easily-accessible components.
The 1932R also features an improved battery charger that allows a technician to programme changes that optimize charge curves for conventional wet or AGM batteries using a USB port. This optimises the charge for the battery being used, which extends battery life and improves performance, while increasing flexibility.
A simple, easy-to-maintain active pothole protection system with fewer moving parts and a new platform extension contribute to the lift's reliability. In addition, the machine's all-steel platform, steel component doors, and thicker rubber tyres help ensure durability. Additionally, a recessed panel protects ground controls from damage during lift operation.
The scissor is a prototype at the show and will go into production in August. Sister product, the 3248RS will be addressed in the future, added Mr Kreutzwiser.
Also on the booth were the Ecolift 50 and Ecolift 70, representing the first time products from last year's acquisition of Power Towers were shown in North America. Low level access specialist Power Towers sells its products in its original branding and livery outside all ANSI standard areas but inside these areas have been rebranded and renamed as JLG products. Both the EcoLift 50 & 60 are designed to be virtually maintenance-free, thanks to a patented stored power lift/lower system that requires no batteries, hydraulics, oil, or controls.
"The EcoLift series is a game changer in the rental industry because of its robust and rental-tough design," said Mr Kreutzwiser. "Extremely easy to operate and environmentally friendly, the lifts provide working heights of 11 and 13 ft respectively by simply turning a handle to move the lift up or down. What's more, the lifts' lightweight design makes it easy to push them around a job site. They are rated for 330 pounds, leaving room for materials and tools to boost productivity. And, because there are no hydraulics or motors involved, both of the eco-friendly lifts operate quietly, making them a preferred piece of equipment for finish work on construction sites or even as maintenance access equipment in schools, hospitals and other institutions."
Measuring just under 28 inches in width, the lifts easily roll through standard doorways on caster wheels and maneuver around all areas of a facility. Made of construction-grade materials, the rental-ready lifts offer unlimited lift cycles and can be used 24/7, contributing to a low total cost of ownership.
A new push-around mast lift, the JLG 830P, known as the Power Towers Nano outside North America, uses hydraulics to lift operators to a working height of 14 ft and offers workers a 29 x 39 inch platform. Like the EcoLifts, the 830P features a lightweight design that makes it easy for operators to push the lift into position, and heavy-duty, auto-lock wheels on elevation provide a secure base.
"All three of these units offer attractive alternatives to ladders and scaffolding," added Mr Kreutzwiser. "They give workers the ability to use both hands on the job rather than needing to maintain three points of contact."
Also new at the show was the X770AJ compact crawler boom, sold under the partnership with Italian manufacturer Hinowa, which produced the product and initially launched it as the the Lightlift 26.14 Performance IIIS in Europe last year. It is the largest tracked boom of its kind that JLG offers. In addition to a working height of 84 ft and 500 pound unrestricted capacity, the machine has a lithium battery option and an articulating jib.
Corey Raymo, JLG Industries global product director, boom lifts, said, "The lithium battery makes for a clean, quiet machine that lends itself to indoor applications, and the upper boom with the jib provides an impressive horizontal reach of 43 ft."