Truck mounts: high to low
By Euan Youdale14 April 2020
Large working height truck mounts used to be the talk of the sector, and while they still play a vital role in a range of applications, and are increasingly requested in those areas, the pendulum has swung in the direction of an outpouring of new models in the lower height ranges.
In these lower working height areas we are also seeing a move towards electric and hybrid equipment as the industry latches on to the global environmental direction of travel.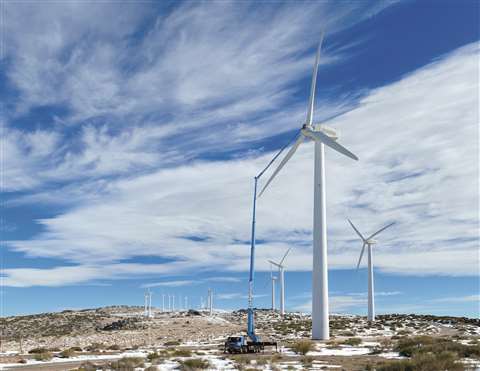 Nevertheless, big equipment launches still occur. Ruthmann will do exactly that at APEX, which is set to take place in the Netherlands this June. While the manufacturer is not sharing any details about the new machine yet, it said it results from a greater demand worldwide for truck mounted platforms with working heights above 50m. The reason for this lies in health and safety, as truck mounts replace large self propelled machines and can offer a better return on investment, as well as there being a greater need for them in the growing wind power sector, said the company.
Ruthmann's most recent large working height launches were the 90m Sky performance Steiger T 900 HF at Intermat in Paris, in 2018, and the 75m Highflex Steiger T 750 HF at Bauma, last year. Both offer the Dynamic Reach System (DRS), with its Dual Concept function, which provides up to 4m more outreach than previous Highflex models. The DRS can be retrofitted to the existing T 510 HF, T 570 HF and T 650 HF models.
A company spokesperson said, "The objective in developing the Steiger T 900 HF was not to construct a platform with a working height of over 90m but to meet the needs of the market. Customers and above all operators require a guarantee of maximum stability and flexibility." The T 900 HF offers 42m lateral outreach.
Concerning the DRS, the company added, "Customers who choose the added Wind option can use the platform in stormy weather up to [Beaufort scale level] 8, which increases usage because it was previously only guaranteed up to wind force 6". The user can set the maximum permitted wind force in advance; the DRS then adjusts the possible range.
Italian manufacturer Multitel said it is also adjusting its view of its product line, with the view to making the most of the complete working height spectrum. The company is undergoing a grass roots review of its range above 32m working height. This is part of Multitel's mid-term plans for the sector and the plan is to provide upgraded versions of the current range with similar overall weight but with superior performance and improved working height, it says.
Production capabilities
Multitel has recently invested in a new dedicated production site that will take care of the entire production cycle. This will include a specific focus on new technologies. The combination of overall weight, outreach and electronics is the challenge, says the company, particularly when applying them on 32m and above platforms. Nevertheless, that will be the focus going forward.
Fellow Italian manufacturer GSR has said it is considering its future path too. Its product range includes telescopic platforms with jibs and, or, with up-and-over capabilities up to 36m, for example the 26.5m working height E360PXJ. The company says this working height is destined to increase soon, however, it says, "Our company will continue not to consider itself as a manufacturer of large truck mount equipment."
Indeed, it rules itself out of the loftier working heights. "In the past, we used to talk about light duty and heavy-duty access equipment but this distinction concerned only small and medium height MEWPs. Today this distinction exists also for large truck mount equipment, opening scenarios simply unimaginable a few years ago."
The power to weight ratio of the MEWPs has more than doubled in just over 20 years and all large truck mount machines today are no more multipurpose, as they used to be 20 years ago, claims GSR. "It seems that large truck mount vehicles belong more and more to a world of specialised equipment and 'rocket science', where the needs and context of use justify the choice of ultra-sophisticated technical solutions and technologies, often in contradiction with the daily access business."
Expanding focus
Bronto Skylift is also pondering its future, bearing in mind it's primary area of focus has always been 40m working height and above. "Previously, we have focused mostly on the bigger units for the wind industry and other high-rise installations. Now 5G has increased the demand in smaller machines too and we are glad to offer state of the art products in this size range," says Antti Suoniemi, at Bronto Skylift.
In this respect, Bronto will be showing a 47m height model at APEX 2020, the S47XR. "We have seen an increasing demand in this size class due to 5G antenna changes and some other market developments," said the company. The total weight of the machine is under 18 tonnes and it offers a 27m outreach.
Additionally to that, the Bronto 5+ control system is designed to make the unit easy, intuitive and easy to use. Optional equipment includes the new lightweight material winch, which is easy to attach and remove. The winch arm weighs about 15kg so it is easy to handle by one person and offers a capacity of 200kg.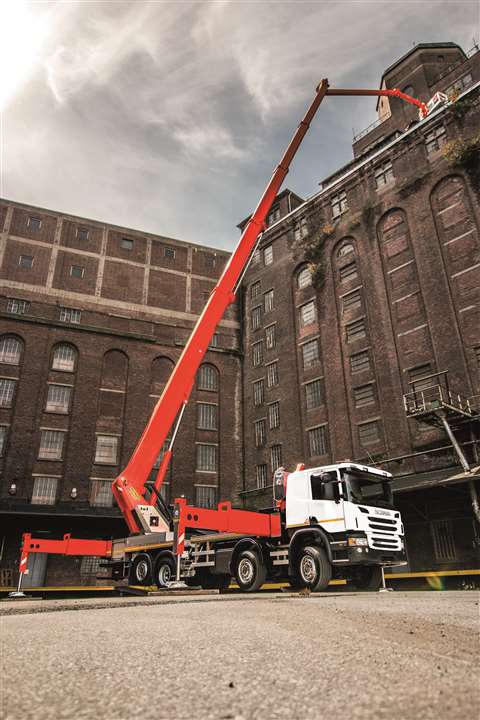 Technological leaps are part of the business but bringing truck mounts into the world of hybrid and electric is no easy feat. Palfinger says the latest noise- and emission-free platforms are in high demand, whether
for bridge maintenance, work in tunnels and closed halls or construction work during business hours in city centres. In 2018, Palfinger launched its first hybrid platform, the P 370 KS.
Compared to a purely diesel-powered aerial work platform, the P 370 KS E is characterised by significant fuel savings, reduced noise and carbon emissions. The intelligent energy management system allows components such as the electric motors with hydraulic pumps and the integrated battery charging system to interact perfectly.
At the same time, the combination of the electric and diesel drive systems guarantees the performance and service life of a diesel-powered machine at low operating costs. Technology is certainly the future, says Palfinger, "We are currently working on digital solutions that will further optimise the use of aerial work platforms. In the future it will be possible to simplify the handover of platforms to rental customers without any loss of quality."
Easy operations
A challenge in the sector, says Palfinger, is the demand that machines run perfectly. Reliable customer support and the emergence of telematics feed into this. "With the help of networked data, maintenance or service work can be planned significantly or errors can be remedied much faster."
Its Fleet Monitor and Operator Monitor aids this. And with Smart Eye, service technicians connect directly to a service expert via the display and camera. Thanks to an audio-visual live stream, know-how and expertise can be shared in real time. The camera shows exactly what is happening on site. "Through a direct connection via microphone, we are in contact with the employees and can give suggestions and instructions at any time. Whatever the weather, we see what is happening on site via the Smart Eye camera and together we find the right solution for our customers.
Oil & Steel has also been expanding into environmentally-friendly equipment. The Scorpion 2013 Hybrid is designed to be a sturdy and compact model, with the hybrid version providing two sources of power, the truck engine and lithium battery. The 2013 Hybrid offers the largest lithium battery capacity in its class, says the manufacturer, of 7.4 KWh, with 8 hours of working autonomy and recharging during travel.
The model's telescopic platform can reach a working height of 19.9m and outreach of 12.3m with 80kg in the basket, and 8.3m at 250kg basket capacity. The 2013 Hybrid is mounted on an Iveco Daily 35 S, which is less than 7m long, meaning it's the shortest in the range. Another feature is the is 3.16m maximum stabilisation width.
As much as telescopic boom truck mounts are developing their roles, so too are articulated machines. Socage has introduced its largest model in this area, the double articulated ForSte 37DJ Speed. The platform, with jib has in-frame stabilisation, a working height of 37.3m and a 23m maximum outreach. Such performances are achieved by installing the platform on an 18 tonne truck with weighted chassis. It also comes with electric controls, automatic stabilisation and 360° rotation. The product is designed to expand possibilities for rental companies.
New assets
Klubb is traditionally recognised for its range of van mounts. In 2017, the French company acquired the intangible assets of Comilev and rejuvenated the range of Xtenso lifts on heavy trucks intended for utilities. Since then, this range has experienced constant growth on the market.
In 2018, the Group acquired EGI, which was in the process of liquidation despite being recognised in the high voltage insulated lift and firefighting truck mount sector. Today EGI Klubb Group continues to manufacture its flagship products as well as the group's truck mounted work platforms. The factory is now expanding on its existing factory of 13,000 square metres and seven hectares of land. To support this development, EGI went from 35 people in 2018 to around 60 in 2019 and continues to recruit in 2020.
The Xtenso3 by Klubb, has an 18.5m telescopic platform, with lateral outreach of 13.9m, designed to be mounted on a heavy truck from 14 tonnes using the chassis or workshop model. The Xtenso4 has a working height of 21m with outreach of 16.4m and is mounted on a truck, from 16 tonnes. Finally, the Xtenso5 features 25.5m working height and outreach of 20m and is mounted on 16 tonne trucks.
These machines can be fitted with the company's green pack option - the platform can be operated with the vehicle engine turned off for a more eco-friendly approach