Twin Cities use Fraco for restoration
By Lindsey Anderson24 November 2008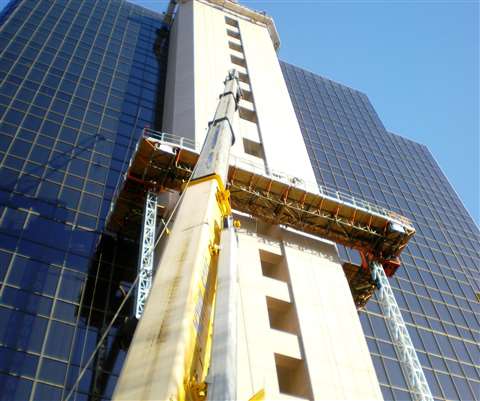 Mastclimbers LLC recently supplied Fraco ACT8 Electric units to a restoration project in Rochester, Minnesota.
Part of the Mayo Clinic's portfolio, the Guggenheim Building in the city center needed the support steel, which holds the building's stone cladding in place, to be replaced. "To achieve this we had to remove around 200 stone panels weighing between 1,200 and 2,440 pounds each," said Tom Fee, project manager for Building Restoration Corp. "Our personnel needed a stable working platform which could access 100 percent of the profile of the façade so that we could achieve high productivity."
Building Restoration, in collaboration with Mastclimbers, developed a U-shaped twin-mast platform to meet the building needs. "Fraco worked closely with us to design a tailor-made solution, which, since its introduction to the project, has revolutionized the task," Fee said.