Twist & impression of theshout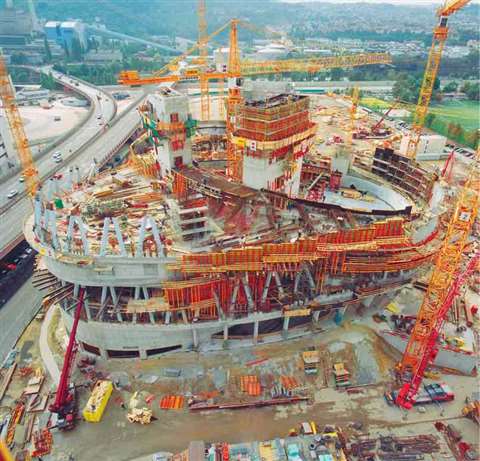 The mercedes-benz collection of its own historic cars is currently housed in a purpose-built low-rise building opened in 1961 inside the main Mercedes plant. A lack of space on this existing site meant the company needed a new museum to house its 80-year old collection of cars and commercial vehicles.
The site of the 100 year-old Stuttgart-Untertürkheim factory is known as the "birthplace of mobility", so unsurprisingly the company wanted its new high-profile building to be an "architectural exclamation mark".
Having won a competition to find a suitable architect for the project, Amsterdam-based UN studio van Berkel & Bos created the double helix design. The 16500 m2 exhibition area will house 180 vehicles spread over nine levels and positioned on two spiral routes through the 47,5 m-high building built on a 6 m high mound. Visitors to the finished museum will start their visit at the top, and work their way down the two spiral walkways-the so-called 'twist'sections-into different parts of the exhibition-the 'Myth'areas.
Managing construction is DaimlerChrysler Immobilien GmbH, which is coordinating a team that includes contractors Züblin and Wolff & Müller. To give more flexibility DaimlerChrysler Immobilien did not want one main contractor because construction started before all the plans were drawn up.
The foundation stone was laid on 17 September 2003, structural work will be completed with topping out in February 2005 and completion is expected in May 2006 in time for the football World Cup. Construction is being carried out by 270 to 300 site workers, organised into two eight-hour shifts working six-days a week from 6 a.m. to 8 p.m.
Foundation work included 850 concrete and steel piles, 600 mm in diameter and up to 6 m long, supporting foundation mats up to 7 m wide and 2,5 m high. The piling was difficult because of an underlying source of mineral water that is subject to environmental protection to prevent damage to the catchment basin. During piling the mineral water's quality and level was constantly monitored and no problems were recorded.
A further challenge, and the reason for including a basement level, was the fact that the area was quarried for gravel in the 1920s, where lakes then formed, before being filled with rubble and rubbish following World War II.
Formwork
Above ground the structure is being built with the help of a large quantity of bespoke formwork from Peri. The formwork had to be custom made because of the complicated geometric shapes and high quality surface finishes required by the design. Besides these architectural issues, there are also complex engineering questions. One of these was how to design a shoring systems that would transfer new concrete loads downwards, but which did not have any flat surfaces to bear onto. In some cases this involved transferring support loads as high as 150 kN/m2 through the formwork system.
In addition to the customised formwork production, to which Peri committed 50 carpenters and 30 designers at peak times, the company is also supplying many standard elements to the project. Up to the end of October 2004, it had delivered 900 truck loads of standard formwork elements. These include 1700 m2 of modular slab tables, 1800 m2 of Trio panellised wall formwork, 2200 m2 of Rundflex circular wall formwork and 1150 m2 of Vario column forms, along with 1900 m of HD 200 heavy duty props and 33800 m of aluminium Multiprops.
The site boasts a fleet of seven free standing, top slewing Liebherr tower cranes, which are all working close together on the confined site without any working range limitation system. Much of the crane time is spent flying the formwork panels, which are typically 3 or 3,5 m high and 2 m wide.
At the centre of the site sits a 550 EC-H Litronic, lifting to a maximum radius of 41,5 m, as the main crane, while the rest are positioned to surround it. These include an 85,8 m high (on a 600 HC tower) 256 HC, with 65 m working radius, that serves the storage area. A 112 EC-H with 45 m working radius, a 280 EC-H Litronic and a 280 EC-B 12 Litronic flat top are used for quick load handling and transport. The remaining 112 EC-H and a 140 EC-H Litronic cranes are building a connecting passage.
The central crane, which lifts the steel reinforcement, has a hook height of 49 m and lifts a maximum of 17 tonnes at the jib end. Reinforced tower base sections allow the high freestanding hook heights. This will provide a further advantage once the structural work is completed, because the cranes will be retained on site to hang the cladding. The fact that they are freestanding means there will not be any ties to the structure that might obstruct progress.