UK government considers €1.4 billion tidal plan
By Sandy Guthrie18 March 2015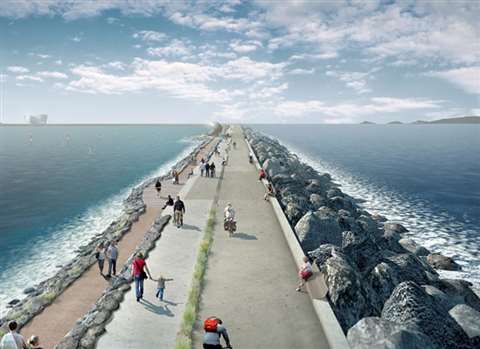 Negotiations are opening over support for a £1 billion (€1.38 billion) project to create the world's first energy-generating tidal lagoon in the UK, the Chancellor of the Exchequer has confirmed in his Budget speech to Parliament in London.
The company behind the project – Tidal Lagoon (Swansea Bay) – said that it would cost up to £15 million (€20.72 million) to achieve a development consent order, with an overall project cost of about £1 billion for construction and connection to the national grid.
The company said that construction would take place from both sea and land, with the greater proportion of the work on lagoon walls and turbine housing done at sea.
The location, Swansea Bay, Wales, is the first of potentially six such lagoons – four in Wales and two English sites in Somerset and Cumbria.
At the Swansea Bay lagoon, the project will comprise a sand-core breakwater or rock bund, described as similar to many seen in coastal defence schemes and harbour walls. As the sea outside the breakwater rises and is held back, a difference in water levels is created. Sluice gates are opened and water flows into the lagoon through turbines to generate electricity.
Nigel Jackson, chief executive of the UK's Mineral Products Association (MPA), said that proposals to develop a network of tidal energy lagoons should represent an opportunity for the UK mineral products sector and the wider construction supply chain it supported.
The MPA said the projects were likely to generate significant demand for a range of UK mineral products, not only during their construction, but also during the resultant regeneration activity that is likely to take place as a consequence. In the case of the 1.2km long Cardiff Bay Barrage, it said, the initial £200 million (€276.25 million) construction investment provided a catalyst for over £2 billion (€2.76 billion) of regeneration activity, including housing, commerce, leisure and industrial development.
RenewableUK, the trade and professional body for the UK wind and marine renewables industries, said that for the renewable energy sector, the announcement by the Chancellor that the government was opening talks with Tidal Lagoon Power on providing financial support for the Swansea Bay project was the most significant part of the Budget speech.
Dee Nunn, wave and tidal development manager at RenewableUK, said, "By enabling this project to go ahead, the government will also unlock the potential for other, larger tidal lagoons to be developed.
"Swansea Bay will generate the confidence needed to attract investors into those future schemes in the UK. So a negotiated strike price is needed for this first project as it's the trailblazer which will generate momentum to kick-start the full commercialisation of this part of the marine energy sector."