UK infrastructure awards down 50% in four years
By Leila Steed29 January 2020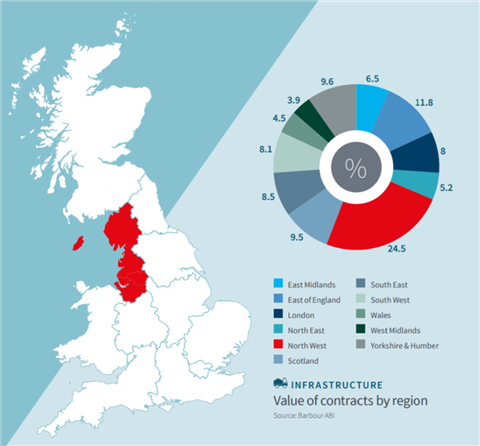 The value of infrastructure contracts awarded in the UK has decreased by 50% since 2017, reports construction industry research company Barbour ABI.
According to its latest construction industry analysis, the company says the total value of infrastructure contract awards in the UK in 2019 was down 10.3% to £10.4 billion, when compared with 2018.
Barbour's regional analysis shows that, while the number of contracts awarded to the East of England in 2019 remained at the same level as the previous year, the North West of the country received more infrastructure contract awards than any other region – up 17.2% from 2018 to 24.5% in 2019.
Barbour said that while projects such as HS2, the Transpennine route upgrade and Hinckley Point C indicate a positive outlook for the sector, funding for these projects is currently being reviewed by the UK to determine their feasibility.
Tom Hall, chief economist at Barbour ABI and AMA Research, said, "While the pipeline may appear positive, the risk of major projects in the planning system being delayed, descoped or cancelled remains.
"This week Boris Johnson and senior ministers will meet to decide the fate of HS2. The sector's short-term momentum remains dependent on previously promised projects, while the Chancellor's budget in March will give an indication of travel over the medium term."
This latest report comes on the heels of a report published by Hire Association Europe (HAE) in partnership with Barbour in November 2019.
The 2019 winter report said that despite volatility in GDP growth caused by uncertainty over Brexit, the UK's construction sector had continued to show growth.