UNACEA and Veronafiere sign agreement for Samoter 2017
By Chris Sleight24 June 2015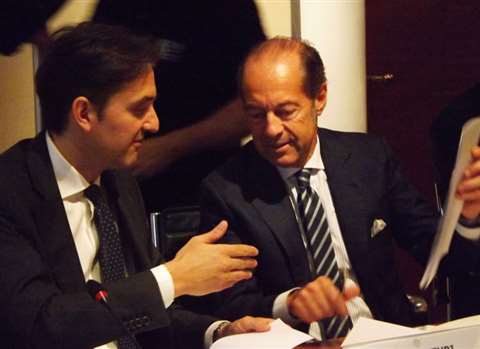 Italian construction equipment manufacturers' association UNACEA has signed an agreement with Veronafiere, the organiser of the Samoter exhibition, to help promo9te the next show, which will be held from 22 – 25 February 2017.
Samoter is held every three years and this will be the 30th time the exhibition has taken place. In 2017, as in 2014, Samoter will be co-located with the Asphaltica exhibition for the road building industry.
The agreement covers joint promotion, training and communication action on domestic and international markets. It was signed and presented this morning at Veronafiere by Ettore Riello and Giovanni Mantovani, the president and CEO of Veronafiere respectively, and Paolo Venturi, president of UNACEA.
Mr Venturi said, "We were delighted to sign a collaboration agreement with Samoter in order to develop closer synergy benefitting all companies in the sector."
UNACEA said it wanted to raise environmental issues in the run-up to Samoter and during the show. This will include issues around engine exhaust emissions as well as a focus on the difficulties and dangers Italy faces from earthquakes.
On the country's seismically active geology, Mr Venturi said, "The authorities must invest in the land to repair it and provide future protection."
On the subject of engine emissions he said, "There are many areas in Italy where there are air quality issues and infractions, but nothing is being done. On one hand, 'Euro II' cars cannot be driven in Italy, but Stage II excavators can still be used. We need municipal orders to ban the use of old-Stage equipment in built-up areas."
2017 exhibition
Samoter was last held in May 2014. It was a sparse show compared to previous events, with many of the industry's big names not taking part. The only major international earthmoving equipment manufacturer to take exhibition space was Komatsu.
Mr Riello acknowledged the problem, saying "The last edition was tough but we feel it was successful. We are ready to invest in the future because we believe there are opportunities for the industry in this country."
Veronafiere commercial director Diego Valsecchi added, "We are talking with all of the big names in the industry about 2017. We do not have commitments at this stage, but we have a dialogue."
He added that the decision to hold the 2017 in February – a time when weather in Verona can be poor – came at the request of the majority of exhibitors, who felt a May time-slot was too late in the year for their seasonal industry.
Market trends
A key factor which hindered Samoter 2014, was that the exhibition came at an historic low in the Italian construction equipment industry. According to UNACEA, the Italian market was sine 79% lower in volume terms in 2013 than at the post-crisis peak of 2007, when almost 30,000 machines were sold.
Mr Venturi said, "There are some signs of recovery. 2014 was up +10% and the first quarter of 2015 was also good. The market is gaining, but there is still instability and in volume terms we are still very far from 2007."
Mr Mantovani said that for the 2017 exhibition, the organisation wanted to, "Leverage the signs of economic recovery."