Urban art with Skyjack
By Euan Youdale25 November 2015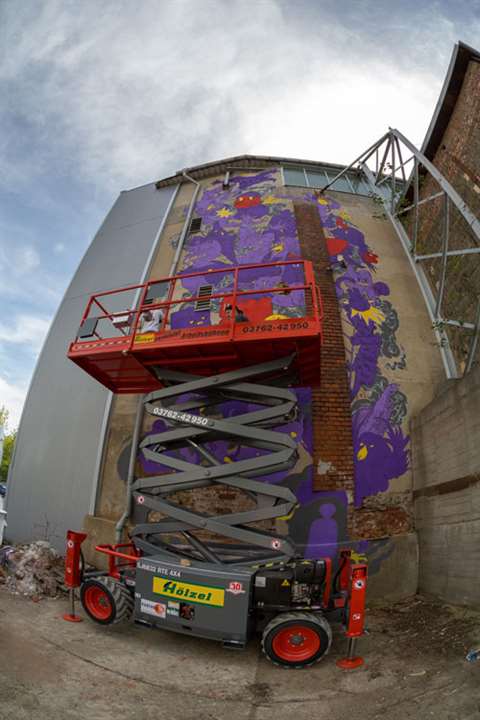 Skyjack recently helped the non-profit organisation Industrie Brachen um Gestaltung (IBUg) to refurbish rundown sites in Saxony, East Germany, during its an annual graffiti and urban art fair.
This year, the event was held in Plauen. Plauen is the 10th German town to receive IBUg's unique makeover; the non-profit's annual Urban Culture Festival's mission is to convert Saxony's disused or rundown brownfield sites into inspiring epicentres of urban art.
By bringing colour and life into some of the country's industrial wastelands, the non-profit hopes to help uplift the local community. For one week, 60 urban artists from over 20 countries participated in the Festival of Urban Art & Culture, injecting animation into the outer facades of the town's disused industrial buildings and factory walls.
Much of Germany's industrial infrastructure in the east has fallen into disuse or disrepair since the collapse of the Berlin Wall, which divided the country between the 1960s to the 1980s. With some of the walls measuring over 10 m high, a SJ6832 RTE electric rough terrain scissor lift and a SJ51 AJ articulating boom made it easy to reach the taller art spaces.
"IBUg has been running for a decade, but it's the first year we've used Skyjack lifts to help us carry out the artwork and installations — we've been very impressed," said Thomas Dietze, IBUg's organiser. "We're used to working with scaffolding to produce our projects, but the Skyjack aerial work platforms helped us speed things up and become more efficient."
The SJ6832 RTE has an 11.75 m working height (32 ft platform height) and its reach meant the artists could assess the areas where they needed to install artwork or paint. The SJ51 AJ has a working height of 17.55 m (51 ft platform height). And, with 360 degree rotation and up-and-over capabilities, the artists were able to reach the art spaces.
After artists completed the five-day transformation, the site was then opened to the general public for three days from 28 to 30 August. More than 6,000 visitors travelled from across Germany, Europe and the rest of the world to view the murals and the metamorphosis of the formerly derelict factory walls into an outdoor art community.
Skyjack donated the machines for use at the festival as part of its 30 For 30 Partners campaign. Since February, Skyjack has been celebrating its 30th business anniversary by supporting charitable and non-profit projects around the world.