Urban Demolition over US$10 million
Winner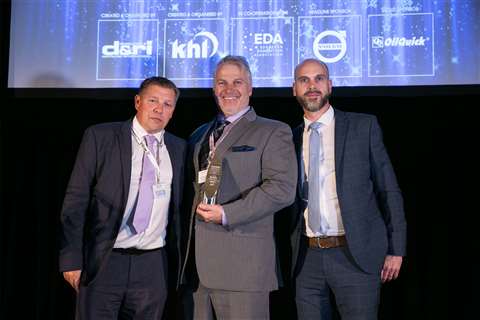 Erith Contractors
Country
United Kingdom
Project
Paddington Square, London
Also shortlisted
Delta Group (Australia)
Demoliciones Mitre (Argentina)
G Tscherning (Denmark)
Kiewit (USA)
Summary
For the second consecutive year, the Urban category received such a large number of entries it was split into two, with a project value of US$10 million as the dividing line.
And for the second consecutive year, Erith Contractors of the United Kingdom scooped the big prize. As in 2018, operations director Grant Styles was first up the steps to the stage, being joined by his colleague Stuart Accleton on this occasion. The World Demolition Summit, which includes the awards dinner, had been organised in conjunction with the US National Demolition Association (NDA) so it was fitting that NDA president Chris Godek did the honours in terms of presenting this opening award.
Erith's 2018 win had been for a project in London and this year was no different. For Marble Arch Place read Paddington Square, a huge project – the value of Erith's part of it was more than $50 million – that required the demolition of three Royal Mail buildings adjacent to London's Paddington station followed by conducting substructure basement works.
The demanding project required careful planning and management so as not to affect the vital operations of the adjoining St Mary's Hospital, as well as consultation with numerous stakeholders.
something recognised by the judges who said: "The project required vision, planning and meticulous execution to meet the seemingly endless number of constraints placed on it"