US Navy receives 1,000th JLG MMV telehandler
By Lindsey Anderson02 July 2008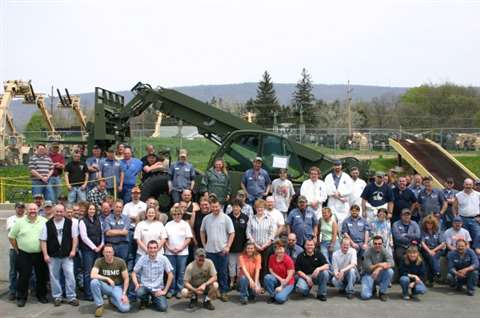 JLG produced and shipped the 1,000th Millennia military vehicle (MMV) telehandler. MMVs are used for the US military in a wide range of logistic applications, including port operations, airfield support and cargo handling, according to Denny Buterbaugh, JLG vice president of government products and programs. The 1,000th unit was built for the US Navy in accordance with JLG's contract to provide 197 MMVs to the Naval Construction Battalion.
The MMV was assembled in a two-shift series, across two military and support manufacturing facilities. "JLG team members are committed to delivering the highest quality, highest performance equipment to the men and women in the US armed forces, and we're honored by the confidence they have placed in our workmanship and attention to detail on the MMV program," Buterbaugh said.
The MMV telehandler has a variable load capacity through the use of different attachments. The unit has a lifting range of 4,000 to 11,000 pounds, maximum lift height of 42 feet and horizontal reach of 29 feet. It is self-deployable and features an off-road speed of 35 mph, with a cruising range of 425 miles. The MMV can move all palletized classes of material and is also air-transportable.
The US Marine Corps and the US Navy both use MMV machines across the world. The very first MMV was manufactured in July 2001 for the Combat Service Support Detachment groups.