Van Oord for Dutch wind farm
By Sandy Guthrie10 August 2018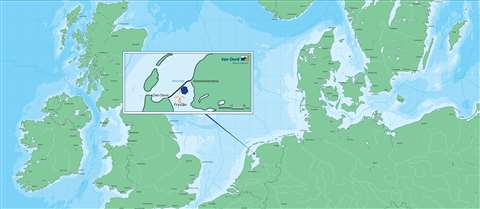 Preferred contractor status for the construction of the Fryslân nearshore wind farm in the Netherlands has been given to a consortium of Van Oord and Siemens Gamesa Renewable Energy.
The company behind the scheme, Windpark Fryslân, made the choice for the project which will contain 89 wind turbines with a capacity of 4.3MW each in the Frisian section of the IJsselmeer Lake, next to the Afsluitdijk dam, in the Netherlands.
The final contracts for the construction are expected to be signed later this year. The entire project involves an investment of more than €500 million. Construction works will start in 2019. Fryslân nearshore wind farm is planned to be in full operation by mid-2021.
With a total rated power output of over 380MW, it will give a boost to the sustainable supply of energy for the Province of Friesland. Following completion, Siemens Gamesa will service the wind farm for at least 16 years.
As part of the consortium, Van Oord will be responsible for work that includes the design, fabrication, and installation of the foundations and cables for the wind project.
Van Oord will also supply the equipment for installing the turbines. Siemens Gamesa Renewable Energy is responsible for the design, fabrication and commissioning of the SWT-DD-130 wind turbines, each with a 130m rotor diameter, and the onshore substation. Hub height of the turbines will be 109m, with a blade tip height of 174m.
The co-operation between the two companies in the integrated design and execution team is said to be a unique feature. The consortium has said it will co-operate with local partners and support local initiatives to stimulate the Frisian economy.
The nomination as preferred main contractor also includes construction of a nature conservation island next to the Afsluitdijk dam. By using soil material from the IJsselmeer Lake, 2ha of new land and 25ha of sheltered shallow water will be created.
The island will be used during the construction phase and then will be transformed into a nature conservation area. New natural areas will develop on the banks of the island, both above and below water. The area is designed to attract fish and birds for foraging and resting.
Andreas Nauen, CEO of the Offshore Business Unit at Siemens Gamesa Renewable Energy, said, "Partnering with Van Oord allows us as solid, experienced partners to bring a shared commitment to reducing the Levelised Cost of Energy from offshore wind and providing clean energy to our customer Windpark."
The Province of Friesland has said it aims to generate 16% of its energy consumption from sustainable sources by 2020.