Vermeer's S3 upgrade
By Lindsey Anderson09 September 2015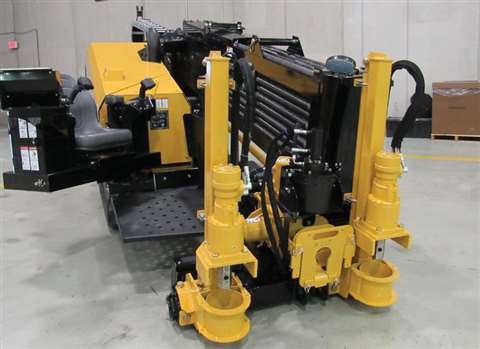 Vermeer has added two new Navigator S3 horizontal directional drills (HDDs) to its line-up, with the 'S3' nomenclature representing "speed, simplicity and sound." The D24x40 S3 and D40x55 S3 drills offer noise levels nearly cut in half and increased thrust & pullback.
The D40x55 S3 drill takes over from its predecessor – the D36x50 Series II Navigator– and offers 40,000 pounds (178 kN) of thrust/pullback and 5,500 foot-pounds (7,458 Nm) of rotational torque which is a +10% increase over the D36x50 Series II model.Power is provided by a 140 hp (104 kW), liquid-cooled, turbocharged John Deere 4045 4.5L Tier 4- compliant diesel engine. The drill's 188 ft (57.3 m) per minute carriage speed represents a +7% increase over the previous model.
Geared toward water and gas distribution and light pipeline work, contractors can now select the drill configuration for any specific need. They can choose from three drill rod options: 10 ft (3.05 m) rod in 2.38 in (60 mm) or 2.63 in (67 mm) diameters and 15 ft (4.6 m) rod with a 2.63 in (67 mm) diameter.
Vermeer also highlighted a common control system across its drill line which includes a digital display and common joystick controls. An interactive, full-colour, touch-screen display also is new for the HDDs.
Second addition
Vermeer's other new unit is the D24x40 S3 Navigator, featuring 28,000 pounds (125 kN) of thrust and pullback and 4,200 foot-pounds (5,694 Nm) of rotational torque — along with improved ground speed, carriage speed, rotational speed and rod breakout efficiency. According to the company, the drill has undergone a -30% reduction in wiring to increase simplicity for servicing.
The D24x40 S3 also boasts a 104 dBA noise level guarantee, a reduction of 12 dB, and an operator ear rating of 82.9 dB.
"The quieter and more pleasant of an experience for an operator will make more people want to use the machine," said Jon Kuyers, senior global product manager, underground, for Vermeer. "This basically cuts sound power in half."
Mr Kuyers said the reduction is due to two factors – first, the noise from the air and oil cooler is now directed toward the back of the unit and, second, a hydraulic cooling fan has been introduced which only runs at the speed required, cutting the load on the engine.
Vermeer said the reduction in noise allows better communication between the crew and, overall, provides a more pleasant operating experience.
A carriage speed of 240 feet (73.1 m) per minute and a rotational speed of 253 rpm "help contractors install more linear feet per day, maximising jobsite efficiency," Mr Kuyers said. The D24x40 S3 is powered by a 125 hp (93 kW), liquid-cooled, turbocharged John Deere 4045 4.5L Tier 4 diesel engine.
The D24x40 S3 has an "excavator-style", climate-controlled cab with an onboard self-diagnostic system, as well as the common control system seen across the S3 line-up, and a digital display and common joystick controls.
"The system design uses a power distribution module that reduces the amount of wiring and fuses for greater reliability," Mr Kuyers said.
A DigiTrak Aurora interactive, full-colour touch-screen display delivers real-time, easy-to-view location information, bore plans and more to help increase operator productivity.
These models are available through Vermeer dealers.